Hey guys, here's a topic that probably won't be discussed at your next poker game or tailgate party: injectables like facial fillers for men. Cosmetic improvement has often been associated with women, but now more than ever, men are discovering that they can benefit from non surgical treatments, namely neuromodulators, such as BOTOX® Cosmetic, and dermal fillers, such as JUVÉDERM®. At my San Francisco Bay Area practice, I'm treating more and more men who want to reveal the rock star versions of themselves.
Average Joe Gets an Upgrade
In my practice, I've treated more than the average number of male patients. The Bay Area has always been known for its socially progressive nature, and the men here have always been aesthetically conscious "metrosexual" guys; however, lately, I've noticed an upswing in the number of "average Joes" interested in maintaining or improving their appearance non surgically with injectable treatments.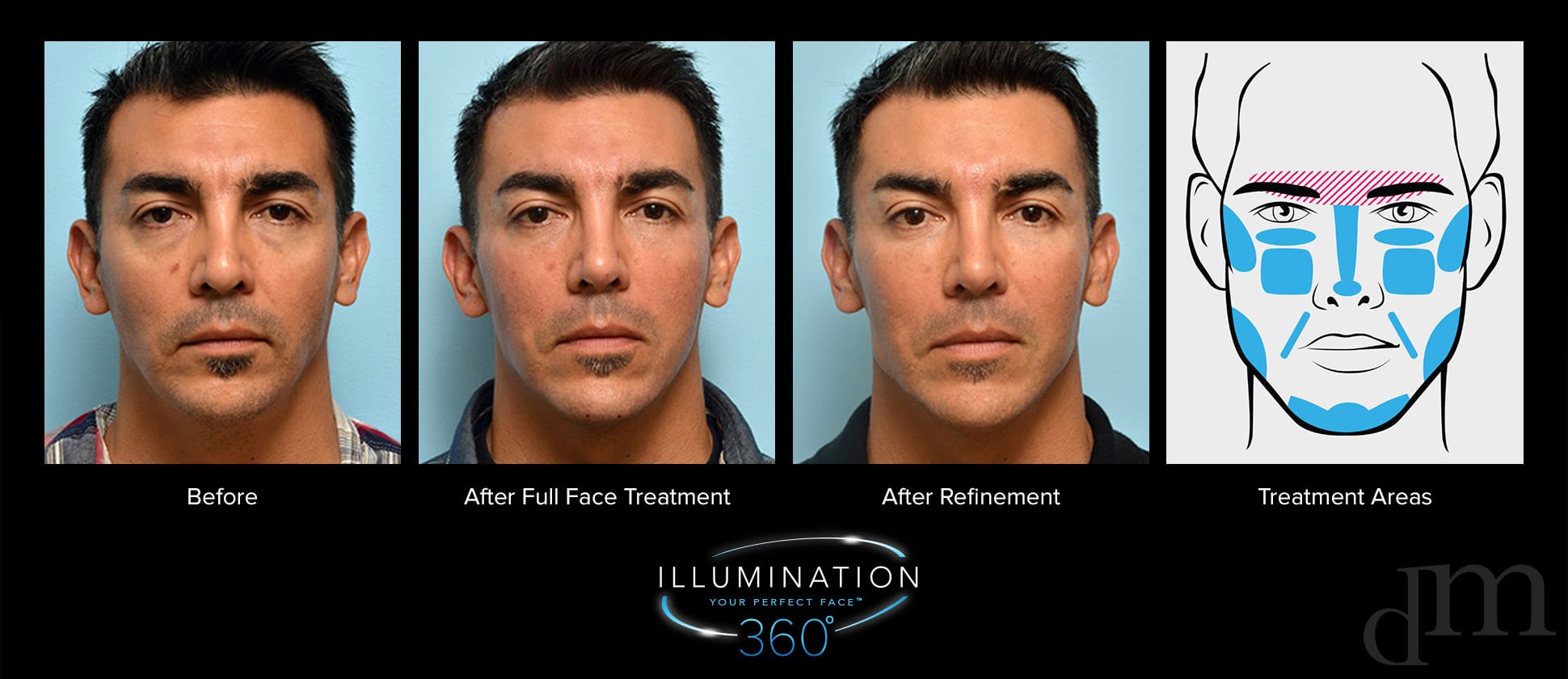 This patient came to me initially seeking 2 targeted treatments to straighten and define his nasal tip and enhance his cheeks. After discussing his goals and my recommendations, we decided he'd be happier with a Full Face Treatment. I used Restylane®, JUVÉDERM VOLUMA®, and BOTOX. For more info, read the full case details.
Fun fact: Several of my male patients are the husbands of my female patients. They will come in and tell me, "I've noticed the positive changes your dermal fillers have made in my wife. I'm interested in getting some!"
Some, like the gentleman above, initially request Targeted Treatments, but end up choosing a Foundation Treatment or a Full Face Treatment.
The process I use for non surgical facial enhancement is called Illumination 360; it's my approach to revealing "your face, perfected" with fillers. Through this process, I look closely at a man's face from all angles, examining everything from brow to chin in both direct light and indirect light, while searching for 6 key ways to improve his appearance.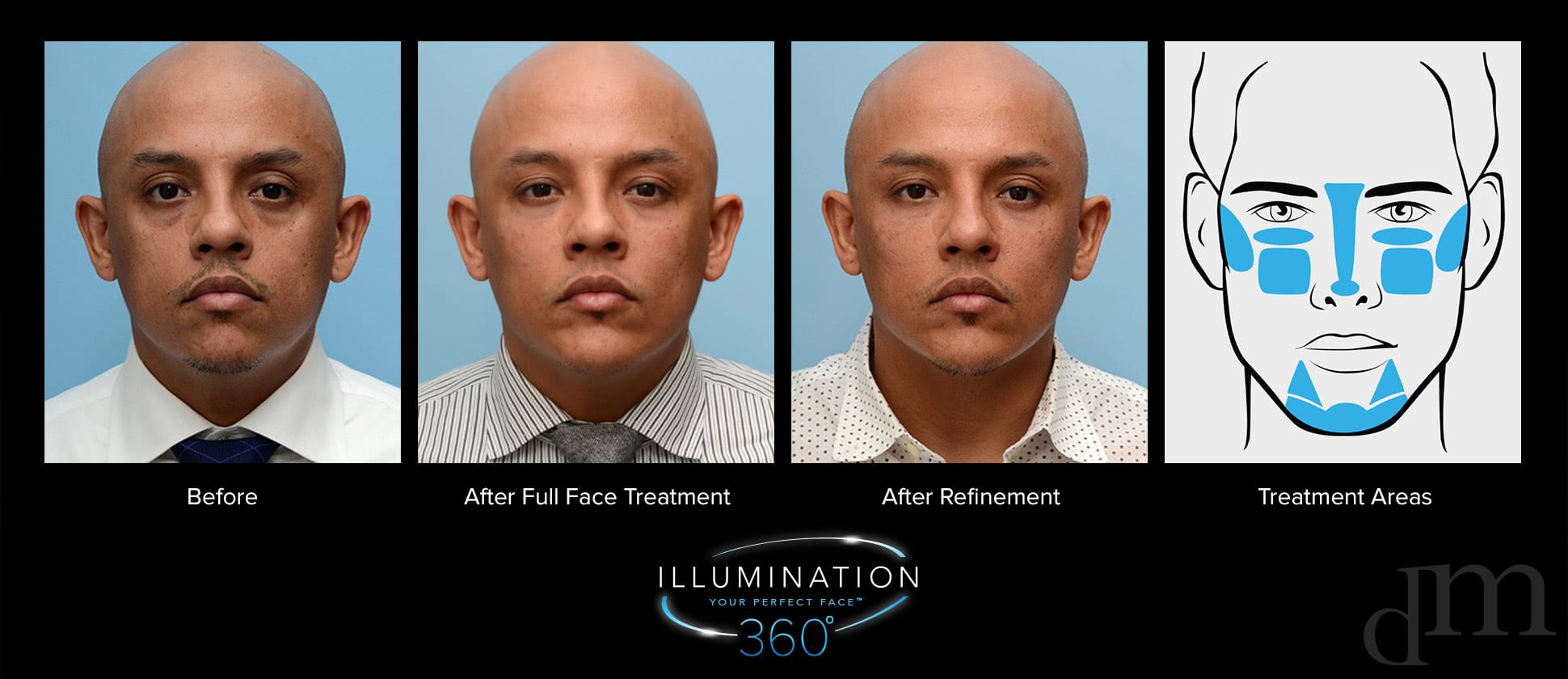 This patient's main goal was to treat under-eye bags. After examination, I encouraged him to receive treatment in other areas for a full facial rejuvenation. Read more about his treatment.
Initial Treatment
From my many years of experience, I know to evaluate 3 main areas of the face for sagging skin:
Under the eyes
The midface region
Along the jawline
We treat these areas with fillers, so you look more youthful, fresh, and alert. Sometimes men have bigger bags under their eyes than women, so their results may look even more dramatic!
Next, I assess the 3 defining points of the face for opportunities to sharpen their edge and improve attractiveness:
(A distinct, well-proportioned chin has a huge impact on the face, after all.) After one appointment, you look like a younger, more attractive version of you.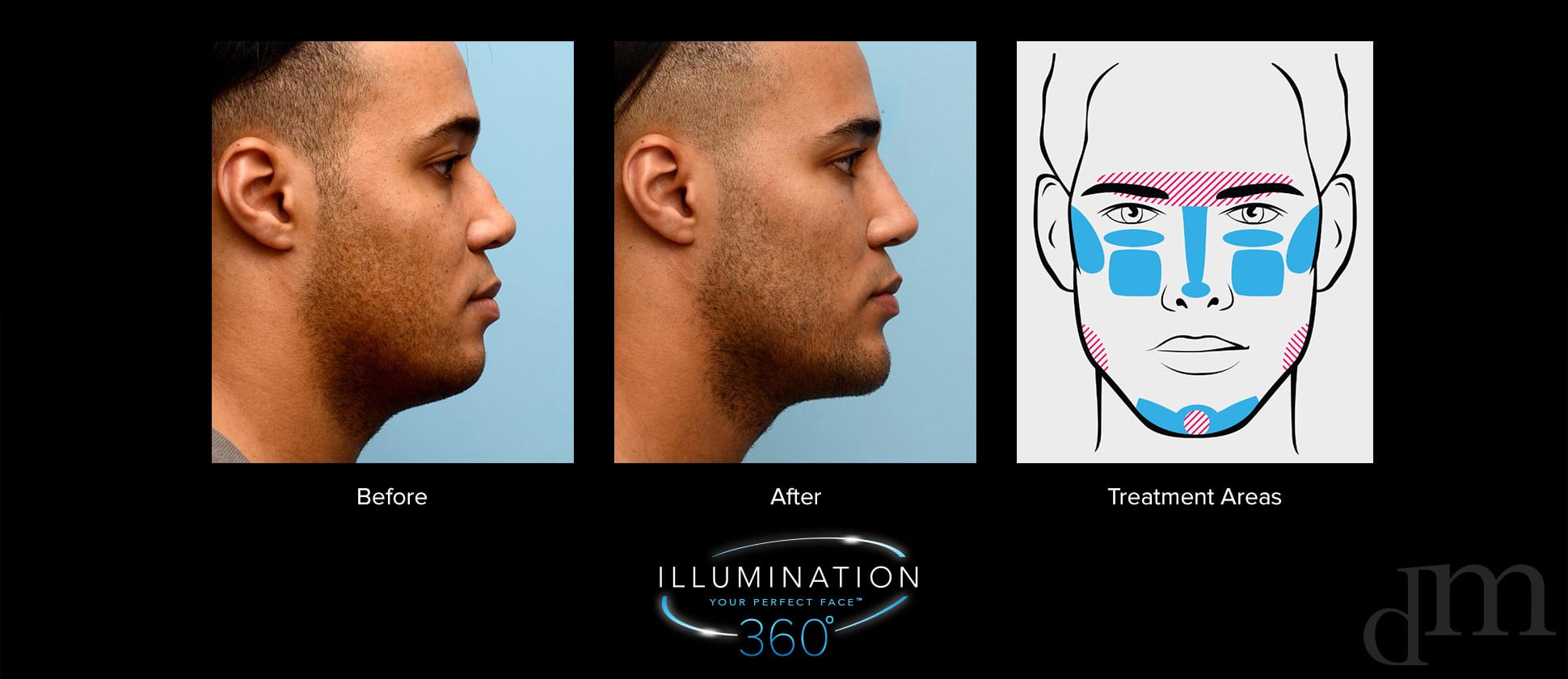 Refinement Treatment
Even though you'll look amazing after your first treatment, it's really important to return within 1 to 3 months for your Refinement Treatment. This is where I polish up your results and get you looking like your ultimate self. Fillers used during your refinement treatment are priced at a discount, and I don't charge you any extra for my time at this important appointment.
Looking Good
So guess what? The guys are really digging it! Sometimes their results even surprise their wives. This rings especially true for men in their 50s and 60s who are used to appearing more aged. When they see their faces without the under-eye bags and sagging jowls, they are more than surprised.
Bottom line: You'll look more fresh, awake, chiseled, and ready to take on the day. You can go from the "average Joe" to the "rock star" version of you! Best of all: There is little to no downtime, so you can keep your busy schedule. You can see some of these results in my patients' before-and-after photos, like the ones I've shared below.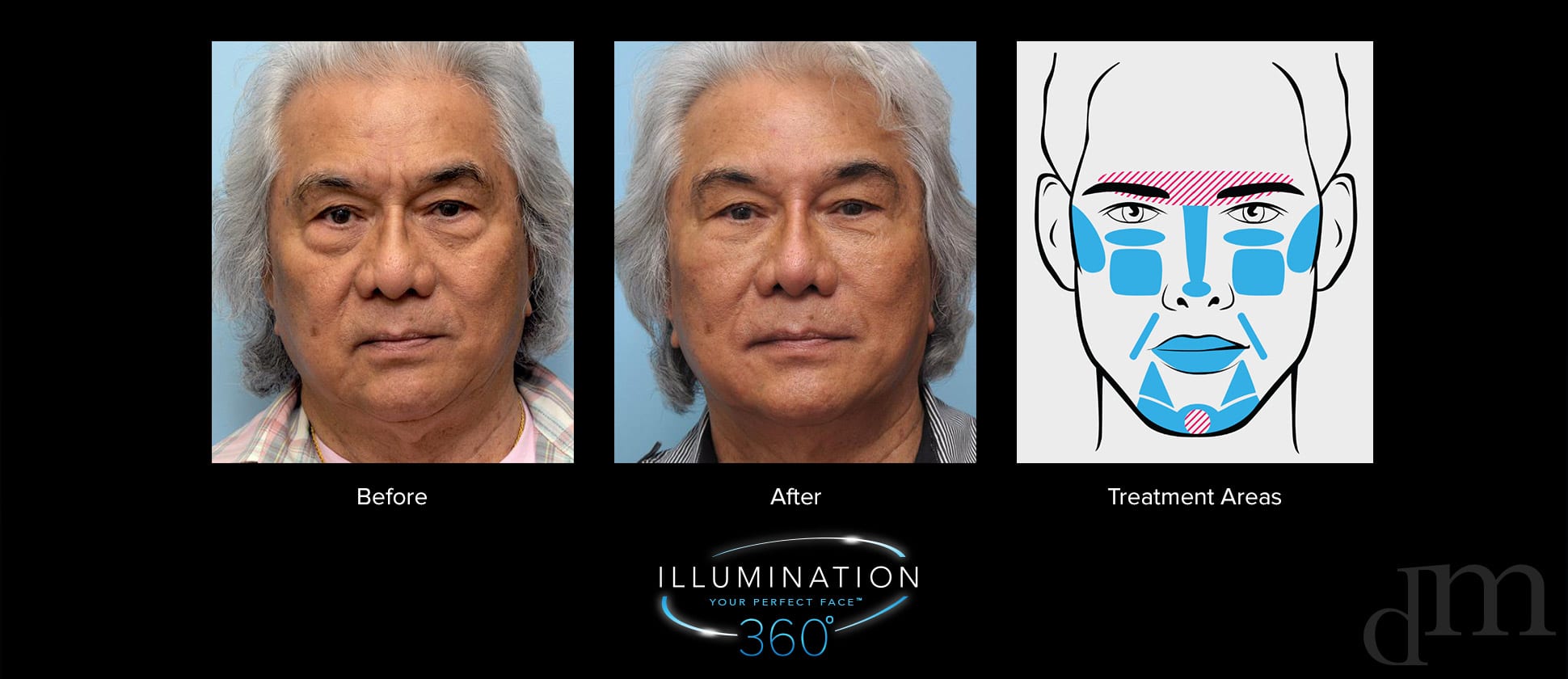 If you're interested in seeing how non surgical dermal fillers and neuromodulators like BOTOX can make a positive change for your facial structure (and your life), contact me online or call (415) 445-9513 to schedule a consultation with me in person or via video call.
In the meantime, check out this video about men and fillers!