Mabrie Facial Institute
166 Geary Street
Floor 1300
San Francisco, CA 94108
Phone: (415) 445-9513
Text/SMS: (510) 296-3783
Monday–Friday 8:30 a.m.–6 p.m.
Do You Need Nonsurgical Rhinoplasty?
It's difficult to focus on your best features when the nose is out of balance. No matter how much you try to camouflage them, nasal irregularities are front and center. Its prominent position makes the nose a key component of an attractive face. While a good nose goes almost unnoticed, one that is too large, crooked, or irregularly shaped will draw immediate attention. For many people, insecurity about their nose keeps them from feeling confident and beautiful.
Our Solution: Nonsurgical Rhinoplasty/Nose Contouring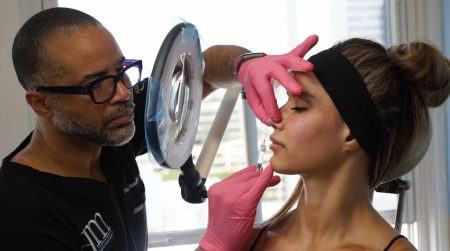 At Mabrie Facial Institute, we are uniquely qualified to use fillers to improve nasal contours, and have earned a reputation for the remarkable results we create through nonsurgical rhinoplasty (nose job) for our San Francisco Bay Area patients. The development of nonsurgical rhinoplasty has been one of the most transformational developments in facial aesthetic procedures in recent years, and Dr. Mabrie has been heavily involved in its advancement.
As a facial plastic and reconstructive surgeon, Dr. Mabrie specialized in surgical rhinoplasty for more than 10 years, and trained at Johns Hopkins and Stanford. He has in-depth, hands-on experience with the complexities of nasal anatomy, and was one of the first surgeons to offer nonsurgical rhinoplasty in the Bay Area. He has performed the procedure daily for more than 15 years, and has dedicated thousands of hours to training his associates in this advanced technique. Each of our providers has mastered the art and science of applying fillers to specific anatomic locations to contour and sculpt the nose for optimal results and safety.
Many individuals unhappy with their noses are pleasantly surprised by how much contouring our team can do with the innovative and artistic use of fillers. No matter your age, gender, or ethnicity, we can make subtle changes that vastly improve the appearance of your nose without stripping it of its character.
Real Patient Examples
What can be addressed with nonsurgical rhinoplasty?
Augmenting the Bridge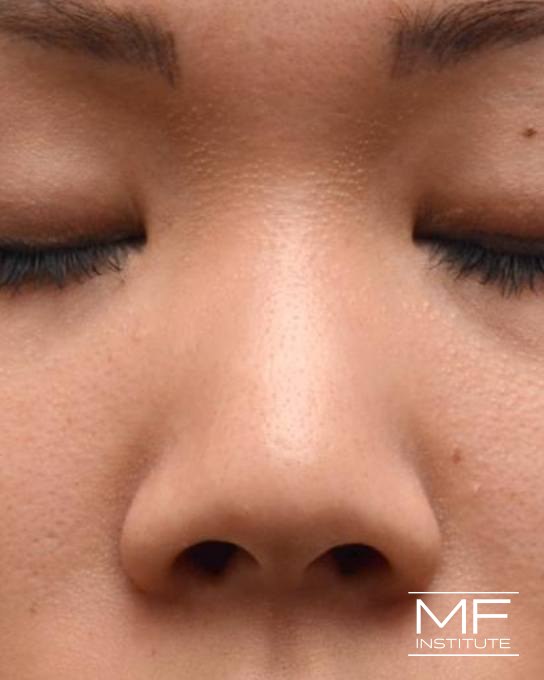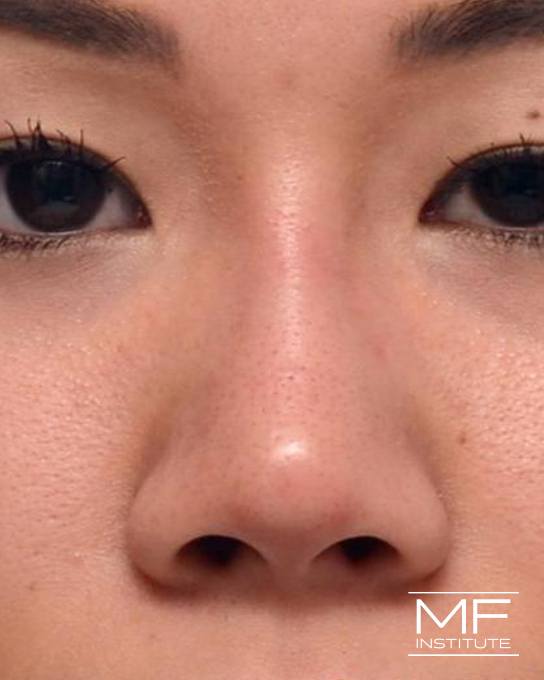 Some patients lack projection or definition and need their nasal dorsum/nasal bridge augmented.
Reducing a Bump/Hump on the Bridge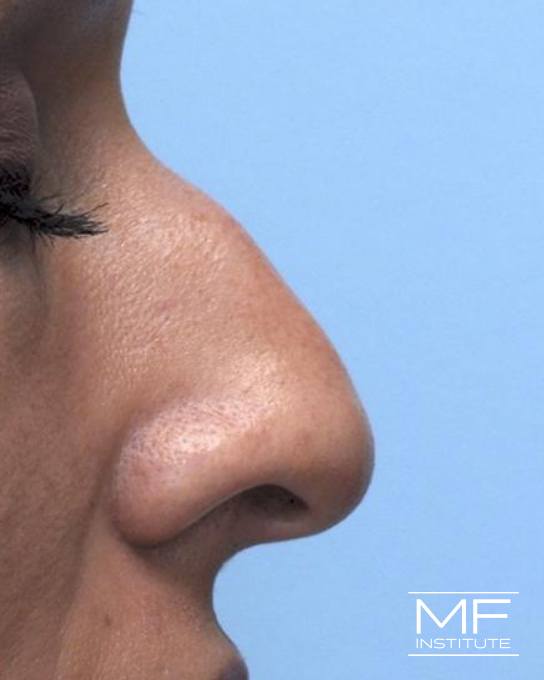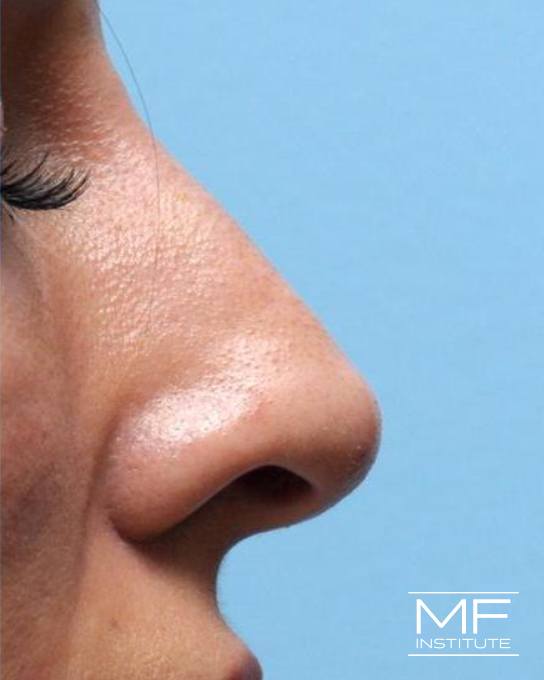 A bump or hump on the bridge of the nose can distort the profile and make the nose overly prominent. Streamlining the nasal bridge is a component of many of the nonsurgical rhinoplasties Dr. Mabrie performs.
Correcting Deviations, Fractures & Concavities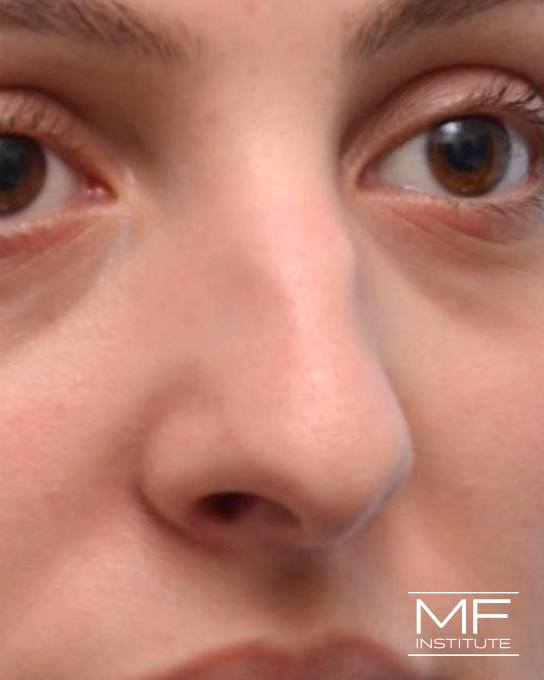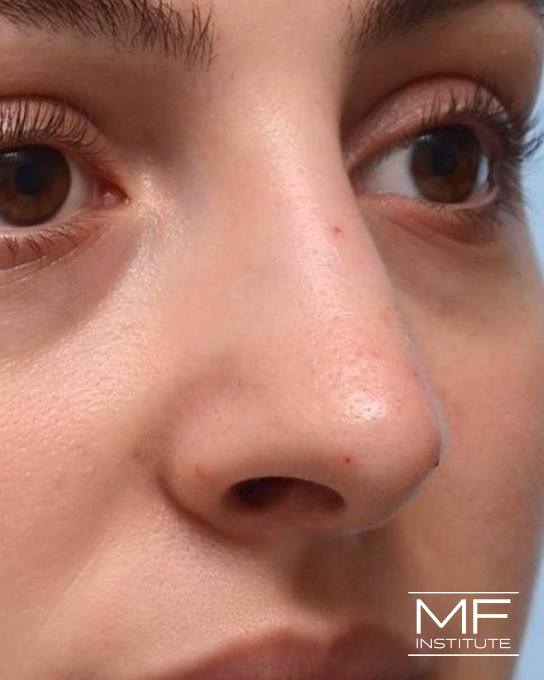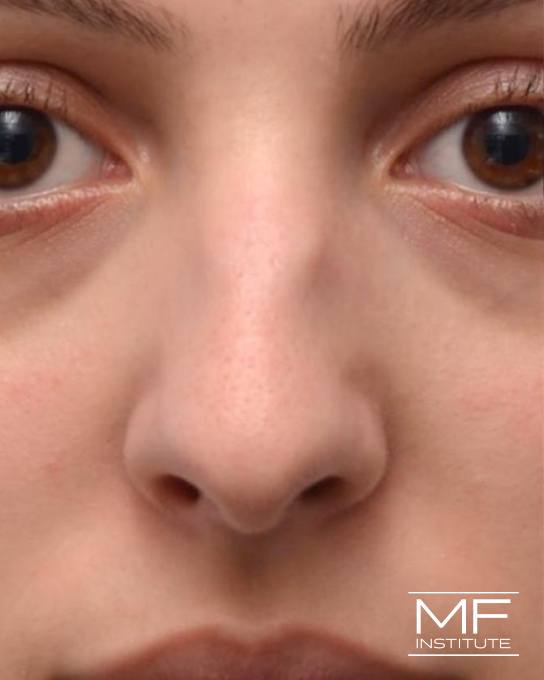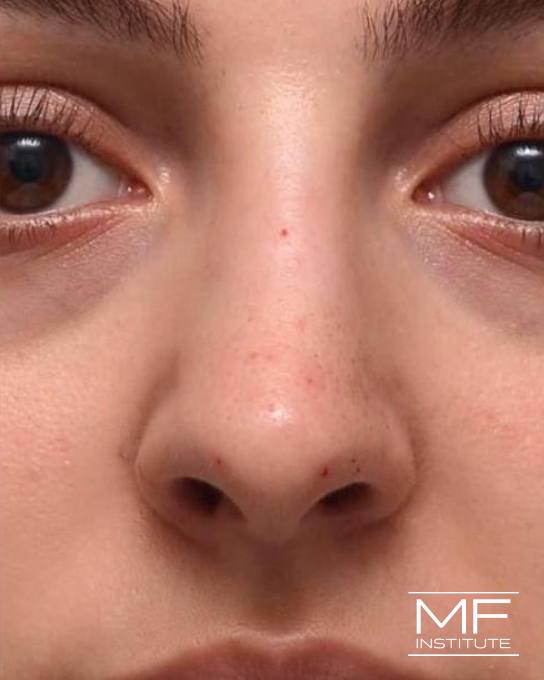 Straight, smooth nasal contours are key to an attractive nose. If the nose is crooked, asymmetrical, or indented, it can detract from the beauty of the face. Whether it's a congenital condition or the result of trauma or prior surgery, our team is uniquely qualified to address these concerns.
Defining the Nasal Tip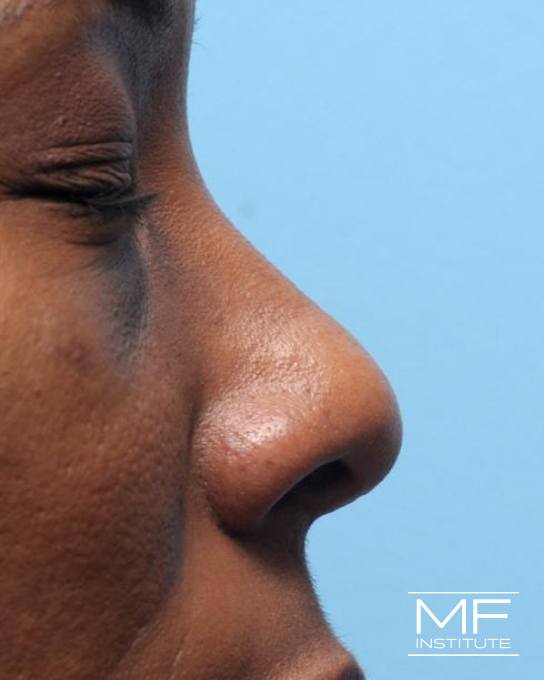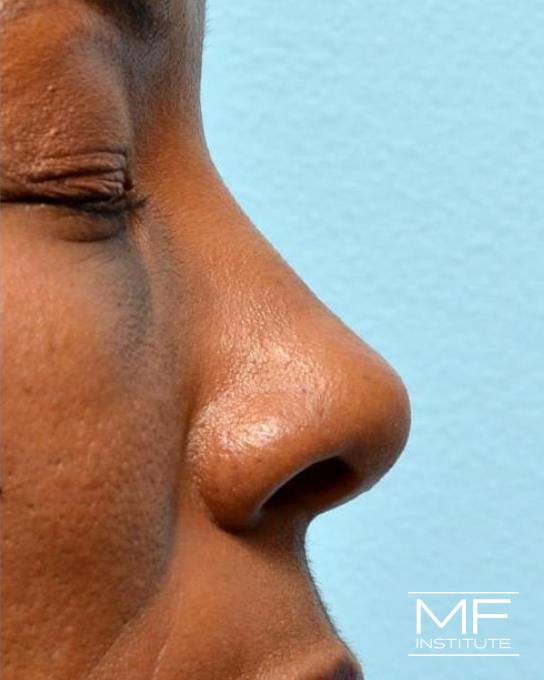 As the point of farthest projection, the tip of the nose is very important to the overall appearance of the nose. If the tip is bulbous, undefined, droopy, or asymmetrical, it can overshadow other features.
Rotating a Droopy Tip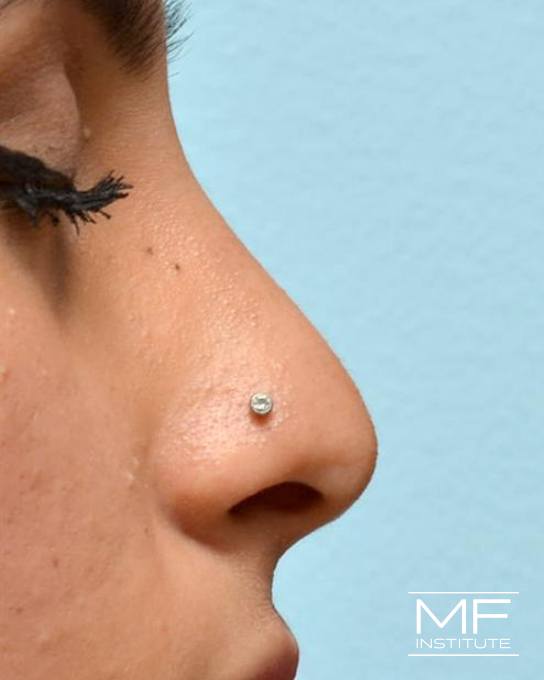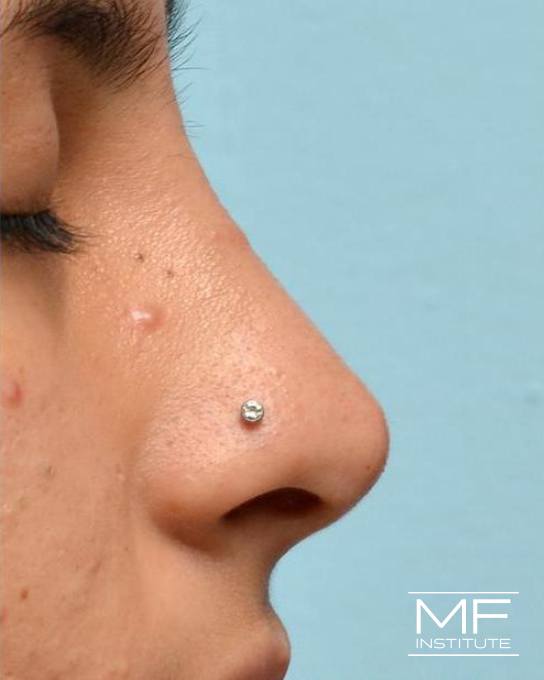 For patients with a drooping tip, well-placed injections can increase rotation and create an upward tilt.
Narrowing the Bridge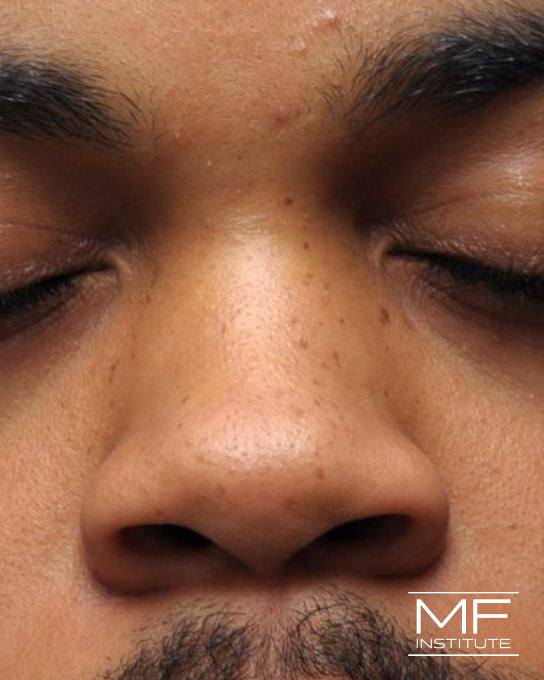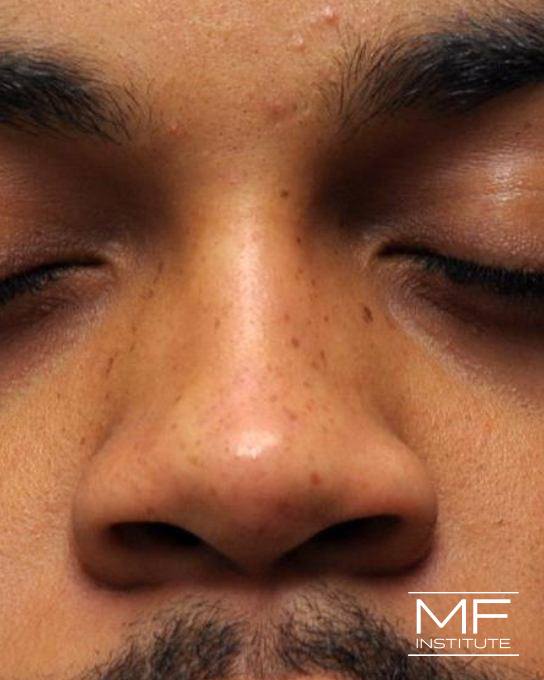 When the bridge of the nose looks broad and sometimes flattened, we can build with filler to create a defined, narrower appearance.
Straightening the Bridge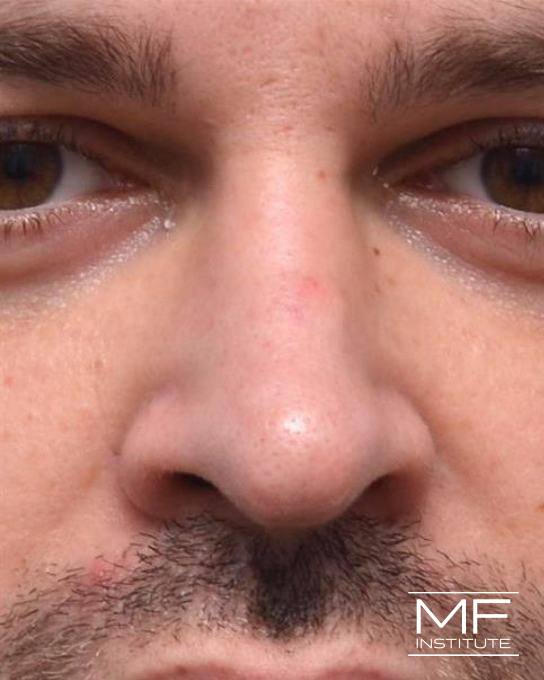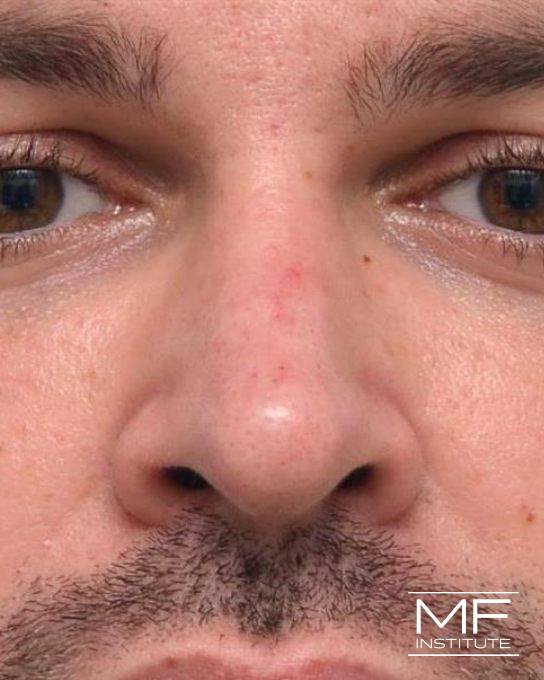 A crooked bridge can be visually "straightened" by balancing the lines with the strategic application of filler.
Post-Surgical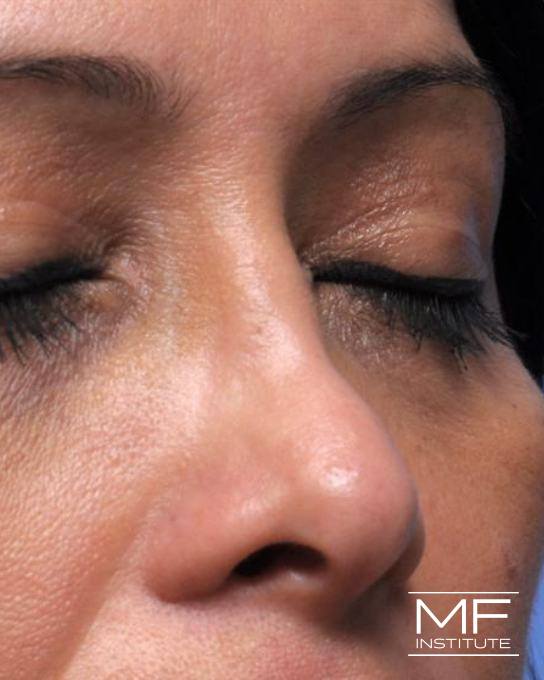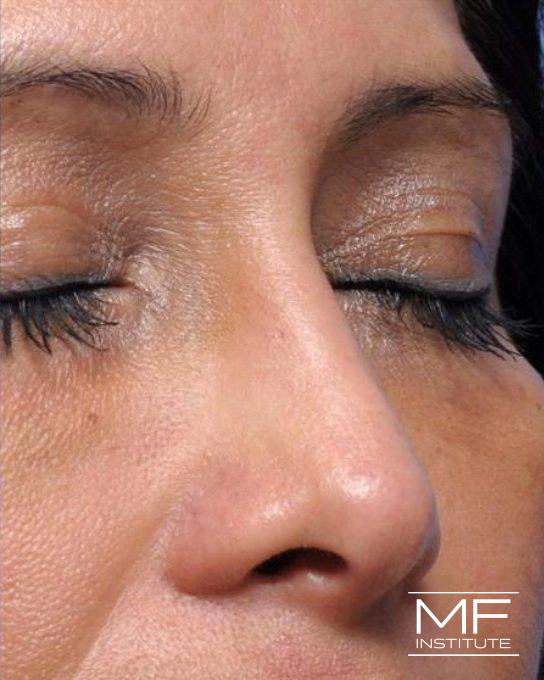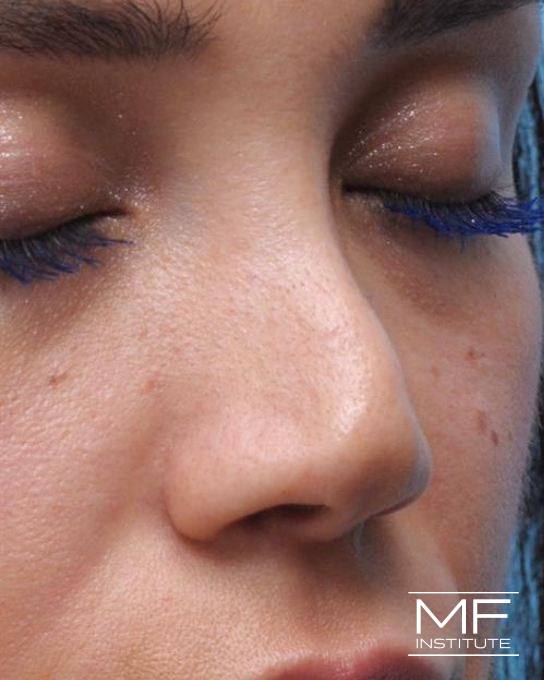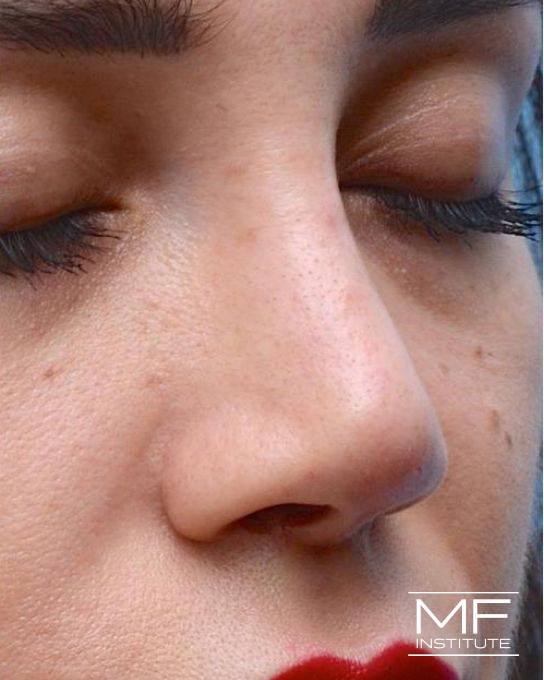 Sometimes surgical rhinoplasty weakens the nasal bones or cartilage, resulting in indentations or other irregularities. We use fillers to restore symmetry and a natural, attractive shape.
Your Nonsurgical Rhinoplasty Procedure
When preparing for your nose contouring procedure, it is important to evaluate both the three-dimensional shape of the nose and its relation to the rest of the face. For example, it is key to evaluate not only the projection of the nose but also its relative proportion/projection to the chin and the lips on profile view. It is also important that your nose contouring procedure is staged over 2 (or more) appointments.
Initial Appointment
The external appearance of the nose, like the rest of the face, is determined by the form and structure beneath the skin. At Mabrie Facial Institute, we have mastered the art and science of using filler as a sculpting material to create a more ideal appearance. The filler—typically Restylane®—is injected using a blunt-tipped microcannula or a microneedle for improved comfort and increased safety. Our experienced providers inject at a precise anatomic depth where there are fewer arteries, and they use a low-pressure injection technique. Nonsurgical rhinoplasty is a delicate procedure, and while complications are rare, it is best left in the hands of highly skilled facial specialists like the team at Mabrie Facial Institute.
Refinement Appointment
Adding too much filler at once can cause it to pool or spread. That's why we start conservatively at the initial appointment, then build on that foundation at the second appointment. We wait 1 to 3 months between treatments to allow swelling to subside completely. Then, we refine your initial results, layering on additional filler only where it's needed. We take our time to get it just right, with stunning, natural-looking results that can enhance your entire face.
For more about what to expect, visit Your Treatment Timeline.
Nonsurgical Rhinoplasty Pricing
For comprehensive pricing information, visit our Fees & Financing page.
TREATMENT
PRICE
Nonsurgical Rhinoplasty
PHYSICIAN
$3,000
PHYS. ASST.
n/a
The Team at
Mabrie Facial Institute
Our team is made up of experienced medical professionals with a shared passion for facial rejuvenation and contouring with injectables. Hand-picked and trained by Dr. Mabrie in the Illumination 360° approach, they work with you to create a treatment experience that exceeds your expectations.
We'd Love To See You
If you are interested in learning more about contouring your nose with fillers, request a consultation online with one of the specialists at Mabrie Facial Institute or call us at (415) 445-9513 to schedule your initial appointment. If you'll be visiting us from outside the area, our Fly in for Your Procedure page was created just for you to help make planning your trip as smooth as possible. 
Nonsurgical Rhinoplasty FAQs
Can I have nose fillers after rhinoplasty?
It's a common misconception that individuals who have had nose surgery should not have fillers placed in the nose. It is true that patients with previous surgical rhinoplasty have an increased risk of vascular occlusion, therefore they must be evaluated case by case for candidacy. That said, we have treated numerous patients with fillers after surgical rhinoplasty with great success. In fact, in the hands of a very experienced and skilled provider, this can be an excellent alternative to undergoing revision surgery. To learn more about the advantages of using fillers after rhinoplasty surgery, read our blog post, "Are Fillers Safe After Rhinoplasty."
---
What if I don't like my nonsurgical rhinoplasty results?
One of the greatest benefits of nonsurgical rhinoplasty is that the procedure is reversible in most cases. If a patient is unsatisfied for any reason, a special enzyme-based product called Hylenex® can be injected into the treatment area within the first 24 hours. This immediately dissolves hyaluronic acid fillers such as Restylane®, JUVÉDERM®, and Restylane® Lyft. RADIESSE® is not a hyaluronic acid and can not be reversed. Ultimately, the effects of dermal fillers are temporary as they are naturally reabsorbed by the body over the course of a few months.
---
How much does nonsurgical rhinoplasty cost?
A "liquid nose job" costs $3,000 at Mabrie Facial Institute. If additional syringes are needed (beyond our typical quantities), those are priced at a discount. Qualified borrowers may be eligible for 0% financing for 6 to 12 months through CareCredit and Alphaeon medical financing.    
---
What are the risks of nonsurgical rhinoplasty?
As with any facial dermal filler injection, there is some risk of vascular occlusion (when an artery or vein is blocked by filler). There is also a very small (1-500,000) risk of blindness. The risks are higher in the nasal area, making it all the more important that you choose a provider who specializes in this procedure. The injector must be very familiar with the nasal anatomy, in particular, the vascular anatomy. At Mabrie Facial Institute, we have the knowledge and experience needed to minimize risk, as well as recognize signs of complications and effectively treat them. For example, we have the products and the training to dissolve the filler immediately if there are any signs of vascular occlusion.
Some temporary side effects such as bruising, swelling, and irritation at the injection site may not be completely avoidable but can be reduced or managed with proper care. Although very rare, there is a risk for injury to the skin, especially those who are concerned with refining the nasal tip. After treatment it is important to watch for signs of vascular compromise, paleness of the skin, increasing pain, or redness.
---
What are the advantages of nonsurgical rhinoplasty?
In addition to being reversible, dermal fillers are versatile, so our associates are able to achieve delicate, very specific improvements that look natural. This type of precision may not be possible with nose surgery. Results are visible very soon after the procedure (if not immediately), and you can provide real-time guidance to ensure the results meet your expectations and goals. The quick, comfortable procedure takes only 15 to 30 minutes, whereas surgery can take 4 to 6 hours and requires general anesthesia. There is no downtime with nonsurgical rhinoplasty, whereas surgery requires an extended recovery, and results take up to a year to materialize. Learn more by reading this blog post.
A Reputation Built on Results
You deserve the highest caliber of service, care, and results, and at Mabrie Facial Institute, we're committed to providing all that and more. But don't take our word for it—see for yourself what our actual patients have to say about their experiences with us.
Read More Patient Reviews
Back to Top