Mabrie Facial Institute
166 Geary Street
Floor 1300
San Francisco, CA 94108
Phone: (415) 445-9513
Text/SMS: (510) 296-3783
Monday–Friday 8:30 a.m.–6 p.m.
Do You Need Upper Face Contouring?
You don't have to have wrinkles to benefit from neuromodulators like BOTOX® and Dysport®. At Mabrie Facial Institute in San Francisco, we often use them in younger patients who want to look their absolute best and preserve their youthful features. Our expert injectors understand how to harness the power of these products to create a smooth, serene forehead; ideal brow shape and positioning; enhanced eye shape and size; and a pleasant appearance free from frown lines.
The Upper Face Zones
Problem 1:

Forehead Wrinkles

Problem 2:

Brow Shape

Problem 3:

Crow's Feet

Problem 4:

Eye Shape
Our Solution: Components of an Attractive Upper Face
The experts at Mabrie Facial Institute understand all the subtle and not-so-subtle characteristics that contribute to an attractive upper face, and they know how to strategically apply injectables to create the ideal contours. Keep in mind, individual results will vary based on physical characteristics and how your body interacts with neuromodulators.
Real Patient Examples
What can be addressed with upper face contouring?
Horizontal Forehead Wrinkles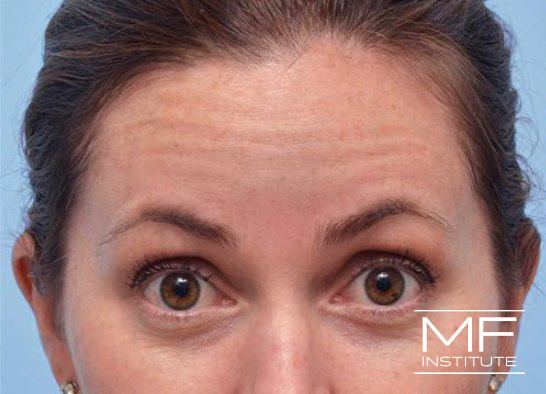 Forehead furrows—the lines that run horizontally across the forehead whenever you lift your eyebrows—are caused by contraction of the frontalis muscle. Vertical lines between the eyebrows—called "elevens" or glabellar lines—form when you frown or concentrate, and can make your face look angry. Neuromodulators can treat both of these concerns for a more pleasant expression.
Brow Position & Shape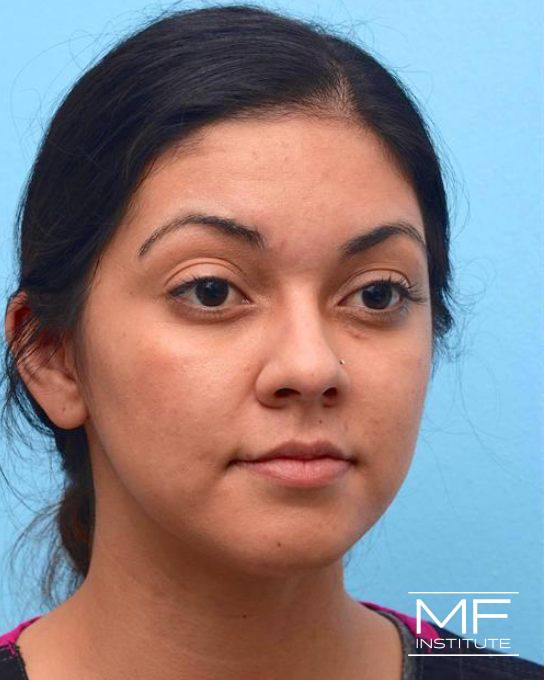 Neuromodulators can help individuals to have symmetrical, more attractively shaped and positioned brows. If your brows are too low, you can look sleepy or stern. Brows that are too high look artificial, and can create a permanently surprised expression. Studies show that softly arched brows—positioned to frame the eyes and complement them—are considered attractive. For men, the ideal brow position is a little lower and less arched than for women.
Crow's Feet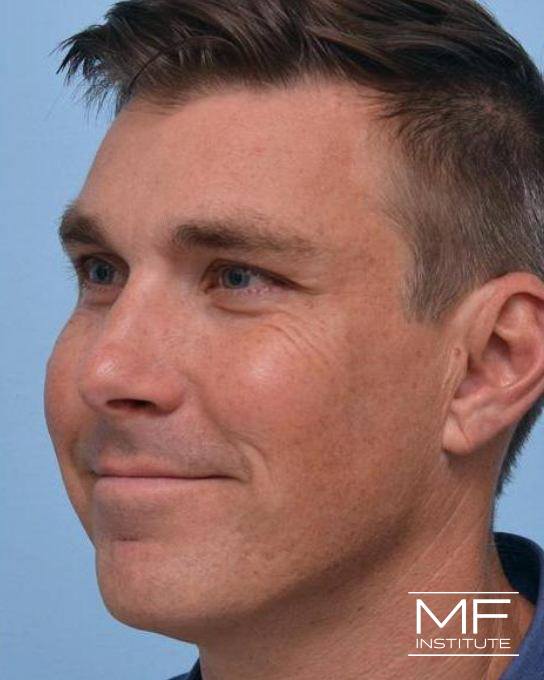 These are the wrinkles on the corners of the eyes that appear when we smile or squint our eyes. They are formed by a portion of the thin muscle (orbicularis oculi) that encircles the entire eye, and careful application of a neuromodulator can smooth these lines.
Eye Shape & Size
Larger, more "open" eyes are considered more attractive, and we can achieve this look for some individuals using neuromodulators.
Your Upper Face Contouring Procedure
At your initial appointment, we will discuss all of your concerns and goals, and we will thoroughly evaluate your makeup-free face from multiple angles, in all different lighting. We will work with you to develop a treatment plan that reveals your optimal beauty. This is all part of our unique Illumination 360° approach to facial contouring and rejuvenation.
Once we have taken a series of medical photos to document your treatment baseline, we will proceed to treatment. Neuromodulators are introduced with a very fine needle into specific facial muscles. The product blocks nerve signals to the muscle, and over approximately 4 to 10 days, the muscle will relax.
For more about what to expect, visit Your Treatment Timeline.
Consider Adding These Enhancers
Temples
Volume loss in the temples causes a gaunt or skeletal appearance that ages you. This is a quick fix with fillers.
Forehead Shaping
A little filler in the forehead goes a long way towards creating a youthful, radiant face.
Upper Eyelids
Careful placement of filler along the upper eyelids brightens and defines the eye area.
Upper Face Contouring Pricing
| UPPER FACE CONTOURING | PRICE |
| --- | --- |
| Injector | Dr. Mabrie, MD | $700 |
| Injector | Kimberly, PA-C / Tiffany, PA-C | $600 |
| Touch-up within 2-4 weeks | Complimentary |
To learn more, visit our Fees & Financing page.
The Team at
Mabrie Facial Institute
Our team is made up of experienced medical professionals with a shared passion for facial rejuvenation and contouring with injectables. Hand-picked and trained by Dr. Mabrie in the Illumination 360° approach, they work with you to create a treatment experience that exceeds your expectations.
We'd Love To See You
If you are interested in learning more about contouring your cheeks and chin with fillers, request a consultation online with one of the specialists at Mabrie Facial Institute or call us at (415) 445-9513 to schedule your initial appointment. If you'll be visiting us from outside the area, our Fly in for Your Procedure page was created just for you to help make planning your trip as smooth as possible. 
Upper Face Contouring FAQs
How much does upper face contouring cost?
The upper face contouring procedure package ranges from $600-$700, depending on injector at Mabrie Facial Institute. This includes your first appointment and the neuromodulators used. Touch-ups within 30 days of your treatment are always complimentary!
We offer financing through CareCredit and Alphaeon, and qualified borrowers may be eligible for 0% financing for 6 to 12 months. 
---
What can I expect after upper face contouring?
It is not uncommon to have itching, swelling, and redness at the injection sites for a day or two. You can reapply makeup after about an hour, and you should be able to return to normal daily activities. Your results should emerge over the course of about a week, and should last 3 to 4 months. Regularly scheduled follow-up treatments may extend results over time.
A Reputation Built on Results
You deserve the highest caliber of service, care, and results, and at Mabrie Facial Institute, we're committed to providing all that and more. But don't take our word for it—see for yourself what our actual patients have to say about their experiences with us.
Read More Patient Reviews
Back to Top