"Oh, hey, are you feeling OK?" "It looks like someone was up late." "Aww, you look so sleepy." If you've been confronted with any of these sentiments when you're feeling fully rested, it may be time to consider some rejuvenation. Often, a person's first thought is, "I guess I need a facelift." But did you know that facelifts are performed to revive only the lower portion of the face (the lower cheeks, neck, and jawline)? A brow lift at our San Francisco practice is actually the right procedure to treat the upper face (upper cheeks, sagging brows, and portions of the upper eye area) to help you look awake and refreshed.
Are You a Good Candidate?
Heavy and sagging brows are most associated with looking tired or sad, but they are very common as we age. Loss of volume and skin elasticity, aging, heredity, stress, and busy social lives can be to blame, all resulting in a tired look.
Dr. Mabrie says, "This is a common concern with patients from all walks of life and any age group. The cause can be hereditary or the result of a busy, active lifestyle. In the San Francisco Bay Area, many of my patients are juggling work and busy social lives. I often see working professionals, as well as busy stay-at-home partners, feeling like they look more tired than they feel. Fortunately, there are some great brow lift options to refresh your appearance. Depending on your level of need, there are some great ways to discreetly revitalize your look non-surgically."
Learn how Dr. Mabrie customizes dermal filler treatments to reveal Your Perfect Face—the one that looks great from any angle, in any light.
Your Treatment Starts Here
Non-Surgical Brow Lift
Patients presenting mild to moderate signs of aging are great candidates for a non-surgical brow lift, which we achieve using neurotoxins like BOTOX® at our San Francisco Bay Area practice.
Mild to moderate patients are typically 25 to 50 years old, with the presence of some fine lines and wrinkles. The beginning signs of aging are apparent with some loss of skin elasticity and volume loss.
A non-surgical brow lift uses a combination of neurotoxins BOTOX or Dysport® strategically placed to provide lift and replace lost volume. Dermal fillers Restylane® and JUVEDÉRM VOLUMA® XC restore volume to the cheeks and tear troughs to revitalize the eyes, forehead, and area between the brows.
Patients may experience a lift in the brows of a few millimeters. While it sounds small, it can make a world of difference.
Surgical Brow Lift | Temporal or Lateral
Patients presenting with more moderate signs of aging are candidates for a surgical brow lift. This is the best option when non-surgical methods may not provide the level of improvement the patient desires to revitalize his or her appearance. These patients are typically in their mid to late 40s with heavier sagging brows and forehead.
Dr. Mabrie performs a temporal or lateral brow lift to reposition and anchor the brow to its original position. During this in-office procedure, small incisions are made on each side of the forehead near the hairline, and a small amount of skin is excised to tighten the area. This raises the corner of the brows upward. However, this procedure does not affect the area between the brows known as the glabella.
How Do I Prepare for Surgery?
To get ready for your procedure, make sure your home is ready to welcome you back. Have food in the kitchen and pain relievers in the medicine cabinet so you can stay home and rest for a few days. You'll need to find a friend or loved one to pick you up after surgery, because anesthesia can leave you feeling woozy for several hours or even a few days. Dr. Mabrie will caution you against driving too soon. You'll also be asked to arrange for someone to stay with you the night following surgery.
What Is the Recovery Like?
When your surgery is complete, you will have a soft wrap around your head to wear for 2 to 4 days. Dr. Mabrie will remove your sutures during the week following surgery. You can expect to experience some swelling and bruising, and you'll be advised to keep your head elevated to minimize this. Although the swelling and bruising won't disappear entirely for a few weeks, you can be "Restaurant Ready" with the help of makeup in several days.
Brow Lift Recovery
Bandages
2-4 days
Suture Removal
4-7 days
Restaurant Ready*
4-10 days
75%
3-4 weeks
100%
2-3 months
*Restaurant Ready means you are ready to debut the new you!
Generally speaking, facial surgery patients recover much more quickly than those who have surgery elsewhere on the body. You should be able to resume exercising in 2 to 3 weeks.
Surgical Upper Lid Blepharoplasty
A surgical upper lid blepharoplasty can also be an option for patients considering surgical and non-surgical rejuvenation of the upper face. This in-office procedure can be combined with either the non-surgical brow lift or with the surgical options. An elegant procedure, the upper lid blepharoplasty focuses on refreshing the eyes by removing excess eyelid skin that may be sagging or drooping because of age or heredity.
"Upper blepharoplasty is one of my favorite surgical procedures because it's minimally invasive, but produces some amazing results. In little over an hour, we can make a substantial improvement to revitalize your appearance."
Want to Learn More?
To learn about who makes a good candidate, procedure details, and what recovery is like, please visit our
upper eyelid surgery
page. This procedure can be done along with a brow lift or non-surgical brow treatments without significantly affecting your recovery
Surgical Brow Lift | Coronal & Endoscopic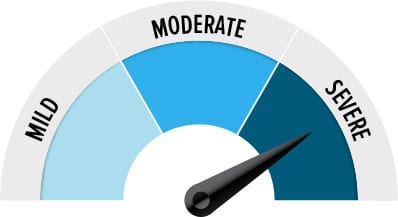 Patients with more extensive signs of aging may benefit from an endoscopic brow lift or the more traditional coronal brow lift. Both of these surgical brow lift procedures elevate the entire brow, moving your hairline backward. While Dr. Mabrie does not perform either of these surgeries, we can refer you to our trusted San Francisco colleagues to ensure your best care and results. Learn more about the different types of brow lifts.
Other alternatives to surgical procedures can include a liquid facelift, also known as a non-surgical facelift, by Dr. Mabrie where dermal fillers combined with BOTOX or Dysport can refresh your look. Learn more.
Dr. David Mabrie
For more than a decade, Dr. David Mabrie has been perfecting his technique for optimizing facial beauty with dermal fillers. He is the only facial plastic surgeon in San Francisco whose practice is focused entirely on injectables.
Dr. David Mabrie can take years off your face with either a surgical or a non-surgical brow lift. He works with men and women from throughout the Bay Area including San Francisco, Oakland, and Walnut Creek. Request a consultation online or call us at (415) 445-9513 today.