Mabrie Facial Institute
166 Geary Street
Floor 1300
San Francisco, CA 94108
Phone: (415) 445-9513
Text/SMS: (510) 296-3783
Monday–Friday 8:30 a.m.–6 p.m.

Becoming the best version of you is a journey—one that should be fun and exciting. By traveling to Mabrie Facial Institute for facial contouring or rejuvenation in San Francisco, you enjoy unsurpassed care and at the same time experience one of the world's most beloved cities. So many women and men travel for procedures with us that we have an entire Concierge Team that specializes in supporting out-of-town patients.
What Are the Next Steps?
You send us several photographs of the area of your face you wish to improve and tell us about your goals. We review these materials and send you an email with our recommendations.
Or, you can request a consultation and visit us in person in San Francisco. We know that your time is valuable and we aim to provide the most comprehensive consultation possible. When you come to our office, you'll visit with members of our clinical team, get answers to your questions, and discuss your options in detail.
Experience SF Like a Pro
With a variety of neighborhoods—Chinatown, North Beach, the Presidio, just to name a few—there's truly something for everyone in San Francisco. From where you stay and where you eat, to the museums and landmarks you visit, every moment of a vacation in San Francisco is unforgettable. Ideally, you can plan your trip so that you have several days before or after your procedure to take in all that the city has to offer.
If you're traveling to San Francisco, take a few friendly tips from us: First, don't call it "Frisco" or "San Fran"—unless you want to be pegged for a tourist. Try "SF" or "The City" if you want to blend in with the locals. And take a look at the rest of our recommendations if you want to get the most out of your stay in our City by the Bay.
And if you want advice on the latest events and cultural happenings across the city, check out Things to Do from Secret San Francisco!
Hotels
The Westin San Francisco
A classic, elegant hotel sitting directly across Union Square you'll be a short 2-minute walk from our office. This luxury hotel has marble columns, ornate balconies, and intricate woodwork to transport guests back to the elegance of yesteryear. (via The Westin website)
The Fairmont
Visit this historic, classy, and iconic hotel located atop Nob Hill. Inside the hotel is the popular Tonga Room and Hurricane Bar with a Tiki Bar vibe, complete with a lagoon. When booking mention Mabrie Facial Institute for a 20% discount!
Mark Hopkins
With a local legacy and grand architectural character that make it one of the most celebrated luxury hotels in San Francisco. It is a landmark Nob Hill destination with breathtaking views of the Bay Area. (via TripAdvisor)
Hyatt Hotel
Located in the heart of San Francisco's vibrant downtown area, Hyatt Place San Francisco / Downtown offers a modern and comfortable stay for travelers. Situated just minutes from the city's top attractions, including the iconic Golden Gate Bridge and Fisherman's Wharf, our hotel is the perfect home base for your San Francisco adventure.
Palace Hotel
Experience the grandeur of a bygone era at The Palace Hotel, located in the heart of San Francisco. Built in 1875, this historic hotel features luxurious accommodations, fine dining, and impeccable service, making it the perfect destination for leisure travelers seeking an unforgettable experience.
The Clift Royal Sonesta
Discover modern elegance and timeless luxury at The Clift Royal Sonesta San Francisco. Located in the heart of the city's vibrant Union Square neighborhood, our hotel features stylish guest rooms and suites, a sophisticated bar and lounge, and a range of thoughtful amenities designed to make your stay unforgettable.
Restaurants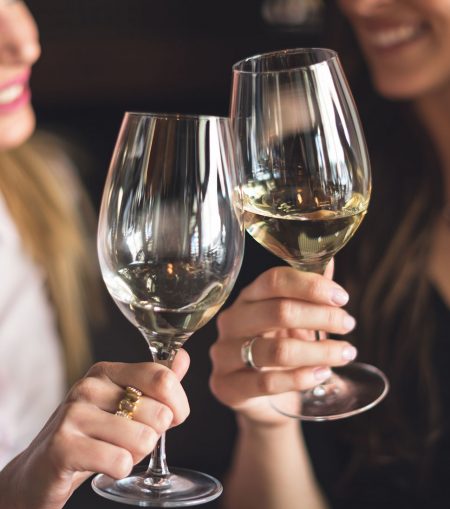 Tropisueño
This colorful, authentic, and family friendly spot offers hand crafted dishes along with specialty drinks (recommendation – try the Cadillac Margarita!) in a truly relaxing atmosphere. Happy Hour 4:00-6:00 p.m.
Chubby Noodle
Looking for something that mixes food and music? Enjoy this popular twist on Asian Mexican fusion while listening to the hip hop throwbacks and current hits. It is rarely quiet in this restaurant, but you don't need your ears to taste delicious food.
Taj Campton Place
If you are looking for San Francisco's best onion soup this is a must try! It is made from scratch and is served all day, offered in the Bistro Bar only.
Looking for an upscale Greek dining experience in SF? Kokkari Estiatorio is your answer! With rustic decor and friendly service, indulge in traditional Mediterranean dishes like grilled meats and seafood, all expertly prepared with the finest ingredients. Save room for dessert – house-made baklava is a must-try! Celebrating a special occasion or looking for a delicious meal? Kokkari Estiatorio is the perfect spot to satisfy your cravings.
Classic Attractions
Golden Gate Bridge
The most iconic landmark of San Francisco!
Ferry Building & Embarcadero
Explore the beautiful Bay waterfront and iconic ferry building with a variety of restaurants, stores and local shops.
Ghirardelli Square
Irresistible chocolate treats and ice cream all with a view of Golden Gate Bridge and Alcatraz.
Buena Vista Café
Opened in 1916, this famous San Francisco corner spot serves its signature Irish coffees alongside American breakfast, lunch, and dinner classics.
SF MOMA
A nonprofit organization, San Francisco Museum of Modern Art, holds an internationally recognized collection of modern and contemporary art.
Fun Neighborhoods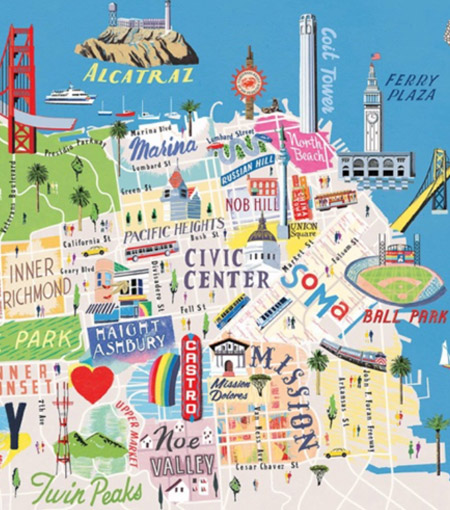 North Beach
Our 'Little Italy', great shops and people watching.
Hayes Valley
Young, hip, cute shops and great for happy hour.
Mission
Hipster vibe, mesmerizing murals, live music, tasty Latin food.
Union Street
Shop until you drop: plenty of boutiques for shopping.
Marina
Trendy neighborhood for scenic Gold Gate views with delicious places to eat and drink.
Night Life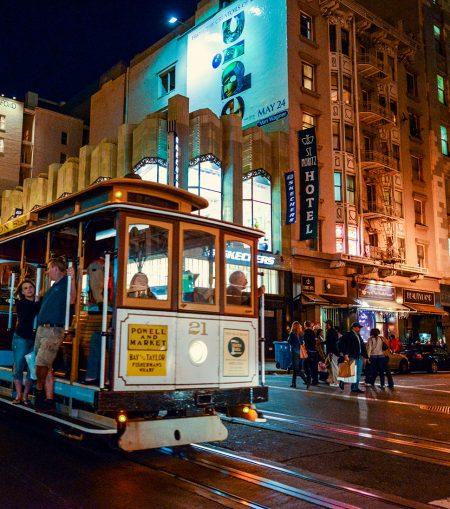 Black Cat
Swanky jazz lounge, cocktail bar & New American bistro with two levels of seating & live music. (via Google)
Dirty Habit
Restaurant & lounge located in the trending SOMA neighborhood, the fifth-floor hideaway holds a dramatic noir-inspired dining room and full heated outdoor patio. (via Dirty Habit website)
Cityscape Lounge
Visit this posh bar with delicious cocktails and appetizers. Located on the top floor of the Hilton Hotel San Francisco, it offers mesmerizing 360° views of the city.
Resources
Booking.com – Allows you to search hotels and nearby attractions around Union Square.
Expedia.com – Find great deals on flights and hotel packages.
Hoteltonight.com – Great deals on last minute reservations.
Airbnb.com – An online marketplace for arranging lodging, primarily homestays, or tourism experiences. (via Airbnb website)
sftravel.com – Sightseeing tours, events, restaurants, hotels, and more, all in one place.
opentable.com – A quick way to make reservations at top local restaurants.