The historic Tanama building at 166 Geary in Union Square survived the 1906 Earthquake.
After practicing in the Bay Area for several years, Dr. Mabrie moved his office to 166 Geary in the heart of downtown San Francisco/Union Square.
Dr. Mabrie recalls, "Of course, we were delighted to be in such a great historic building, which is the home to several salons, spas, and hair stylists, in addition to being centrally located and so close to all the great Union Square shopping.
The office we found on the 13th floor was wonderful with beautiful views of the city. However, we also had the daunting task of designing our space.We wanted a clean, contemporary, office space that also exuded warmth.Fortunately, we found designer, Gary Maricich Jr. who helped us develop exactly what we had in mind."
The Designer, Gary Maricich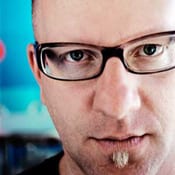 Once upon a time, Gary Allen Maricich Jr. earned a degree in interior architecture from Brook's in Long Beach, California, and then pursued postgraduate studies for four years in Italy under the wing of Leonetto Tintori, world renowned conservator of fresco. Upon returning to the states, he set up studio in Seattle, showed artwork in galleries and began commissioned design work. Gary returned to his native city of San Francisco in 1996 and delved deeper into the world of interior architecture and industrial design. Hence, GARAMAR was founded.
Gary has designed many restaurants, homes, and commercial spaces in the Bay Area. We were delighted to work with him on our project.
Gary Recalls, 'An Empty Canvas'
"I remember the first time I walked into the empty shell on the 13th floor at 166 Geary.Wonderful light filled the corner space.My first thoughts where to keep it 'as is' but the open space wasn't exactly conducive to seeing patients."
An Empty Canvas
| | | |
| --- | --- | --- |
| | | Functional and inviting, the office on the 13th floor at 166 Geary takes shape. |
"Together, Dr. Mabrie and I planned the space into 3 rooms:a waiting area, consultation room, and treatment room.The challenge was to keep the open feeling of the existing space and still give Dr. Mabrie the room he needed to make his office work efficiently. Not only did the space need to function as a working office forhis practice, but it needed to be inviting and comfortable with purpose. Once the 'space plan' was worked out, then it was time for color and soul."
Exam Room
| | | |
| --- | --- | --- |
| | | Eight foot doors were placed to take advantage of the high ceilings. A deep brown gives a warm feeling throughout the office. Brazilian Cherry Pergo floors were both attractive and functional for a medical office. |
Reception Area
| | | |
| --- | --- | --- |
| | | The same color of the consultation room serves as a soothing backdrop for the three floral panels, painted by Gary Maricich. |
Details
Floral panel paintings in reception area.
Lighting was placed in strategic areas to illuminate the space properly and color was chosen based on the harmony of each individual environment within the office.
Custom, hand made sconces were designed and built by Gary Maricich for the consultation room.
Three floral panel paintings were designed and crafted for the reception area. Through the combination of space planning, color, lighting and art, GARAMAR was able to bring to life Dr. Mabrie's vision and create an environment where our patients feel comfortable and at ease.
To see our beautiful space for yourself, request a consultation online or call us at (415) 445-9513.