Mabrie Facial Institute
166 Geary Street
Floor 1300
San Francisco, CA 94108
Phone: (415) 445-9513
Text/SMS: (510) 296-3783
Monday–Friday 8:30 a.m.–6 p.m.
Do You Need an MFI Lift (Liquid Facelift)?
When you feel energetic and youthful on the inside, but the face you see in the mirror looks tired and aged, it can be frustrating, and it can take a toll on your confidence. For individuals with generalized signs of aging in the upper, mid, and lower face, our MFI Lift is an excellent solution. It combines elements of our upper face, midface, and lower face rejuvenation procedures, along with optional enhancers, into one—a package sometimes referred to as a "liquid facelift."
At Mabrie Facial Institute in San Francisco, our exceptional injectors perform this procedure to improve forehead wrinkles, brow position, under-eye shadows, bags, nasolabial folds, jowling, and poor chin projection. While this customized procedure brightens and refreshes the face, it also addresses contouring of the cheeks and anterior jawline.
WHAT YOU SEE
Under-eye bags and circles
Sagging skin around the corners of the mouth, chin, and jawline
Deep facial lines, folds, and wrinkles
WHAT WE SEE
Fat loss and bone resorption causing the underlying structure of the face to collapse, creating shadows, hollows, and loss of definition. On top of this, thinning skin sags and creases, contributing to an overall aged appearance.
6 Problem Areas of the Aging Face
The MFI Lift Zones
Problem 1:

Dark Circles

Problem 2:

Nasolabial Folds

Problem 3:

Sagging Cheeks

Problem 4:

Jowls

Problem 5:

Marionette Lines

Problem 6:

Underprojected Chin
MFI Lift (Liquid Facelift)
The MFI Lift is the most transformative procedure we offer, providing significant correction of volume loss and enhancement of facial contours using fillers and neuromodulators. This full-face rejuvenation includes aspects of each of our other rejuvenation packages:
This commonly involves restoration of areas including the forehead, tear troughs, midface, cheeks, nasolabial folds, and chin, as well as definition and contouring to improve the youthfulness of the face.
MFI Lift – Older Adult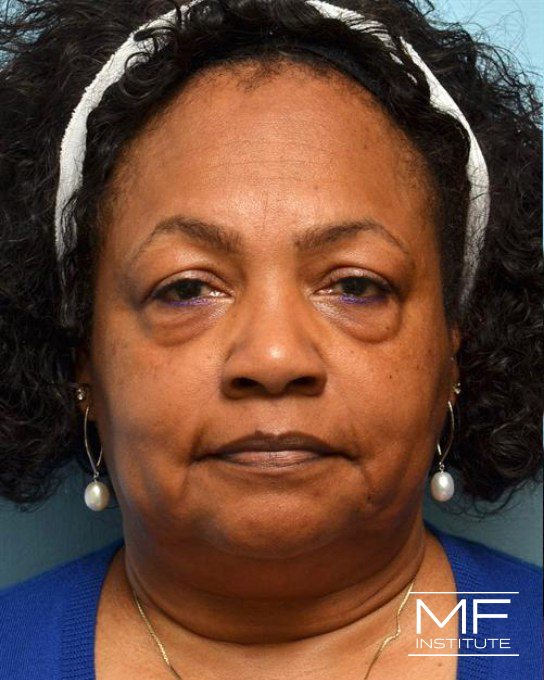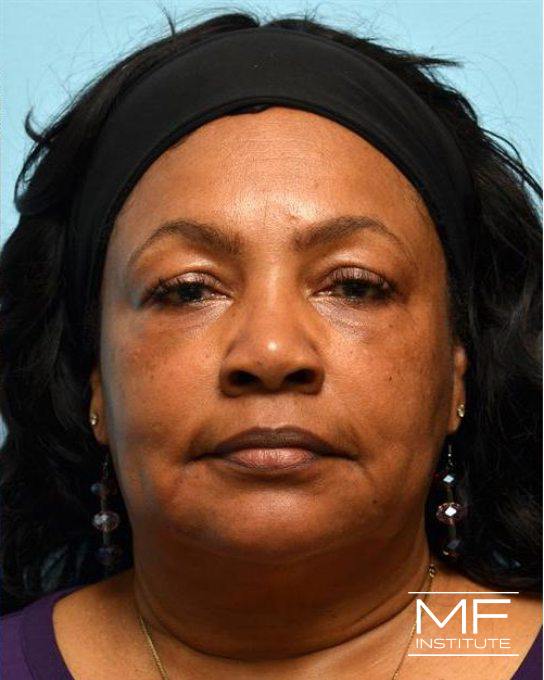 MFI Lift – Young Adult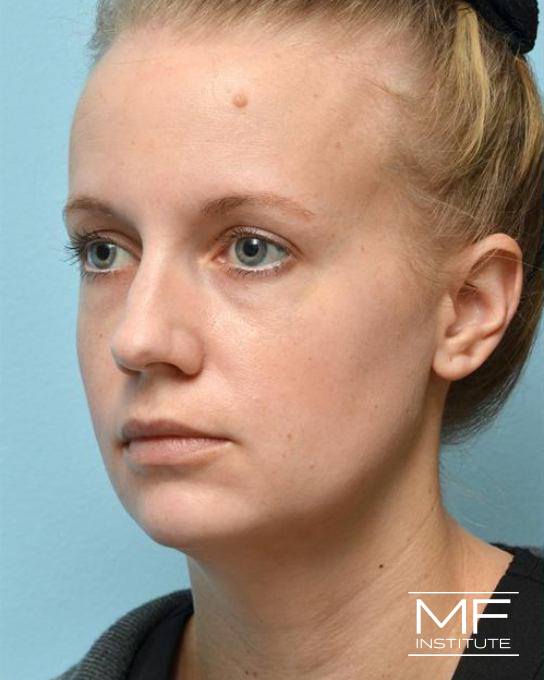 Enhancers
Your MFI Lift procedure will include upper, mid, and lower face rejuvenation customized to help you look refreshed and more youthful. However, individuals may benefit from enhancers to rejuvenate or contour additional areas of the face. Our enhancer options cover everything from your forehead and temples to your chin and jaw, and everything in between.
Your MFI Lift Procedure
For the MFI Lift, we use a variety of injectable products and we meticulously administer them over the course of 2 or more appointments. This staged approach allows us to create structure, support, and truly remarkable yet natural-looking results.
Initial Appointment
Treatment begins by restoring volume to the larger anatomical areas to address primary volume loss and/or bone resorption, particularly in the mid and lower face. This creates the "foundation" on which we continue to layer and refine. We also use neuromodulators in the upper face to smooth and refresh this area.
While we can do a lot in one appointment, we have learned over the years that too much, too soon, is not good, and a "layered" approach works best.
Refinement Appointment
The second appointment is scheduled 1 to 3 months after your initial treatment. All swelling will have subsided, and we can see any remaining shadows. The support is in place for any additional volume needed to truly bring out the best version of your face. Some patients will still require a third appointment for optimal results.
For more about what to expect, visit Your Treatment Timeline.
MFI Lift Pricing
| MFI LIFT | PRICE |
| --- | --- |
| Injector | Dr. Mabrie, MD | $8,000 |
| Injector | Kimberly, PA-C / Tiffany, PA-C | $6,000 |
| Refinement Syringes | $600/$500 |
To learn more, visit our Fees & Financing page.
The Team at
Mabrie Facial Institute
Our team is made up of experienced medical professionals with a shared passion for facial rejuvenation and contouring with injectables. Hand-picked and trained by Dr. Mabrie in the Illumination 360° approach, they work with you to create a treatment experience that exceeds your expectations.
We'd Love To See You
If you are interested in learning more about rejuvenating the look of your entire face, request a consultation online with one of the specialists at Mabrie Facial Institute or call us at (415) 445-9513 to schedule your initial appointment. If you'll be visiting us from outside the area, our Fly in for Your Procedure page was created just for you to help make planning your trip as smooth as possible. 
MFI Lift FAQs
How do I know if I need an MFI Lift or a facelift?
A patient with skin that retains most of its elasticity, but who is concerned about lost volume in the upper and lower areas of the face, can get exciting results from an MFI Lift. The specialists at Mabrie Facial Institute can restore youthful contours and minimize shadows and wrinkles to create a refreshed, healthier, more luminous appearance. To help you determine whether you need a facelift or a nonsurgical MFI Lift, read our blog post, "Facelift vs. Liquid Facelift."
---
How much does an MFI Lift cost?
MFI Lift procedures are customized to each individual's unique pattern of aging and facial anatomy. Pricing varies depending on the quantity and type of products used, the number of treatment areas, and whether or not you will benefit from treatment enhancers. We provide a detailed price quote and treatment plan at your consultation. We also partner with CareCredit and Alphaeon medical financing, which offer 0% financing for 6 to 12 months for qualified borrowers.
---
Which fillers do you use for an MFI Lift?
Typically, for under-eye rejuvenation, we use Restylane® for the tear trough and JUVÉDERM VOLUMA® for the cheeks and midface. For the lower face, we use JUVÉDERM Ultra®, JUVÉDERM VOLUMA, and Restylane. These are hyaluronic acid fillers, which means they are reversible and there is virtually no risk of an allergic reaction. Learn all about the fillers we use by visiting Dermal Fillers 101.
For upper face BOTOX and some lower face concerns, we use neuromodulators including BOTOX, Dysport®, and XEOMIN®.  
A Reputation Built on Results
You deserve the highest caliber of service, care, and results, and at Mabrie Facial Institute, we're committed to providing all that and more. But don't take our word for it—see for yourself what our actual patients have to say about their experiences with us.
Read More Patient Reviews
Back to Top