Mabrie Facial Institute
166 Geary Street
Floor 1300
San Francisco, CA 94108
Phone: (415) 445-9513
Text/SMS: (510) 296-3783
Monday–Friday 8:30 a.m.–6 p.m.
Also known as
Full Face of Fillers, Full Facial Fillers, Full Face Contour Fillers
The MFI Full Face 360° fillers package is the crème de la crème of the facial rejuvenation and contouring treatments we're known for. Our expert Injectors pull out all the stops to take your attractiveness to a level that might surprise you (in a good way). Full Face 360° produces our most WOW-inspiring results. We're excited to help you be WOWed by your face.
What Is Full Face 360°?
Our full face fillers package is whatever you need it to be. For some, it's a nonsurgical liquid facelift using fillers and BOTOX. For others, it's the ultimate nonsurgical face contouring package. For our San Francisco patients who want it all, this package combines 5 of our signature treatments into one.
Five Treatments in One  
Softens wrinkles across the upper face
Lifts the brows
---
Brightens dark circles under the eyes
Lifts and contours cheekbones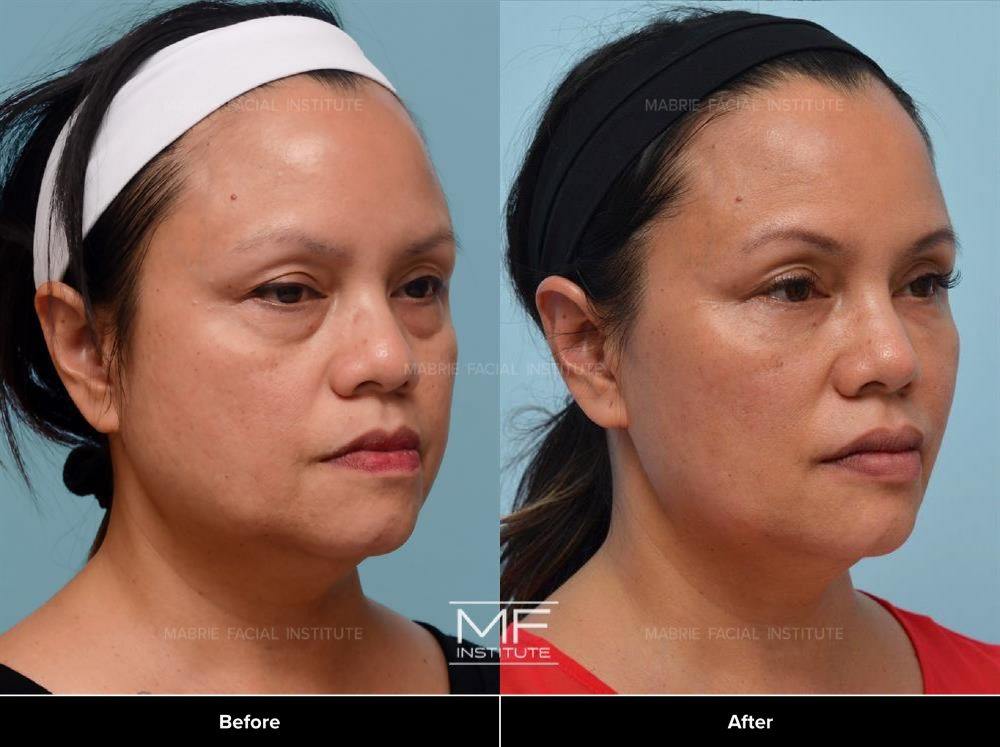 Improves nasolabial folds
---
Shapes the chin
Defines the jawline
Brightens shadows and smooths lines at the corner of the mouth
---
2 Enhancers of your choice allow for complete customization of your treatment.
Lips – keeps them plump and hydrated
Jaw angle – Gets that extra definition
Nose – Straightens, smooths, and contours
Facial slimming – Creates a more V-shaped face
Earlobe
Forehead Shaping
Other Enhancer options:
Preauricular
Upper Eyelid
Temples
You choose the Enhancers to complete your transformation.
Who Is Full Face 360° For?
This is not an age-dependent treatment, because no matter your age, you feel most beautiful when you're confident in who you are, and your external beauty reflects your internal confidence. Whether you're 30 or 70, it's never too early or late to be your ultimate self.
Contouring – Younger adults use Full Face 360° transformation to focus on facial contouring, adding definition to their face, improving its shape, proportions, and contours.
Rejuvenation – Middle aged to older adults opt to have Full Face 360° to reverse signs of aging, restore lost volume, and treat themselves to a younger-looking face from forehead to chin.
Real Patients, Real Results: Contouring & Rejuvenation
These are our real patients—women, men, younger, more mature—who chose Full Face 360°. These may look like plastic surgery results, but they're all achieved entirely with injectables. The "afters" are a brighter, more balanced, energized, and vivid version of the person in the "before" photo.
360° Full Face Rejuvenation
360° Full Face Contouring
Why Full Face 360° Is So Transformative
We developed our Full Face 360° package to build on your already great features, taking the entire face into account. That holistic view allows for small changes across the entire face to coalesce into one beautiful and natural transformation. With facial fillers and neuromodulators like BOTOX, we can help you achieve the best version of you, and enjoy the confidence and empowerment that comes with it—all without surgery.
Planning Your Full Face 360° Full Face Filler Treatment
This package uses a variety of facial fillers—such as JUVÉDERM and Restylane—and neuromodulators (BOTOX or Dysport) applied over the course of 2 or more appointments. This staged approach allows us to create structure and support first, then add the "wow" factor.
While we can accomplish a lot during one appointment, we have learned over the years that too much, too soon, is not good, and a "layered" approach works best.
Our Full Face 360° Full Face treatment is an in-office procedure that takes about 90 minutes for your first and second appointments. Many patients return to their normal daily activities afterward. Your second appointment is usually scheduled 1 to 3 months after the first, and we prefer that you schedule both appointments when you initially book with us.
For more about what to expect, visit Your Treatment Timeline.
Full Face 360° Pricing
For comprehensive pricing information, visit our Fees & Financing page.
TREATMENTS
PRICE
Full Face 360° (the ultimate treatment package)
PHYSICIAN
$13,000
PHYS. ASST.
$10,000
Refinement Syringes
PHYSICIAN
$600
PHYS. ASST.
$500
*Discounted syringe pricing applies only during the active (initial) treatment phase
Why Choose MFI?
We are experienced leaders in nonsurgical rejuvenation and enhancement. Helping you realize your full potential is our passion. Our Expert Injectors specialize in transformative treatments and experiences that help our patients express their individual beauty. We work exclusively with filler and neurotoxins, and our patient results show the culmination of expertise, artistry, and skill that comes with dedication to our core focus.
Meet Your Injectors
Our team is made up of experienced medical professionals with a shared passion for facial rejuvenation and contouring with injectables. Hand-picked and trained by Dr. Mabrie in the Illumination 360° approach, they work with you to create a treatment experience that exceeds your expectations.
We'd Love To See You  
If you are interested in learning more about looking your absolute best, request a consultation online with one of the specialists at Mabrie Facial Institute or call us at  (415) 445-9513 to schedule your initial appointment. If you'll be visiting us from outside the area, our Fly in for Your Procedure page was created just for you to help make planning your trip as smooth as possible. Our expert Concierge Team can assist you.
Full Face 360° FAQs 
How much does nonsurgical face contouring treatment cost?
Full Face 360° procedures at MFI are $13,000 when performed by Dr. Mabrie, and $10,000 when performed by one of our Physician Assistant Associate Injectors. This includes up to 11 syringes of filler and 40 units of BOTOX. If additional syringes are needed as part of your active (initial) treatment phase, those are priced at a discount. We partner with CareCredit and Alphaeon medical financing, which offer 0% financing for 6 to 12 months for qualified borrowers.
How old should I be for Full Face 360° Filler Treatment?
It's never too early or too late to look like your ultimate self. Our Injectors customize Full Face 360° packages to minimize imperfections and optimize all your best characteristics—no matter whether you're 20 or 70.
Which injectable fillers do you use for facial shaping and contouring?  
Typically, for the lower face, we use JUVÉDERM Ultra®, JUVÉDERM VOLUMA®, and Restylane®. For midface rejuvenation, we use Restylane for the tear trough and JUVÉDERM VOLUMA for the cheeks and midface. These are hyaluronic acid fillers, which means they are reversible, and there is virtually no risk of an allergic reaction. Learn all about the facial fillers we use by visiting Dermal Fillers 101.