While non surgical rhinoplasty is popular all around the world, few providers have more experience with the procedure than our very own Dr. David Mabrie. At our Bay Area practice, we receive questions about the "liquid nose job" almost every day, and have created this blog post to answer them all.
What is non surgical rhinoplasty?
A non surgical rhinoplasty, also known as a non surgical nose job or liquid nose job, is a cosmetic procedure in which dermal fillers are used to reshape the nose without undergoing surgery. During the procedure, a medical practitioner injects a hyaluronic acid-based filler, such as Restylane® or JUVÉDERM®, into specific areas of the nose to smooth out bumps, straighten the bridge, build up and visually "slim" a wide or flat nose, or lift or refine the tip of the nose.
Which is better, surgical rhinoplasty or dermal fillers?
It's important to understand the difference between surgical rhinoplasty and dermal fillers. In fact, we dedicated an entire blog post to what non surgical rhinoplasty can and can't do if you're interested in learning more. Here's a quick breakdown: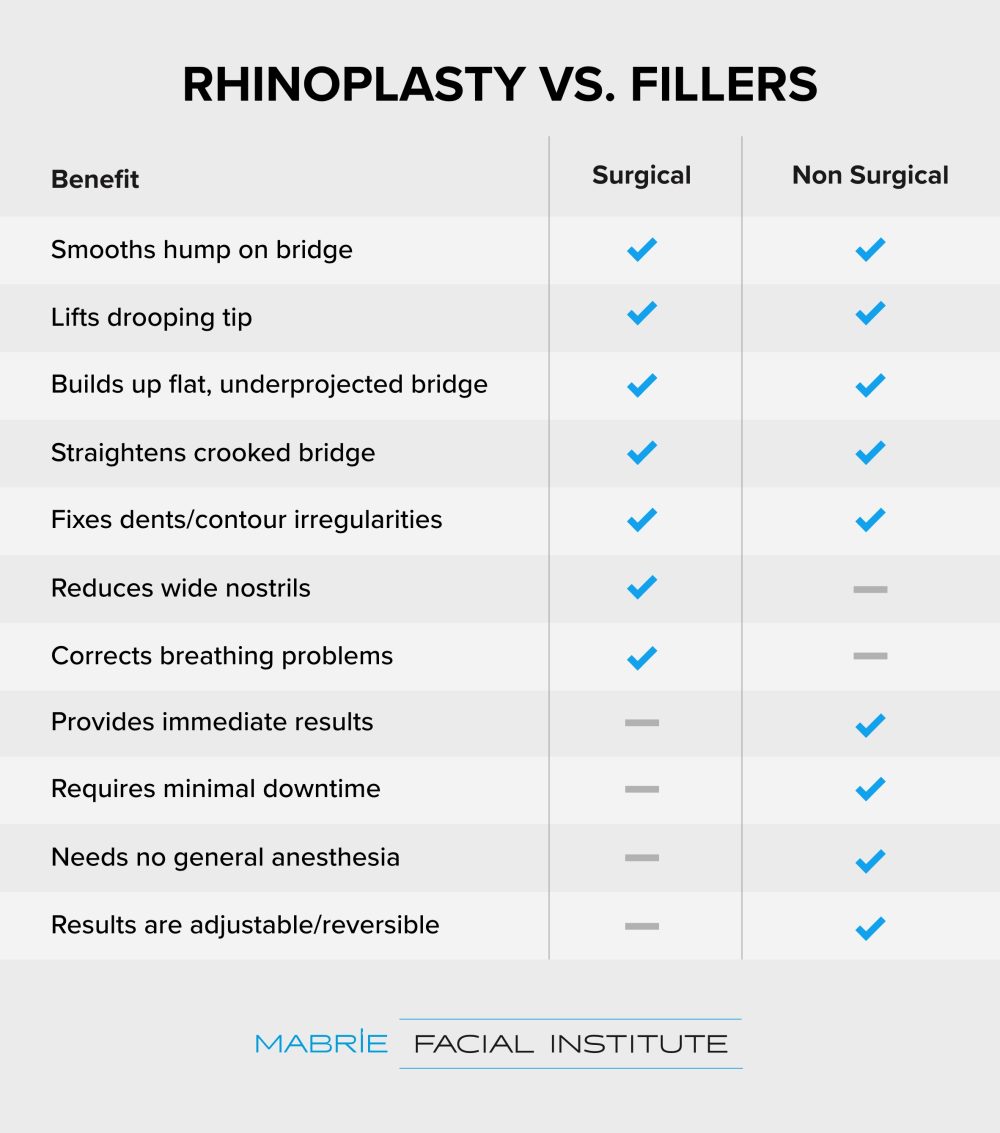 In terms of which procedure is better for you, there are many considerations. Ask yourself these questions:
Do you want a treatment that is completely reversible?
Are you interested in a procedure that can be adjusted in "real time" until it's exactly what you want?
Would you like to avoid anesthesia, incisions, and a long, painful recovery?
If you answered yes to any of the above questions, non surgical rhinoplasty might be better for you.
Can a non surgical nose job make your nose smaller?
Nonsurgical rhinoplasty cannot reduce the size of your nose, but it can create changes that give your nose the appearance of being smaller. For example, softening or smoothing the angle of projection makes the nose seem less prominent. Building up the bridge can give a wide nose a slimmer, more angular appearance. Correcting asymmetries and irregularities can bring your nose more into balance with your other features. If you are looking for a more significant reduction in the size of your nose, surgical rhinoplasty may be a better option.
MFI Real Non Surgical Rhinoplasty Results
How much does a non surgical nose job cost?
At MFI, the cost for non surgical rhinoplasty is $3,300, and each procedure is performed by Dr. David Mabrie, a trained facial plastic surgeon. As a non surgical rhinoplasty specialist and pioneer in San Francisco, there are few providers with Dr. Mabrie's level of skill and experience with this procedure.
What is the best filler for a non surgical nose job?
At MFI, Restylane is the preferred filler for nonsurgical rhinoplasty because of its durability and natural-looking results. Restylane is made from hyaluronic acid, a naturally occurring sugar molecule found in the body, meaning it is safe and biocompatible. Additionally, Restylane is highly malleable, making it easier for your Injector to shape it and create the natural-looking contours. For these reasons, plus its long-lasting results, Restylane is widely regarded as the best filler for a non surgical nose job.
MFI Real Non Surgical Rhinoplasty Results
How long do dermal fillers last in the nose?
Non surgical nose job with Restylane produces results that last approximately 12 months. However, at MFI, we extend your results indefinitely with maintenance treatments every 6 to 9 months, so you can look your best without interruption. These treatments require significantly less filler than the initial treatment, so the cost is reduced, which is a great reason to keep up with your maintenance.
Are non surgical nose jobs permanent?
No…and for many patients, that is the appeal. Non surgical nose jobs can be easily reversed or refined, unlike surgical rhinoplasty.
Still have questions?
MFI is here for you! To speak with Dr. Mabrie and get answers to all your non surgical rhinoplasty questions, request a consultation online, or call (415) 445-9513 to schedule your appointment.
To see more of Dr. Mabrie's exceptional non surgical rhinoplasty results, visit our non surgical rhinoplasty photo gallery.