The answer is "yes" and "no."
I specialize in non surgical rhinoplasty using Restylane® and other facial fillers in my San Francisco office. As a facial plastic surgeon, I've performed hundreds of surgical rhinoplasties, and now, thousands of non surgical rhinoplasties. After 10 years of performing both, I find that patient experience and satisfaction are much higher with non surgical rhinoplasty vs. surgical for several reasons:
Results are immediate.
Swelling, pain, and recovery time are greatly reduced.
Final cosmetic results are often better.
There are circumstances, such as severe cosmetic deformities and functional nasal disorders, where surgery is the better alternative. However, most common cosmetic nasal concerns can be improved with a non surgical rhinoplasty.  In this post, I discuss these common concerns and how I go about treating them.
Nasal Tip
The tip of the nose is often the source of my patients' complaints. Problems with the nasal tip include a rounded, boxy, drooping, or bulbous tip. By artfully injecting a filler during non surgical rhinoplasty—typically Restylane—into the apex of the nose, I can provide a variety of improvements including:
Creating definition
Reducing a rounded or bulbous appearance
Softening an angular or boxy tip
When patients want to correct nasal droopiness, well-placed injections in the tip can increase rotation and create an upward tilt.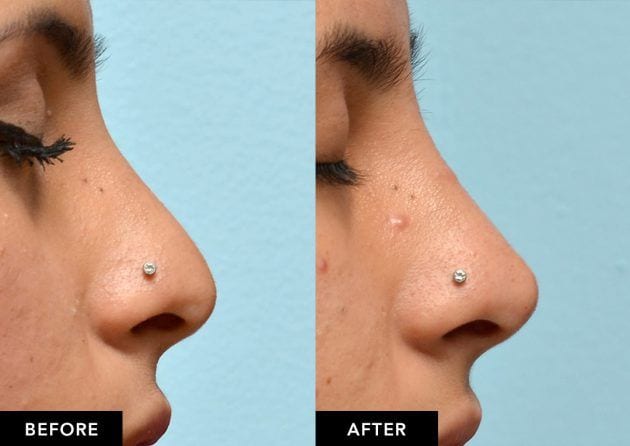 This young woman's nose was characterized by a drooping tip. Carefully placed Restylane injections reshaped her nose so that the tip pointed upward instead of down. Restylane injected into the nose can last up to a year or longer.
Indentations, Irregular Contour
One of the great things about dermal fillers is that they give me the ability to make subtle refinements, such as filling indentations or straightening a "crooked" nose. These delicate changes would be much more difficult (and risky) to address through surgery.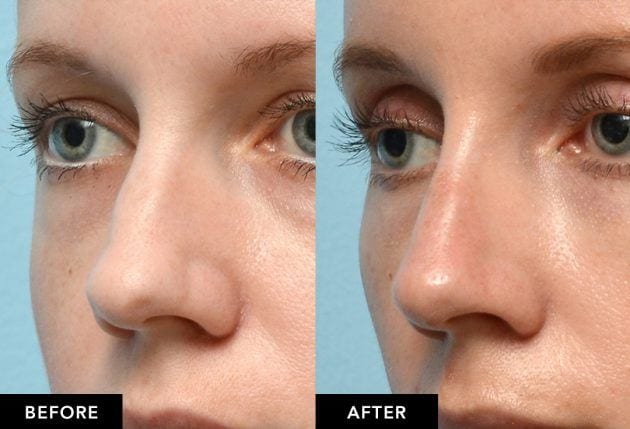 With a few Restylane injections, I smoothed the minor irregularities in this woman's nose, creating a straight, attractive contour that enhances her overall beauty.
Revision From Previous Accident Or Scarring
Many people who visit my practice have visible complications from a previous rhinoplasty or trauma to the nose. They are often understandably wary of undergoing surgery to repair the irregularity. Non surgical rhinoplasty can be ideal for these patients.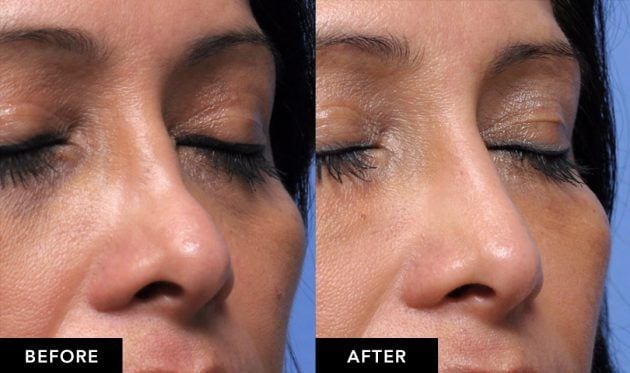 After rhinoplasty surgery, this woman was left with an irregular shape and an indentation that caused the nasal tip to look large and prominent. With filler injections to the bridge and tip, I was able to smooth out the nasal contours, giving her an improved profile and boosting her confidence.
Wide Bridge
An angular, defined bridge is considered universally attractive, and can enhance the overall appearance of your face. Many individuals have a wide bridge that lacks definition, and non surgical rhinoplasty is an ideal solution for this problem. I use injections of JUVÉDERM® or Restylane to build up the bridge, creating a more pronounced nasal dorsum that improves both the profile and the frontal appearance.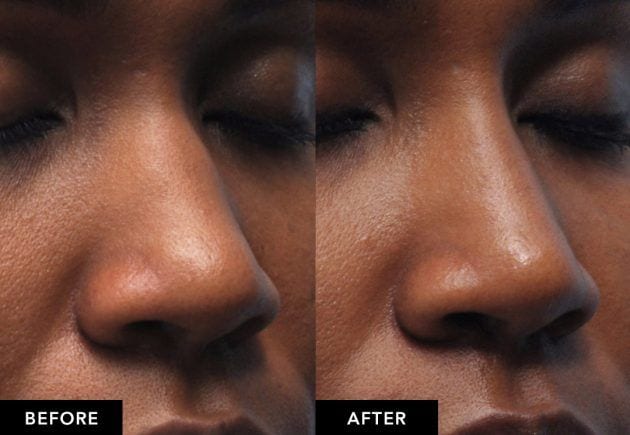 Despite being happy with the overall size and character of her nose, this woman wanted subtle refinements that wouldn't look "done." I used one syringe of Restylane to give definition to the bridge and tip, which turned her "fine" nose into a perfect one.
Hump Reduction
A prominent dorsal hump is a common complaint that sends women and men to the plastic surgeon's office. Many of my patients who thought surgery was their only option are surprised to see how much improvement can be achieved with dermal fillers. Each case is different, but I typically add Restylane to the bridge and tip, essentially straightening the nasal profile and smoothing out the appearance of the hump.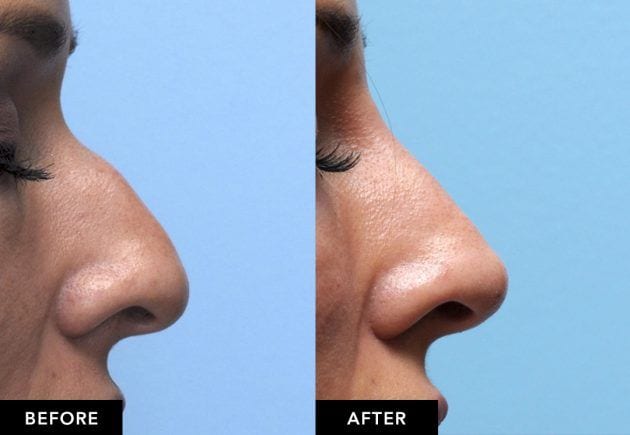 I dramatically improved this woman's profile by adding filler above the hump. I also slightly rotated the tip upward using Restylane Lyft.
You can see many more of our patients' non surgical nose job before and after pictures in our photo gallery.
Many of my non surgical rhinoplasty patients initially came to me for treatment of other concerns, such as dark circles or nasolabial folds. But after a thorough consultation, we determined that improvements to the nasal contours would enhance their overall attractiveness. This is often part of my Illumination 360° treatment process, in which I take a full-face approach to correcting flaws and highlighting key features to optimize a person's looks. You can see from these cases, subtle, artful refinements to the nose can play a key role in achieving your best face.
If you're considering a non surgical nose job or other facial contouring procedures with dermal fillers like Restylane or JUVÉDERM® in the San Francisco Bay Area and want to learn more, please contact us using our online form or by calling us at (415) 322-3294.  Our Concierge Team is available to answer your questions or to schedule a time for your initial assessment with Dr. Mabrie.