Chiseled jaws are hot.  
It's no coincidence that the biggest male celebrities (Brad Pitt, Michael B. Jordan, Robert Pattinson, etc.) all have jawlines that could cut glass. The exciting news is, even if you weren't born with a movie-star jawline, you can still get that chiseled look with jawline contouring with filler. Our San Francisco Bay Area Injectors specialize in helping guys get that strong, defined jawline that can take your looks to the next level.
Why the Jaw Matters (More Than You Think)
A strong jawline has always been linked with masculinity and male attractiveness. The jawline frames the face, and definition in the chin and jaw area separates the face from the neck. Ultimately, a clean, sharp jawline can help you look more lean, fit, and athletic.
Need more convincing? Studies show that people associate strong, masculine jawlines with more competent leadership skills. One study of CEOs of Fortune 500 companies found that 90% had strong chins/jawlines. When it comes to jawline enhancement, it's not just about seeing a more attractive face in the mirror, it's about how others perceive you.
How You Can Get That Chiseled Jawline
At Mabrie Facial Institute, we're dedicated exclusively to the art and science of injectables. We'll examine your chin and jawline and develop a custom plan for sculpting the angles that work best for your face. Here's how it breaks down: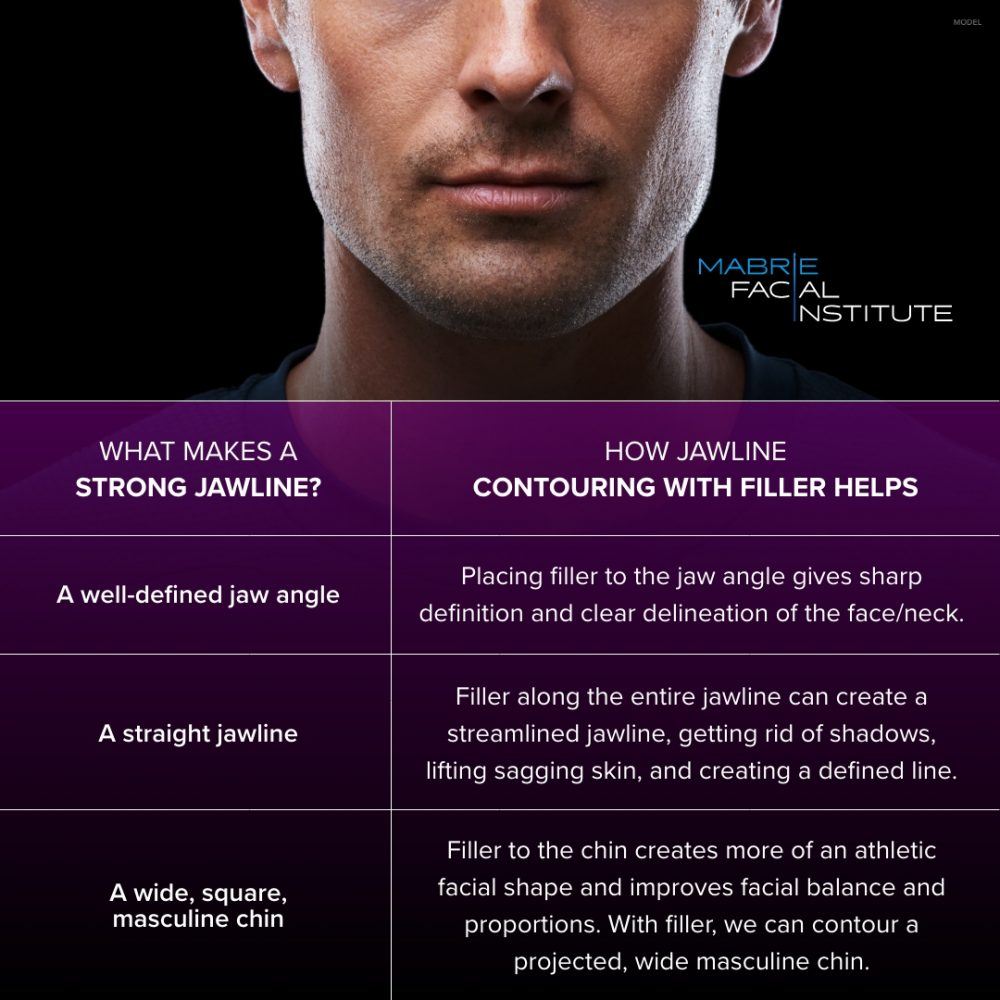 Jawline Filler in Action
Ready to see what jawline filler can do? At Mabrie Facial Institute, no matter what your face shape, we can help you get that stronger, more athletic jawline with filler. Look at these examples of men who went from ordinary to WOW with chin and jaw enhancement:
Creating a Well-Defined Jaw Angle With Filler
Straightening the Jawline with Filler
Creating a Wide, Square, Masculine Chin With Filler
How Much Does Chin & Jawline Filler Cost?
At MFI in San Francisco, our Chin & Jawline package costs from $4,200 to $5,300, depending on the Injector. If you require or want more than a typical amount of filler, that price may vary. However, once we've perfected your jawline, you move into the maintenance phase of treatment. That means we see you approximately every 9 to 12 months, and annual maintenance averages $1,000 to $2,400.
Are You Ready To Look Like a Star?
We invite you to call us at (415) 445-9513 or request a consultation online for an in-person evaluation with one of our highly trained Injectors. Online consultations are also available by request. Let us know what works best for you!
In the meantime, check out our photo gallery and the amazing jawline contouring results we achieve with fillers. Men who want to look their best visit us from Daly City, San Mateo, Palo Alto, Mountain View, and throughout the San Francisco Bay Area, as well as other parts of the state and the country.
Meet Your Injectors
Our team is made up of experienced medical professionals with a shared passion for facial rejuvenation and contouring with injectables. Hand-picked and trained by Dr. Mabrie, they work with you to create a treatment experience that exceeds your expectations. 
Schedule Me