Mabrie Facial Institute
166 Geary Street
Floor 1300
San Francisco, CA 94108
Phone: (415) 445-9513
Text/SMS: (510) 296-3783
Monday–Friday 8:30 a.m.–6 p.m.
Your face is you, and it's always on display. If you're considering non surgical facial contouring or rejuvenation, you need a facial specialist, and that specialist should be someone extraordinary.
Dr. David Mabrie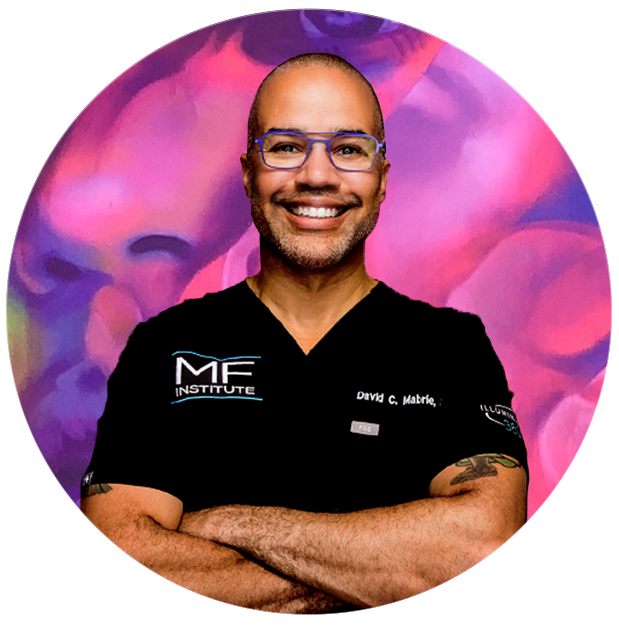 FOUNDER, MABRIE FACIAL INSTITUTE
After graduating from the UCSF School of Medicine in 1995, Dr. Mabrie started to follow in his father's footsteps—head and neck surgery. He completed a general surgery internship and then went on to complete a residency for head and neck surgery at Johns Hopkins. Then he completed an additional fellowship in facial plastic and reconstructive surgery at Stanford, ultimately hanging out his shingle as a facial plastic surgeon in San Francisco.
In the 15 years since, he has set a new standard of care in aesthetic medicine.
With the mindset of both a surgeon and an artist, he began rethinking the possibilities of injectables (dermal fillers and neurotoxins). He found himself drawn to the possibilities of non surgical treatments and decided to embark on a new (at the time) approach to aesthetics. He began to intensely study, train, and practice with fillers, and for more than a decade, he has focused his practice exclusively on non surgical facial contouring and rejuvenation.
"I help people transform the way they look and the way they feel – I can't imagine anything more rewarding."

Dr. Mabrie
Years of experience with fillers and other injectables led Dr. Mabrie to develop the Illumination 360° approach. This involves studying the way light interacts with facial features and using injectables to optimize facial contours from every angle, in any light.
His passion for aesthetics and for education cultivated an exceptional level of expertise with injectables. DermaSculpt® has recognized Dr. Mabrie's skill by authorizing him to educate other practitioners in the use of the DermaSculpt microcannula. He has also been voted the RealSelf community's Most Loved Injector in the Bay Area; won the New Beauty award for Best Results With JUVÉDERM VOLUMA; is a 2018 Galderma GAIN trainer; was named among the RealSelf Top 500; and is an Allergan Top 250 provider.
Read more about Dr. Mabrie's achievements in his CV.
As a thought leader in the realm of injectables, Dr. Mabrie shares his discoveries with patients and fellow providers through educational videos and informative content about the possibilities within the non surgical field. He has also established Mabrie Facial Institute to train other medical professionals in the Illumination 360° approach. Each of his Associate Injectors and Clinical Support Team members is hand-selected and trained by Dr. Mabrie. As a group, they share a dedication to superior care and results, and continuing to push the limits of non surgical aesthetics.
3 things that your best friend knows about you:
1. "I am an extrovert."
2. "I love to socialize and dance."
3. "I have 2 left hands in the kitchen."
I'm a Top 25 Most
Loved Injector

Out of 2,000 nominees in the U.S., Dr. Mabrie was voted one of the Top 25 Most Loved Injectors for 2017 by the RealSelf community. Thanks to all our amazing patients for making him the only injector in the Bay Area to receive this honor.
Kimberly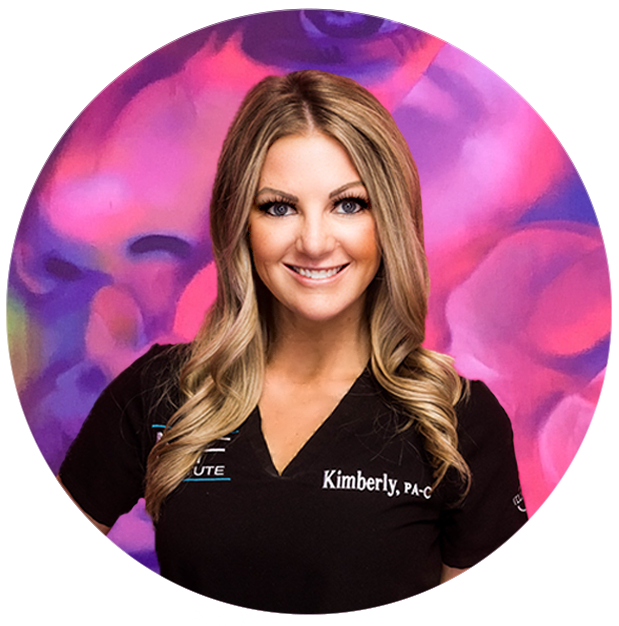 PA-C, INJECTOR
Kimberly is the first physician assistant to train exclusively with Dr. Mabrie in his Illumination 360° treatment approach. The search for a PA was exhaustive, and Kimberly was the ideal choice to fill the role. She has the passion for aesthetics, exceptional medical education and experience, and the natural people skills that make her the perfect addition to the Mabrie Facial Institute team. She has spent over a year and more than 2,600 hours shadowing Dr. Mabrie and learning every aspect of his approach to contouring and rejuvenating with injectables.
Originally from Ohio, Kimberly chose to move to the West Coast to live and work in a vibrant, innovative environment. When she saw the job listing for Mabrie Facial Institute, she felt an immediate connection. In researching the role, she was impressed with the level of information the practice provides as patient education is very important to her. She also liked how the team balances professionalism and hard work with a relaxed, fun vibe. Most of all, she was drawn to the work, which represents a perfect combination of science and medicine with aesthetics and beauty—all passions of hers. In her own words, "I knew this was where I wanted to be."
"I understand how important appearance can be to your self-esteem. I love helping people feel more confident and happy."

Kimberly
In addition to personality and talent, Kimberly has exceptional credentials. She graduated with honors and honors distinction in research from The Ohio State University with a degree in psychology and a neuroscience minor. She went on to earn her master's degree and physician's assistant certification from the University of Kentucky. She has worked as a PA in several medical fields, including neurology, urology, and pediatrics. Additionally, her specialized training in neuroscience and psychology enhance the quality of care she provides to her patients. She has steadily built a following of loyal patients who trust her skill and artistry and enjoy her warm, upbeat personality.
Outside of work she enjoys hiking, reading, and exploring The City and all it has to offer. She is also a huge sports fan…Go Buckeyes!
3 things that your best friend knows about you:
1. "I love any type of psychological thriller with a twist ending (movies, shows, or books!)"
2. "I prefer sour over sweet!"
3. "I enjoy off-roading in my Jeep and taking weekend trips to explore all California has to offer."
Tiffany
PA, Injector
Meet Tiffany, our newest PA! Tiffany's dream was to work in aesthetic medicine and she is excited to join Mabrie Facial Institute! She loves seeing the precise enhancements and immediate results created by non surgical procedures. In her spare time, Tiffany enjoys paddle boarding, traveling, and DIY projects. She loves the outdoors and is always looking for a new hiking adventure!
Favorite procedure: Non Surgical Rhinoplasty
"My favorite procedure is Non Surgical Nose Job. It's amazing to see natural height added to the nasal bridge while smoothing the dorsal hump and subtly defining the tip to give a patient their dream profile!"
3 things that your best friend knows about you:
1. "I can never wear enough sunscreen."
2. "I'm a chicken when it comes to scary movies."
3. "I can't cook but I can follow a recipe."
Clinical Support Staff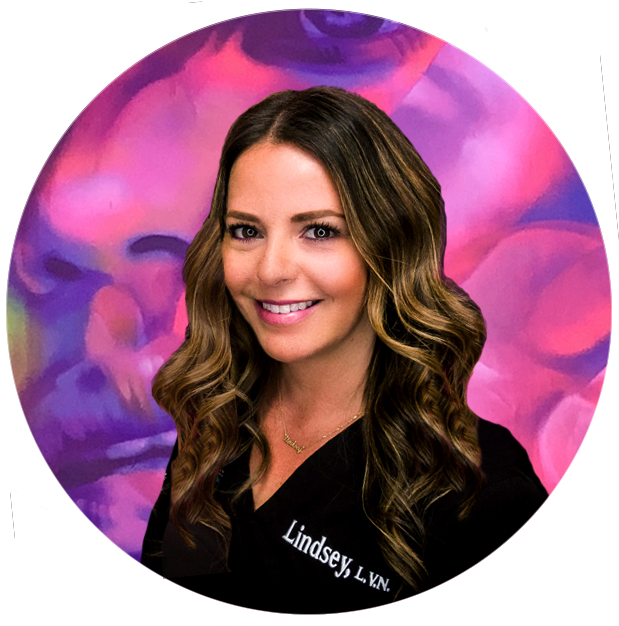 Lindsey
LICENSED VOCATIONAL NURSE
Lindsey is our licensed vocational nurse who joined the team in 2017. Hand-selected by Dr. Mabrie, Lindsey assists the Injectors with treatments and procedures. With her warm and friendly personality, Lindsey will put you at ease and make you feel welcome.
Favorite procedure: Dark under-eye circles and bags treatment
"My favorite procedure is (and personal favorite result!) by far the under-eyes. At a certain point we know no amount of cover-up is going to cover-up a hollow or dark circle. Dr. Mabrie's combination of filler to the mid-face and tear trough area is genius! This combination leaves our patients looking well rested, refreshed, and feeling confident!"
3 things that your best friend knows about you:
1. "I love recommending my favorite SF bars and restaurants to out of town guests. (I can actually plan your entire trip if you want!)"
2. "My favorite song is Stevie Wonder My Cherie Amour."
3. "I'm great at keeping secrets!"
Rochelle
LICENSED VOCATIONAL NURSE
Born and raised in San Francisco, our licensed vocational nurse, Rochelle was excited to join MFI in 2021! Prior to joining our team, "Ro" worked as a school nurse for the San Francisco Unified School District. Ro helps assist Injectors with intake and treatment, ensuring you are comfortable and at ease during your visit!
3 things that your best friend knows about you:
1. "I love to do oil painting!"
2. "I wish I could be a food critic that travels the world!"
3. "My favorite place in the world is anywhere I can sit in peace and quietly enjoy a cup of coffee and watch the sunrise."
Crystal
MEDICAL ASSISTANT
As one of our medical assistants who joined us in 2016, Crystal assists Dr. Mabrie during your examination and treatment. As knowledgeable member of our clinical team, Crystal can provide you treatment information and answer questions you may have about procedures and recovery.
Favorite procedure: Non Surgical Cheek Augmentation
"My favorite procedure is Non Surgical Cheek Augmentation. Defining the cheekbones leaves me feeling beautiful with natural-looking contour that I love!"
3 things that your best friend knows about you:
1. "I love country music."
2. "I play guitar."
3. "I'm a huge Horror movie fan."
Matthew
MEDICAL ASSISTANT
This Bay Area native joined us in May 2018 as a medical assistant. Matt previously worked in physical therapy and is excited to broaden his medical experience with the practice. You'll see Matt's smiling face during your appointment as he assists Dr. Mabrie with your care.
Favorite Procedure: Chin, Jaw & Neck
"As a man, having a strong chin and jawline is key to an attractive face. I have come to appreciate the results our Injectors are able to achieve via dermal fillers—they are able to effectively project the chin thus giving the face a more defined and symmetrical appearance. To me, it is the procedure that gives the single most dramatic enhancement to one's overall look."
3 things that your best friend knows about you:
1. "My favorite movie is Just Friends."
2. "I am an exercise fanatic."
3. "I have an unhealthy obsession with Airsoft."
We'd Love To See You
If you are interested in learning more about non surgical facial contouring or rejuvenation, request a consultation online with one of the specialists at Mabrie Facial Institute, or call us at (415) 445-9513 to schedule your initial appointment. If you'll be visiting us from outside the area, our Fly in for Your Procedure page was created just for you to help make planning your trip as smooth as possible.