Mabrie Facial Institute
166 Geary Street
Floor 1300
San Francisco, CA 94108
Phone: (415) 445-9513
Text/SMS: (510) 296-3783
Monday–Friday 8 a.m.–5:30 p.m.
YOUR REAL SOLUTION FOR DARK CIRCLES AND NASOLABIAL FOLDS
Do you have under-eye circles and/or deepening nasolabial folds that keep you from looking as youthful and vibrant as you feel inside? Are you looking for a non surgical solution that erases that fatigued look and awakens your beauty? Ask for Midface Rejuvenation.
Dark circles and eye bags, nasolabial folds, and sagging cheeks are among the most common concerns our San Francisco patients have. But the real solution isn't common knowledge.
These traits are symptoms of an underlying issue: a sunken midface. When the midface "sinks" from age-related volume loss, we see:
Bags, dark circles, and hollowness under the eyes
Sagging/undefined cheekbones
Nasolabial folds
The real solution: Restoring structure to the midface. A structured midface is composed of a single, visually smooth aesthetic zone that starts at the cheekbone and seamlessly curves from under the eye to the corners of the mouth.
Dark Circles & Nasolabial Folds Are Caused by
a Sunken Midface
From Sunken Midface to Structured Midface
Real Midface Rejuvenation Transformations
Volume loss in the midface is responsible for 3 big problems that bring people to MFI: under-eye bags/dark circles, nasolabial folds, and sagging cheeks. When we add structure to the sunken midface, treating it as one continuous zone, the results are truly remarkable. Midface Rejuvenation can take years off your appearance, giving you a refreshed, rested appearance. Take a look for yourself, and see the kind of results you can expect from your treatment at MFI. If you see your own concerns in these examples, ask for Midface Rejuvenation.
Under-Eye Bags, Dark Circles, Hollowness Treated with Midface Rejuvenation
---
Sagging, Undefined Cheekbones Treated With Midface Rejuvenation
---
Nasolabial Folds Treated With Midface Rejuvenation
The Stages of Your Midface Rejuvenation
To get the best filler results for our Bay Area patients, dark circles, bags, smile lines, and sagging cheeks are corrected with layers of filler applied over the course of at least 2 appointments. Using fillers like Restylane®, JUVÉDERM®, and RADIESSE®, we restore structure in the midface in carefully executed stages. This approach is key to achieving the caliber of results we want for our patients. We strongly encourage all our patients to book at least the first 2 appointments in their initial call.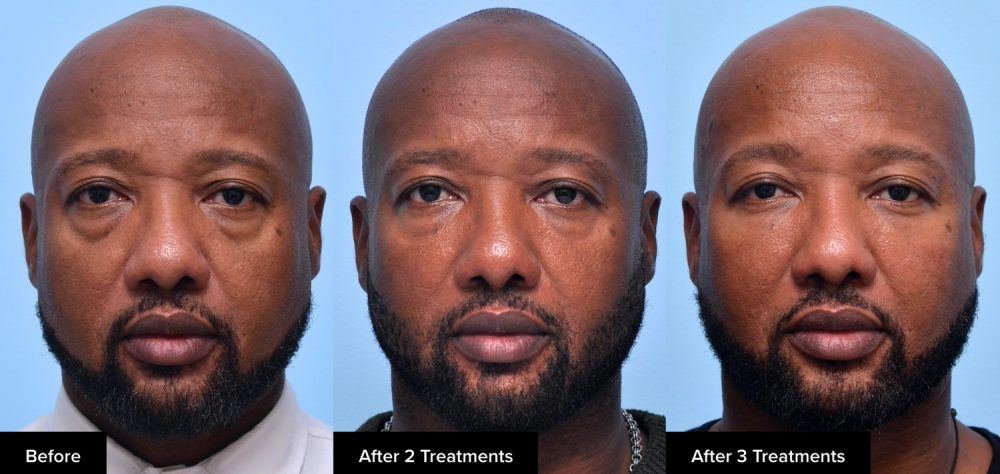 Planning Your Midface Rejuvenation Treatment
Your Midface Rejuvenation procedure requires a minimum of 2 appointments for results. Please plan to spend about 3 hours in the office for your first visit. This staged approach allows us to create structure, support, and truly remarkable yet natural-looking, healthy results. While we can accomplish a lot during one appointment, we have learned over the years that too much filler too soon can create obvious results, and a "layered" approach works best.
Our Injectors use a variety of injectable fillers for your Midface Rejuvenation procedure. Filler selection is customized for each patient's needs based on anatomy, skin thickness and laxity, and degree of volume loss.
After treatment, tenderness and swelling are common. Be sure to check out our After Treatment video for helpful tips during your recovery. Most patients return to normal activities the same day. All of our treatments are performed by licensed, medical professionals for your safety, comfort, and best results.
For more information about your treatment, visit Your Treatment Timeline.
Mini Under Eye Procedure
While most people need the full Midface Rejuvenation Package to treat their under eyes, occasionally there are patients with minimal symptoms who can get by with a scaled-down treatment. For these individuals, we offer a mini version of our Midface Rejuvenation procedure.
This procedure may be ideal for patients who:
Have minimal volume loss
Have existing filler to the area from an outside injector
Do not wish to address their cheekbones and nasolabial folds
The Mini Under Eye procedure is a one-appointment treatment that uses 1 syringe of Voluma to the midface and 1 syringe of Restylane-L to the under eyes. The Midface Rejuvenation package uses 2 Voluma and 2 Restylane-L syringes divided into 2 treatments. The mini procedure targets bags and dark circles under the eyes, whereas our Midface Rejuvenation package targets cheeks and nasolabial folds in addition to the under eyes.
Midface Rejuvenation & Mini Under Eye Pricing
*Discounted syringe pricing applies only during the active (initial) treatment phase
We'd Love To See You
If you are interested in learning more about improving the look of your under eyes, nasolabial folds, and cheeks, request a consultation online and ask for Midface Rejuvenation. Or you can call us at (415) 445-9513 to schedule your first two appointments with one of our highly trained specialists. If you'll be visiting us from outside the area, our Fly in for Your Procedure page was created just for you to help make planning your trip as smooth as possible.
Midface Rejuvenation FAQs
---
---
---
---
---