Why do men choose injectable treatments like BOTOX® and JUVÉDERM®? There are lots of reasons, but most of our San Francisco Bay Area patients are looking to either refine their natural looks or combat signs of aging so they can stay looking youthful and fit. Injectables are the newest addition to guys' physical upkeep routine: think gym, grooming, and JUVÉDERM.
So it's no surprise "himjections" is the latest trend gaining traction in the world of aesthetics. It's a tongue-in-cheek nickname for the increasingly popular injectable treatments for men, similar to another clever term you may have heard around: "Brotox."
"We love helping our male patients feel confident in their appearance! Experience is key to refreshing, chiseling, contouring, and maintaining male features. At MFI, about 35% of our patients are men and we're always excited to help them look their best."

– Dr. Mabrie
The men we treat here at MFI trust a combination of BOTOX and fillers to rejuvenate and contour their faces while maintaining a natural and masculine appearance. These treatments take just minutes, require little to no downtime, and look subtle enough that no one will notice you've had any "work" done—just that you're looking especially sharp.
What Are the Best Injectable Treatments for Men?
The possibilities are just about endless when it comes to injectables for men. Here are 4 of our favorite and most transformative treatments that we think are worth a try.
Midface Rejuvenation
As we age, gravity takes its toll and we lose bone, fat, and skin elasticity, leaving us with flat or falling features. Midface rejuvenation restores volume in the cheeks and under-eyes, erasing bags, dark circles, and nasolabial folds, and giving your entire look a lift.
What a difference the midface makes! Adding structure to this man's midface erased his dark circles and gave his cheekbones more definition.
This gentleman thought he needed eyelid surgery to get a more refreshed look. We happily proved him wrong with midface rejuvenation staged over several appointments. Not only are his bags gone, but so are the nasolabial creases and sagging cheeks.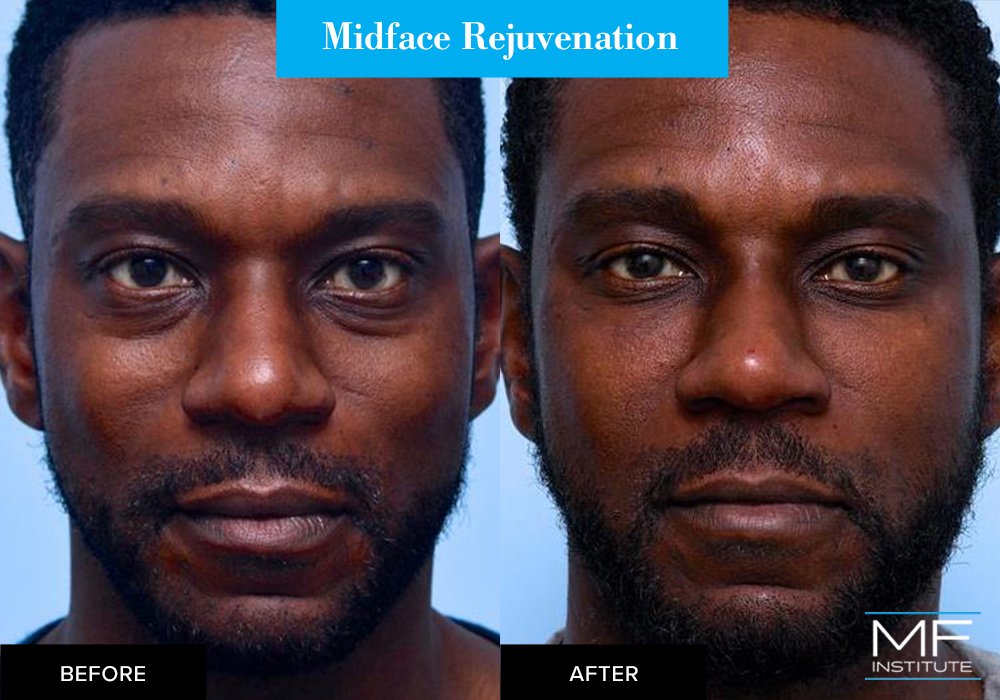 This transformation really showcases the importance of taking a holistic approach to problems like eye bags and sagging cheeks. Volume loss in the midface is the cause of both, and after treatment, this man's face has gone from sunken to structured.
Chin and Jawline Contouring
The chin and jawline are stars of the show when it comes to male facial contouring. It's all about sculpting a more defined, masculine-looking lower face. To do this, we use durable jawline fillers to add definition, volume, and structure to the chin and jaw.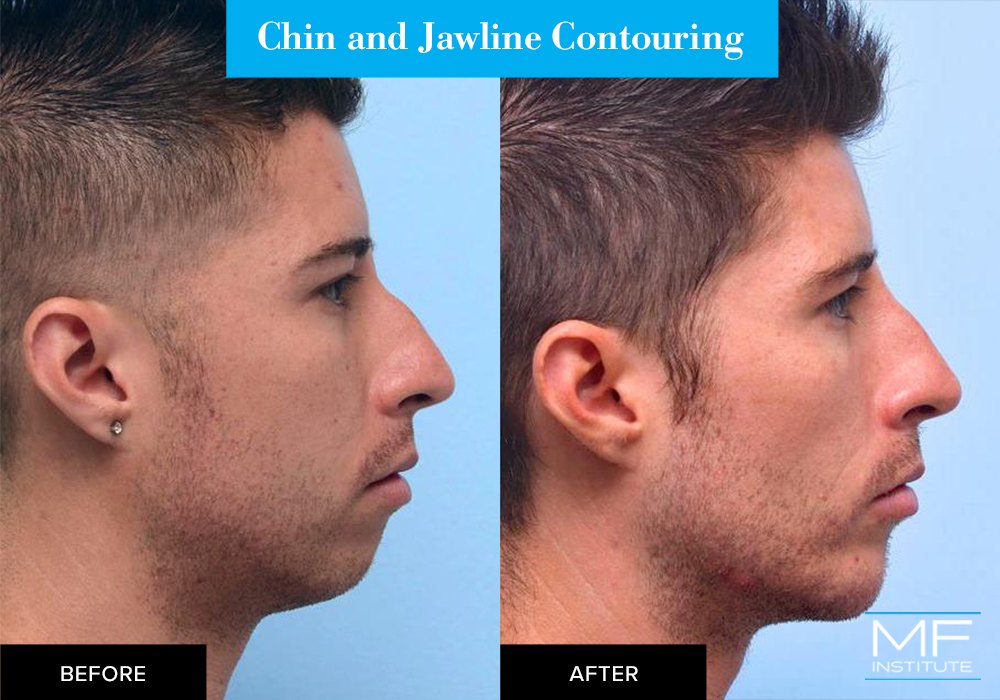 This young man wanted more chin projection and jawline definition, and we were able to give him both with a few treatments and a combination of fillers.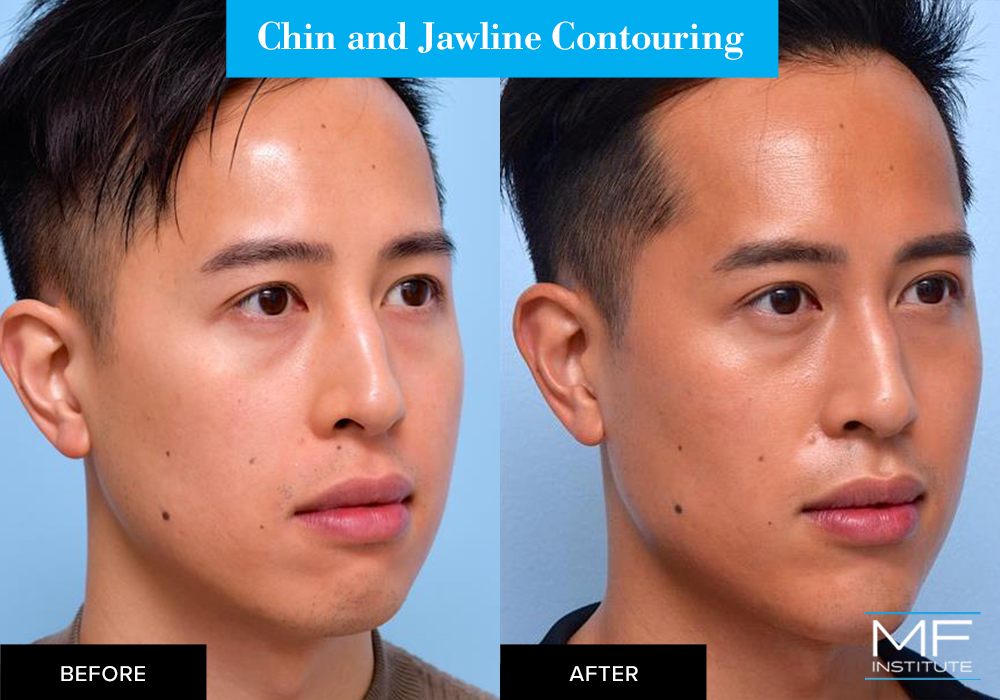 Sometimes lack of definition in your chin and jawline can create the appearance of extra weight, even in thin and fit people. This man definitely looks more slim and streamlined after chin and jawline contouring.
This is another instance of a person believing that only surgery could solve their problem. But non surgical chin augmentation with fillers gave this man the strong, proportional chin and balanced profile he had been wanting for years.
Non Surgical Rhinoplasty (NSR)
Non surgical rhinoplasty has the power to transform your nose, but it's also ideal for creating subtle improvements that make a surprising difference. Fillers are fantastic for adding projection to the tip, disguising nasal humps, and even creating a straighter or narrower bridge.
Small changes can make a big difference, and this case showcases that concept. The tip of this patient's nose lacked definition and projection. With skill and a little bit of filler, we were able to refine his nose and bring a more angular appearance to his face.
This patient had a nicely shaped, well-proportioned nose, however an indentation on his nasal bridge was giving his face a child-like quality. Adding some definition to the bridge with fillers created the more mature, angular look he had been seeking.
Upper Face BOTOX
The upper face is a focal point, and signs of aging like frowning wrinkles, crow's feet, and forehead furrows are front and center when you're interacting with people at work or in your personal life. Neuromodulators like BOTOX can help you look younger and feel more confident by erasing lines and wrinkles in this area.
This patient had a prominent glabellar line between his eyebrows that stayed put even when he wasn't squinting or frowning. These lines can make you look angry, even when you're not. After BOTOX and filler treatment, he looks much more relaxed and friendly.
Even young people can have lines on their upper face that make them look older than they should. That was the case with this young man, who didn't like his deep forehead furrows. Upper face BOTOX smoothed these lines, so that he looked more age-appropriate.
This familiar face rarely frowns, but he still has some frowning wrinkles between his eyebrows. Neuromodulators soften these lines, and if started early, can prevent them from becoming deeply etched in your skin.
---
FAQs About Dermal Fillers for Men
Are dermal fillers safe?
All fillers used at MFI are FDA-approved and have proven safety records. In the rare case that you experience a complication, we can dissolve hyaluronic acid-based fillers at any time with a quick injection of a product called Hylenex.
How long do bruising and swelling last after filler injections?
MFI Injectors use blunt tip microcannulas to inject dermal filler in order to minimize trauma to the tissues and reduce the risk of bruising. However, bruising is still possible and typically takes 1-2 weeks to resolve. Swelling after treatment is minimal and typically improves within a few weeks. You may notice some minor, residual swelling lasting up to 4 weeks. Find out how to get ahead of this with our recovery tips.
How much time will I need to take away from work?
With filler injections, you can head back to work right away. You may have some redness around your injection sites, but that typically clears up within a day or so.
How long do dermal filler results last?
Fillers last between 6 and 18 months, depending on the formulation and where they are injected. Most people opt for touch-ups between 9 and 12 months. We'll help you plan your maintenance treatments so your look never lapses. You might also want to check out this blog post about the longevity of results.
How much do dermal filler treatments cost?
Filler packages cost between $3,000 and $8,000, which includes both the initial appointment and a refinement appointment. Pricing may vary a bit depending on your injector and whether you need any add-ons to complete your transformation.
---
Want to Try "Himjections" for Yourself?
No matter your gender, injectables are meant to elevate and refine your appearance, so you look like the very best version of yourself. With the help of a skilled injector, no one will know you've had a treatment done—they'll just see a younger, more sculpted, and more confident version of you.
If you want to learn more or get started with your own consultation, contact us online, give us a call at (415) 445-9513, or text us at (510) 296-3783. We hope to see you soon!