Mabrie Facial Institute
166 Geary Street
Floor 1300
San Francisco, CA 94108
Phone: (415) 445-9513
Text/SMS: (510) 296-3783
Monday–Friday 8:30 a.m.–6 p.m.
A Transformative Enhancer
With age, the face begins to lose its angular definition and gain fullness in the lower half. This is true whether you have a round, square, oval, or heart-shaped face. You might find that you just look different than you used to, and this might be why. For some of our San Francisco facial rejuvenation patients, neuromodulators (like BOTOX®) can be used to contour the lower face with or without the use of fillers. By slimming the lower face using neuromodulators to the masseters, parotid glands, or both, we can enhance facial contours. Further contouring can be achieved when performing facial slimming in combination with dermal fillers to the cheek, chin, and/or jawline areas—individually or as a package.
What's Going On?
In some patients, lower face fullness can be caused by enlarged masseter muscles or parotid glands.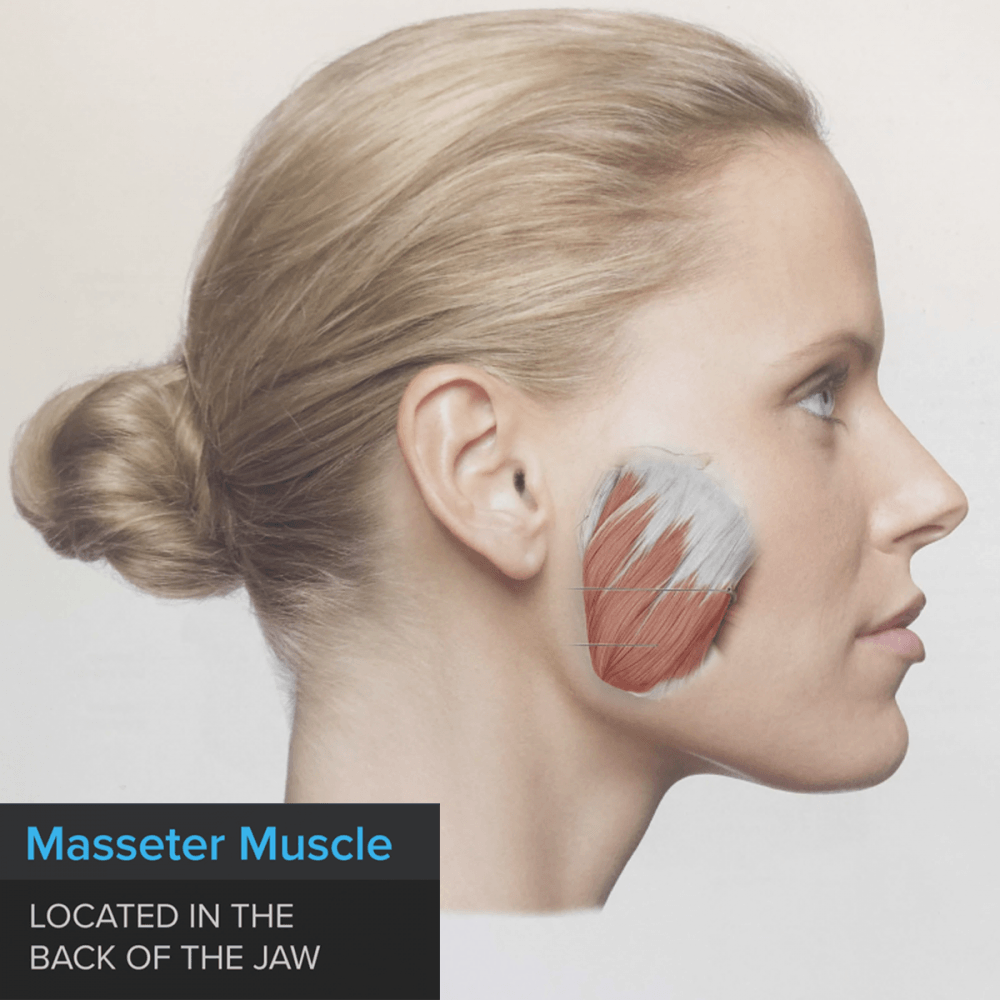 Enlarged Masseter Muscle (Hypertrophy)
The masseter is a large facial muscle at the angle of the jaw and is the primary muscle used for chewing and clenching the jaw. Many patients with enlarged masseter muscles clench their jaw or grind their teeth, and often suffer symptoms of TMJ. This procedure can also help with these conditions.
Enlarged Parotid Gland (Hypertrophy)
This walnut-shaped gland, responsible for saliva production, is located at the back of the jawline, just in front and below the ears. In most patients, the parotid gland is not visible. In cases when this gland is enlarged, the face can appear wide and without contour particularly at the rear jawline extending to the neck.
Our Solution: Lower Face Slimming
For individuals whose lower face is fuller due to an enlarged masseter muscle, we inject neuromodulator (BOTOX, Dysport, or XEOMIN) into the muscle to weaken it. This causes it to shrink in size, thus providing a facial slimming effect. For many people, this also alleviates symptoms of TMJ.
If we determine you have an enlarged parotid gland, we inject neuromodulator into the gland to decrease its activity and diminish its size. As the gland shrinks back to normal size, the sides of the face become slimmer.
Your Lower Face Slimming Procedure
Facial slimming with neuromodulators is usually performed during the first of 2 facial rejuvenation appointments. We will map the outline borders of your masseter muscles, parotid glands, and injection safety zones and determine the appropriate neuromodulator dosage based on your unique characteristics. We then make a series of targeted injections using a small syringe. It takes about 2 to 4 weeks to see the full effect of the procedure.
If your face slimming was combined with fillers, you'll return in 1 to 3 months for filler refinements. For facial slimming alone, you'll want to return for a touch-up when results begin to fade in about 3 to 4 months. For more detailed information, visit Your Treatment Timeline.
Facial Slimming Pricing
For comprehensive pricing information, visit our Fees & Financing page.
TREATMENT
PRICE
Facial Slimming
Includes up to 60 units.
PHYSICIAN
$1,200
PHYS. ASST.
$1,000
Meet Your Injectors
Our team is made up of experienced medical professionals with a shared passion for facial rejuvenation and contouring with injectables. Hand-picked and trained by Dr. Mabrie in the Illumination 360° approach, they work with you to create a treatment experience that exceeds your expectations.
We'd Love To See You
If you are interested in learning more about facial rejuvenation, request a consultation online with one of the specialists at Mabrie Facial Institute or call us at (415) 445-9513 to schedule your initial appointment. If you'll be visiting us from outside the area, our Fly in for Your Procedure page was created just for you to help make planning your trip as smooth as possible.
Facial Slimming FAQs
Does BOTOX to the masseters affect chewing or jaw movement?
The masseter is only one of the muscles that helps you chew and move your jaw, so patients who get masseter BOTOX are still able to chew and move their jaws normally. Some people may find that their bite is not as strong, but that's not necessarily a bad thing. Overdeveloped masseters are often the result of clenching or grinding, which can cause headaches and jaw pain. People often report feeling relief from these problems after receiving masseter BOTOX for facial slimming.
---
Can I get a v-shaped face with BOTOX, or do I need buccal fat removal?
Many people achieve the coveted v-shaped face without surgery by injecting neuromodulators into enlarged (hypertrophic) masseter muscles or the parotid gland. If the anterior jaw is wide or bulky due to these anatomic structures, then this procedure can be a great nonsurgical option for slimming the jawline. Surgical removal of the buccal fat pad addresses fullness in the area of the face in front of the masseter muscles, close to the corners of the mouth. Cheek fat removal is not a common procedure, but may be right for people who feel their face is overly round, or they have "chipmunk cheeks." Results tend to be subtle, and do not necessarily produce a v-shaped face.
---
How much does facial slimming cost?
At MFI in San Francisco, the cost of facial slimming with BOTOX or another neuromodulator is $1,200 when performed by Dr. Mabrie, and $1,000 when performed by one of our PA Injectors. For a complete list of filler treatment package prices, please visit our Fees & Financing page.
A Reputation Built on Results
You deserve the highest caliber of service, care, and results, and at Mabrie Facial Institute, we're committed to providing all that and more. But don't take our word for it—see for yourself what our actual patients have to say about their experiences with us.
Read More Patient Reviews
Back to Top