You all know that we're super passionate about bringing out the ROCK STAR version of you—that inner celebrity who always looks naturally photogenic and selfie-ready—using filler to rejuvenate and enhance your appearance. Well, brace yourself…
Today we're switching things up and letting the neuromodulators (BOTOX® Cosmetic and Dysport®) take center stage.
Why? Because we've seen a big trend towards buccal fat removal, which is a surgical, irreversible procedure to remove precious fat from your lower face. And while that might give you that defined, V-shaped face now, it doesn't age well. You could end up looking gaunt, skeletal, and aged before your time if you get rid of facial fat.
How Can BOTOX Help?
BOTOX belongs to a class of injectables that includes other brand names like Dysport, Jeaveau, DAXXIFY, and XEOMIN. These injectables are known as neuromodulators, which relax facial muscles by blocking the nerve impulses that are responsible for activating them.
Do You Inject BOTOX in the Cheeks?
No, we inject it into a muscle in the lower face. When we treat the masseter muscles with BOTOX or Dysport, we can soften the jaw muscles, creating noticeable facial slimming and shaping benefits. Check out this video to see how it's done.
Baffled by BOTOX? Head over to our BOTOX FAQ and find the answers you need.
What Are the Masseter Muscles?
Your masseter muscles are located towards the back of your jaw. If you clench your jaw, you can feel them. Go ahead – try it. These muscles help you chew food and gum. If you grind your teeth, you're using your masseter muscles!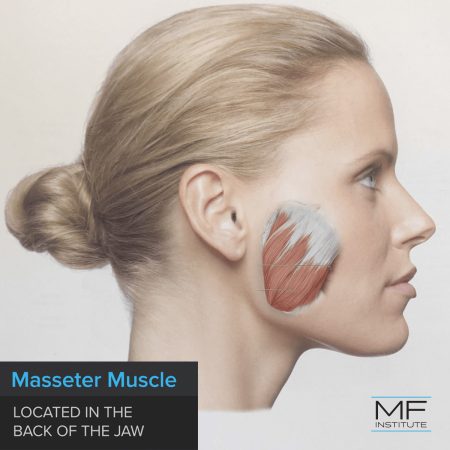 Fun Fact: Your masseter muscles are the strongest muscles in the body (per pound of pressure). After all, these muscles can exert up to 170 pounds of pressure when closing the jaw!
If you have strong, bulky, masseter muscles, you may have a face that looks square-shaped. When we relax those jaw muscles using BOTOX, they shrink in size, creating a face-slimming and shaping effect that patients love. This treatment can take a square-shaped face and make it more oval or heart-shaped.
In fact, when combining both fillers and neuromodulators together in one facial treatment, there is a good chance you will have even greater results. These complementary treatments can slim and shape the face and also enhance your features bringing out that inner ROCK STAR. Learn more about jawline fillers in our related blog post.
To learn more about the process and to see before-and-after pictures, keep scrolling!
Make Your Cheekbones Pop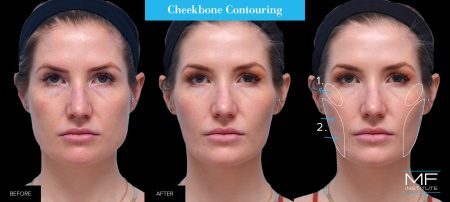 1. Cheekbone Stand-Out: No filler required here. Slimming the face makes room for the cheekbones to stand out.
2. Masseter Reduction: Slims the lower face and helps cheekbones stand out for V-shaping.

Here is an excellent example of how de-emphasizing the masseter with BOTOX can make the cheekbones look more prominent and defined. Notice how her facial fullness is reduced, making her cheeks the stand-out star.
Get this — no additional filler was added to her cheeks. All the contour you're seeing in the after picture is all because of masseter reduction alone.
V-Shape Facial Contouring Without Surgery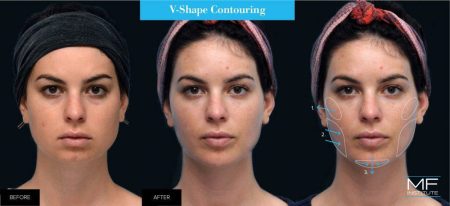 You may have heard about the growing popularity of "V-shape contouring" on social media. A quick search will result in hundreds of make-up tutorials on contouring. When done correctly, it looks amazing. Sadly, your perfect contour can only keep its perfection until facewash and don't even think of hitting the dancefloor too hard or you'll sweat off those contours! We've been there. We know.
What if you could actually change your facial shape without makeup or surgery? You guessed it: BOTOX for face slimming and filler can help you say, "I woke up like this" (and mean it).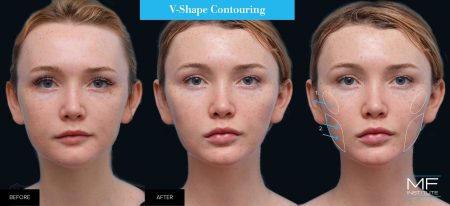 1. Cheekbone Boost: A little filler at the tops of the cheeks enhances the effects of jaw slimming.
2. Masseter Reduction: Slims the lower face and helps cheekbones stand out for V-shaping.

We love this V-shape example. Here we've used neuromodulators and filler to contour and enhance her features. Notice how her square-shaped face now has a V-shape. Her features are balanced and harmonious, complementing her natural beauty.
BOTOX was used to treat her masseter muscles, and we added filler to her upper cheeks. The effect of these treatments together created a soft facial contouring effect that's both stunning and natural-looking.
Facial Slimming Without Weight Loss or Surgery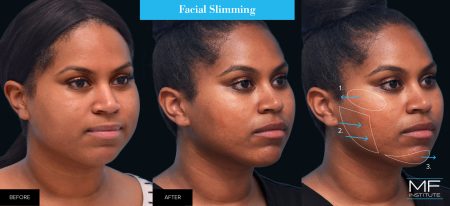 1. Non Surgical Cheek Augmentation: Adds volume and definition.
2. Masseter Reduction: Slims bottom-heavy cheeks.
3. Non Surgical Chin Augmentation: Gives chin projection and height for that "V" shape.

We often get asked if patients need to reach an "ideal weight" before treatment. The answer is no! You can have the benefit of slimming the face with or without weight loss.
Masseter reduction can give the appearance of a 5 to 10 lb weight loss (no gym required)! As a matter of fact, many patients find that after facial slimming treatments, they are more motivated to achieve their fitness goals.
Losing weight won't have an adverse effect on your filler results, either. So hit the gym all you like! Your fillers won't start looking obvious because of your workout routine.
Our patient here loves her curves, but she felt like her facial features could be a bit more contoured and defined. A masseter treatment and filler combination added volume to her cheeks and chin and helped give her face a sleek sense of definition overall.
If you're interested in seeing what neuromodulators can do for your face, set up a consultation now.
I WANT A SLIMMER FACE!
What To Expect at Your Appointment
This facial slimming procedure is a fast and straightforward 15-minute process.
We'll start off your appointment with a consultation to get to know you and your aesthetic goals. Our Injection Team will create your personal treatment plan that includes our Illumination 360° approach created by Dr. Mabrie to help you look your absolute best.
Next, we will take a series of "before" photographs to review your anatomy and document your starting point. We will map the outline borders of your masseter muscles and injection safety zones and determine the appropriate treatment dose for you based on the size and strength of your masseters. Treatment comes next (about 6 injections per side) using a small syringe.
There is mild discomfort during the treatment, similar to plucking your eyebrows. Ice and Ibuprofen are available after treatment, but you likely won't need much more than that. You can learn more about the masseter reduction treatment from Healthline.
When Do I See Results?
Treatment effects of masseter reduction are not immediately visible, but do start immediately and will continue to improve gradually over the next 30 days. You'll notice some difference about 14 days after treatment, with full effect at 30 days.
How Long Does It Last?
Masseter reduction with neuromodulators is a temporary treatment that lasts about 3 to 4 months. We suggest touch-ups 2 to 3 times per year. Filler treatments typically last about a year, with maintenance suggested at 6- to 9-month intervals.
Ready to see more masseter BOTOX before and after pictures? Browse through our photo gallery. You can get more information about this procedure by contacting us online or calling us at (415) 445-9513. Our knowledgeable Concierge Team is available to answer any of your questions and schedule your appointment.
We hope to see you soon.
Until then, stay beautiful!