Snatched Jawlines With Jawline Dermal Filler
Hey, Kimberly here! In this day and age where selfies are the norm and photos are taken from every angle, the defined jawline has become the new coveted facial feature. Celebrities like Angelina Jolie and Zac Efron have popularized the trend toward a clean, defined jaw, and sparked a lot of "did they or didn't they?" gossip in regard to jawline fillers or surgery. Gigi Hadid attributes her snatched jawline to the clever application of contour and highlight makeup, but obviously she's got youth and genetics on her side.
As both an Injector, and someone who used to try to contour my jawline with makeup, I can tell you from experience that filler is the best way to improve the appearance of the jawline.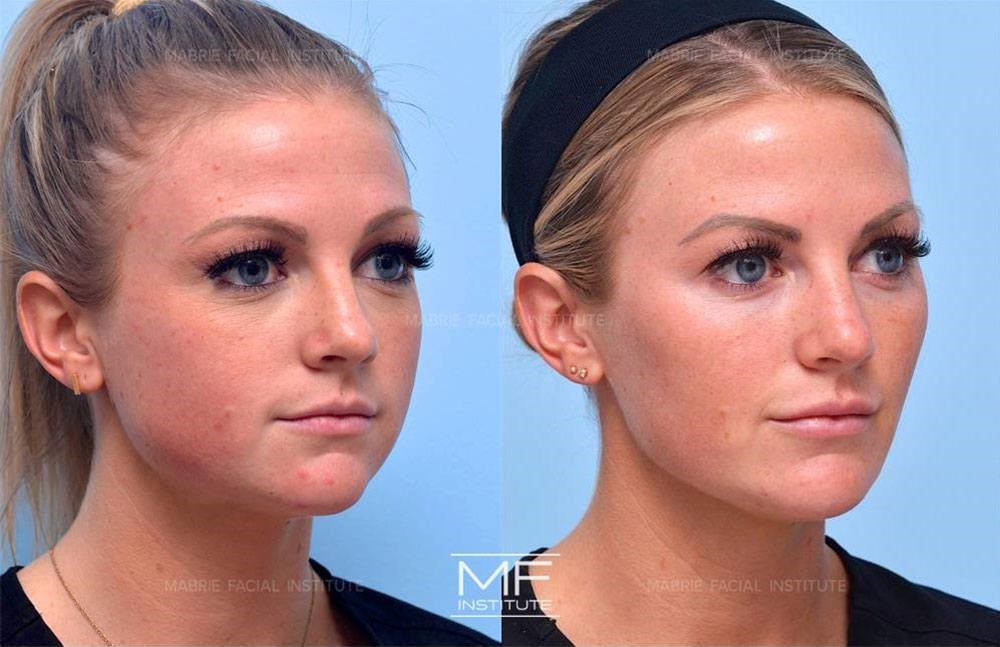 Jawline Filler for Jawline Contour
Yes, you read that correctly, you CAN give yourself a defined and contoured jawline using fillers. No makeup illusion is required, this is the real deal. Dermal fillers are gel-like substances that are used to add volume and structure to the face, and the jawline is the perfect place for structure.
Jawline Filler for Women and Men
Having a defined jawline is perfect for BOTH men and women. A streamlined jawline can provide clear separation between the face and neck, frame the face, eliminate shadows, and camouflage jowling. The degree of angularity vs softness of the jawline is completely customizable depending on the aesthetic goal.
How Does Jawline Filler Improve Appearance?
There are four main ways jawline filler can improve the appearance of the face in both women and men:
Add contour to a round face
Help rejuvenate the face
Improve the appearance of jowling
Chisel the jawline for a more athletic appearance
Jawline Filler Adds Contour to A Round Face
Jawline Filler Rejuvenates the Aging Face
Jawline filler can also rejuvenate the face, hiding jowls and replacing lost volume to give the face a refreshed, younger appearance.
Jawline Filler Improves the Appearance of Jowling
Jawline Filler Chisels the Jawline for an Athletic Appearance
In men, adding filler to the jawline can create a chiseled athletic appearance.
Learn More About Chin and Jawline Filler in This Video:
Jawline Dermal Filler Treatment Overview
Before Your Jawline Filler Appointment
There are a few things you can do to prepare for your jawline filler appointment.
A few days before your appointment, limit natural or artificial blood thinners such as anti-inflammatories, fish oil, and alcohol. Limiting these will reduce your risk of bruising from jawline filler. DO NOT discontinue prescribed, medically necessary, medications.
Find and bring any inspiration photos of chin and jawlines you like. This will help your injector better envision what your treatment goals are.
Eat and drink a normal breakfast or lunch prior to your appointment, low blood sugar can make patients lightheaded during treatment.
Consultation for Jawline Dermal Filler
A successful jawline filler experience starts with a thorough consultation. To begin, we first establish your aesthetic goals and expectations. This is your chance to make sure we're the best match to help you reach your goals of a perfect jawline. Afterward, we become the paparazzi and take professional-level photographs of your chin and jawline from all angles. We utilize these photos at every visit to identify your concerns and monitor your progress. Using both the photos and an in-person examination we map out a customized treatment plan tailored to your jawline anatomy and goals.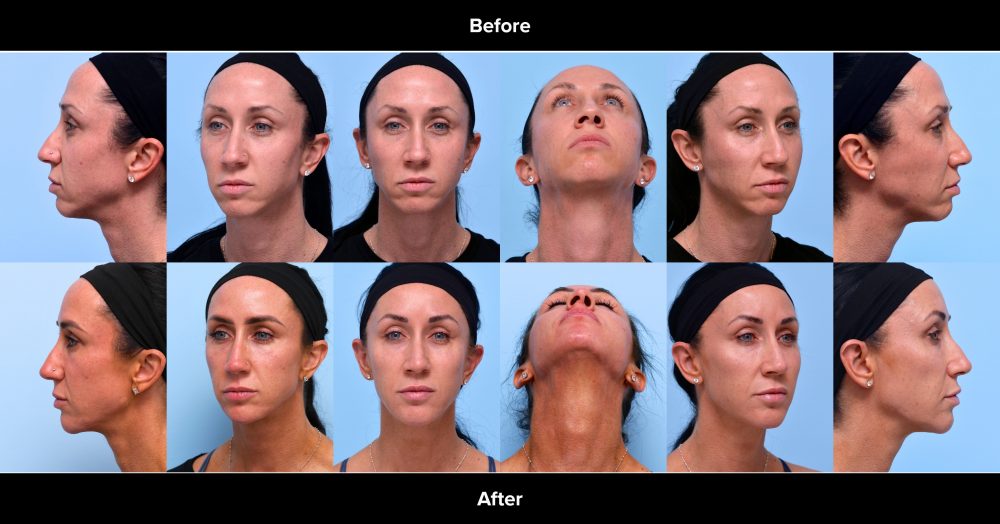 Is Jawline Filler Treatment Painful?
A lot of patients are concerned about the pain of jawline filler treatment, but we have numerous techniques to help alleviate discomfort. We use a combination of topical lidocaine, injectable lidocaine, and nerve blocks to numb the chin and jawline. For those who may be a little extra anxious, we also offer nitrous oxide (aka. laughing gas), to help calm some of your nerves. As a bonus, all our fillers have lidocaine in them, so the treatment area continues to become more numb as the jawline filler treatment continues. For the most part, jawline fillers are not very painful and are well tolerated.
Learn More in This Video: Do Fillers Hurt?
The Best Filler for Jawline Filler Contouring
The best fillers for jawline filler contouring are firmer fillers – those with enough support to give projection while having lower elasticity so they do not lose their shape, We are going for that defined, contoured look, after all! You'll likely find us using Restylane Lyft®, JUVÉDERM® VOLUMA™, RADIESSE®, or the newest dermal filler especially approved for improvement of jawline definition, JUVÉDERM® VOLUX™ XC, in your treatment.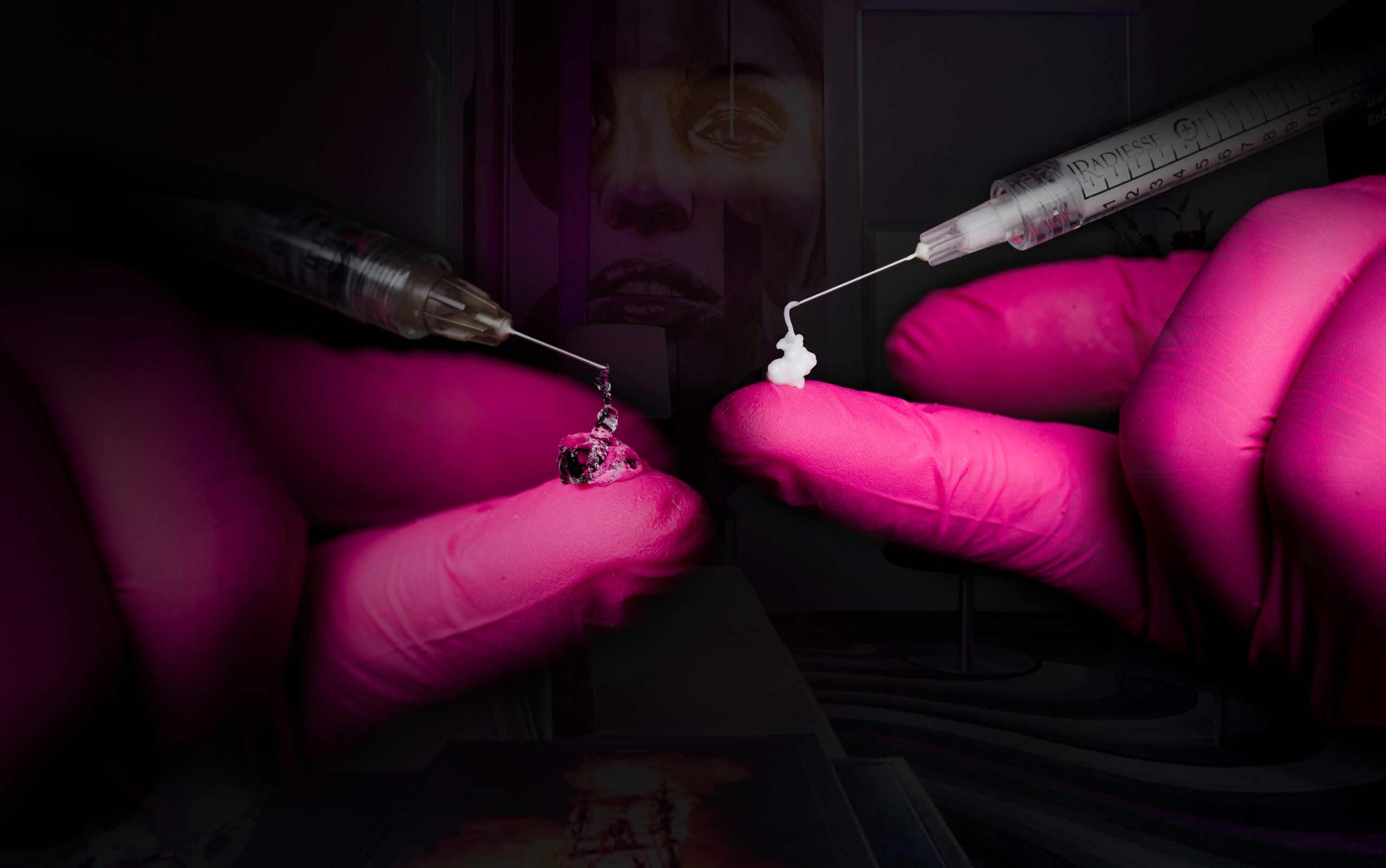 Jawline Dermal Filler Treatment
Now the part you've all been waiting for, jawline contouring! The jawline filler treatment is carried out by your injector, but you'll also be accompanied by one of our medical staff. They're there to assist the injector and monitor your comfort levels. Think of us as your professional pit crew, working together seamlessly to ensure a smooth ride. Your injections themselves will take anywhere from 20-40 minutes based on your speed and comfort level.
Jawline Dermal Filler Aftercare
After your treatment, follow these aftercare Dos and Don'ts:
DO – Apply ice on and off the jawline for the next 48 hours. Switch to a warm compress after 48 hours.
DO – Sleep slightly elevated with your head above your heart over the next two nights to help alleviate the swelling.
DON'T – Apply makeup or lotion to the jawline for the next 4 hours after filler injections.
DON'T – Swim or use saunas during the next 48 hours to decrease the risk of infection.
DON'T – Rub or massage the jawline for the next 48 hours after jawline filler injections.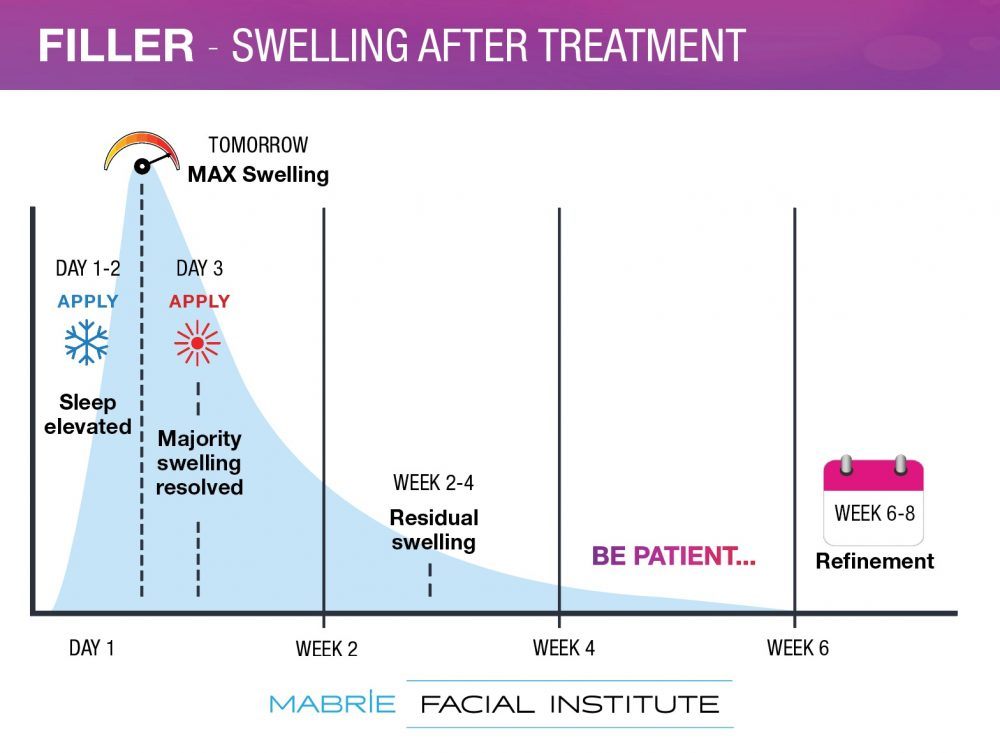 Learn More About Aftercare for Jawline Filler in This Video:
Jawline Filler Results
While you'll notice a change immediately after your jawline filler treatment, you'll need to give your body 4 weeks for any swelling or bruising to heal to see exactly how the filler will lay. Remember, we STRONGLY suggest a follow-up visit after 4 weeks to re-evaluate and touch up your jawline filler results!
Jawline Filler Side Effects
Bruising After Jawline Filler
Bruising is common after jawline contouring with fillers. Does this mean you're stuck in the house for the next few days? ABSOLUTELY NOT! You can go right back to your everyday life, just be ready to use concealer (or a mask) to cover some bruising the next day.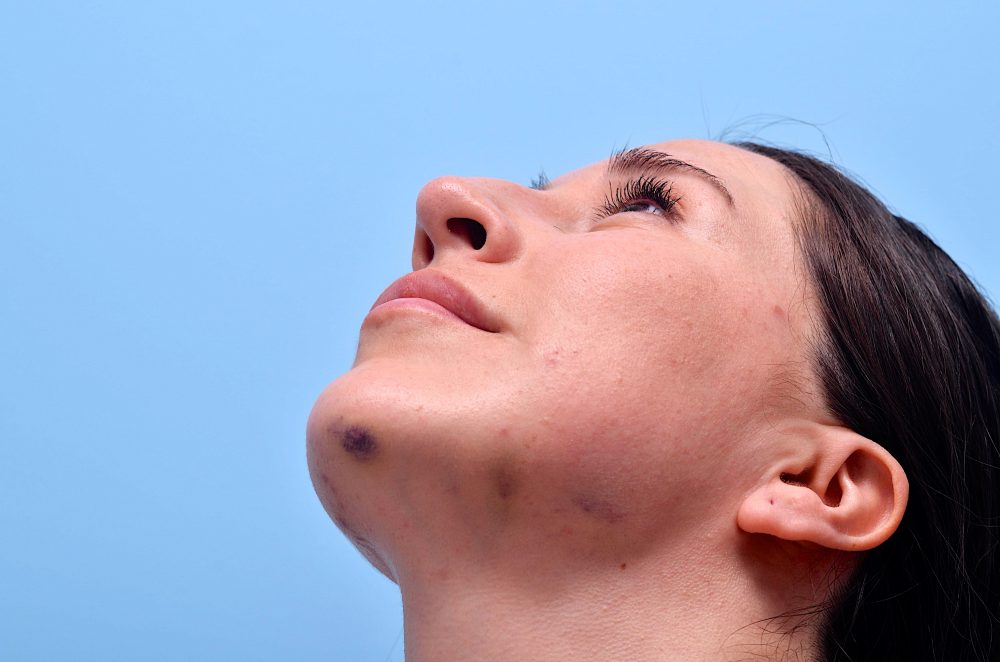 Swelling After Jawline Filler
Swelling is expected after jawline filler. Swelling isn't always straightforward, as everyone swells differently and swelling doesn't always feel soft like fluid. Swelling can even cause the temporary appearance of asymmetry. While the majority of swelling is gone within the first 2 weeks there is still residual swelling present until the 4-week mark. Be patient and remember that millimeter changes on the face make all the difference.
Lumps and Bumps After Jawline Filler
Lumps and bumps are also possible side effects of jawline filler, and there are a few reasons they could be present. First, and most frequently, they're due to temporary swelling of the jawline after treatment and they subside over the course of 4 weeks as the swelling resolves. Secondly, lumps present after 4 weeks, especially after your first jawline filler treatment, are often due to incomplete treatment. A minimum of 2 visits is necessary.
Rare Side Effects of Jawline Filler Contouring
Infection After Jawline Filler
Infection is a very rare side effect of jawline fillers; however, it is a potential risk with any procedure where the skin is punctured. It's important that the skin is properly cleaned prior to injections and remains clean while the injection sites are healing. Signs of infection include redness, warmth, tenderness, and swelling. If a patient notices these signs they should promptly notify their injector.
Delayed Swelling After Jawline Filler
Delayed Swelling is an uncommon complication that can occur weeks to months after jawline filler. The exact cause is not fully known, however on rare instances jawline dermal filler may randomly become swollen, tender, or lumpy. This typically resolves over the course of a few days without medical intervention; however, notify your injector as medication can be given to help aid recovery.
Vascular Occlusion After Jawline Filler
Vascular occlusion is an extremely rare, yet possible, complication from jawline dermal filler. This occurs when filler is inadvertently injected into a vessel, blocking the flow of blood through the vessel. When the skin does not receive its normal flow of blood it becomes pale, progressing to pain, and if the flow of blood is not restored runs the risk of tissue damage. If this occurs, the filler needs to be dissolved immediately to restore blood flow. It's imperative that you see a medically trained professional who is equipped to recognize and handle this complication.
Jawline Filler Cost
The amount of filler each person requires, and therefore exact price varies from person to person. Factors that influence this include how much, or little, definition your jawline has to begin with (aka. your natural anatomy), as well as your goal appearance. In our office, patients typically begin with the Chin and Jawline Contouring Package, which includes 4 syringes for jawline contouring.
For those wanting to further contour their jawline after those first 4 syringes, we offer additional refinement syringes that you can add to your package.
Once we've built up your jawline to a place where you're happy, we switch you over to maintenance. From this point on we only need to see you once every 9-12 months, and during these appointments we are touching up areas along the jawline, typically only using 1-2 syringes.
All pricing information for initial treatments and refinement treatments can be found on our pricing page.
Yes, I'm Ready For My Jawline Filler!
Congratulations, you've just made an excellent decision! To schedule your appointment you can either email us or give our office a call at (415) 445-9513. We can't wait to meet you and help contour your jawline with jawline filler!
Meet Your Injectors
Our team is made up of experienced medical professionals with a shared passion for facial rejuvenation and contouring with injectables. Hand-picked and trained by Dr. Mabrie, they work with you to create a treatment experience that exceeds your expectations. 
Schedule Me