Your most attractive self is waiting… and the best version of your face is achievable with Illumination 360°!
As a facial plastic surgeon in San Francisco, it's been my life's work to help people look their best. I'm passionate about non surgical rejuvenation. For the last 10 years, I've focused my practice on perfecting non surgical enhancement with BOTOX® and dermal fillers here in the San Francisco Bay Area. What I've found is that everyone has their own version of their ideal face, and for my patients, it's my job to reveal it. I do this through a unique process I call Illumination 360°.
With fillers, I can correct areas of volume deficit and add definition to certain focal points of the face to enhance balance and proportion, lift sagging skin, and get rid of dark circles. The bulk of the transformation occurs in one appointment, with a second appointment 1 to 3 months later to ensure your results are perfect, and that you look your best from every angle, in any light.
Your journey starts with a treatment plan that's uniquely designed to help you achieve the best version of you. My patients get the most transformative results with a Full-Face Treatment, but a scaled-back Foundation Treatment is a good option for some, especially younger patients. Occasionally, a Single Area Treatment is enough. The examples we provide on this page feature the results of our Full-Face treatment package.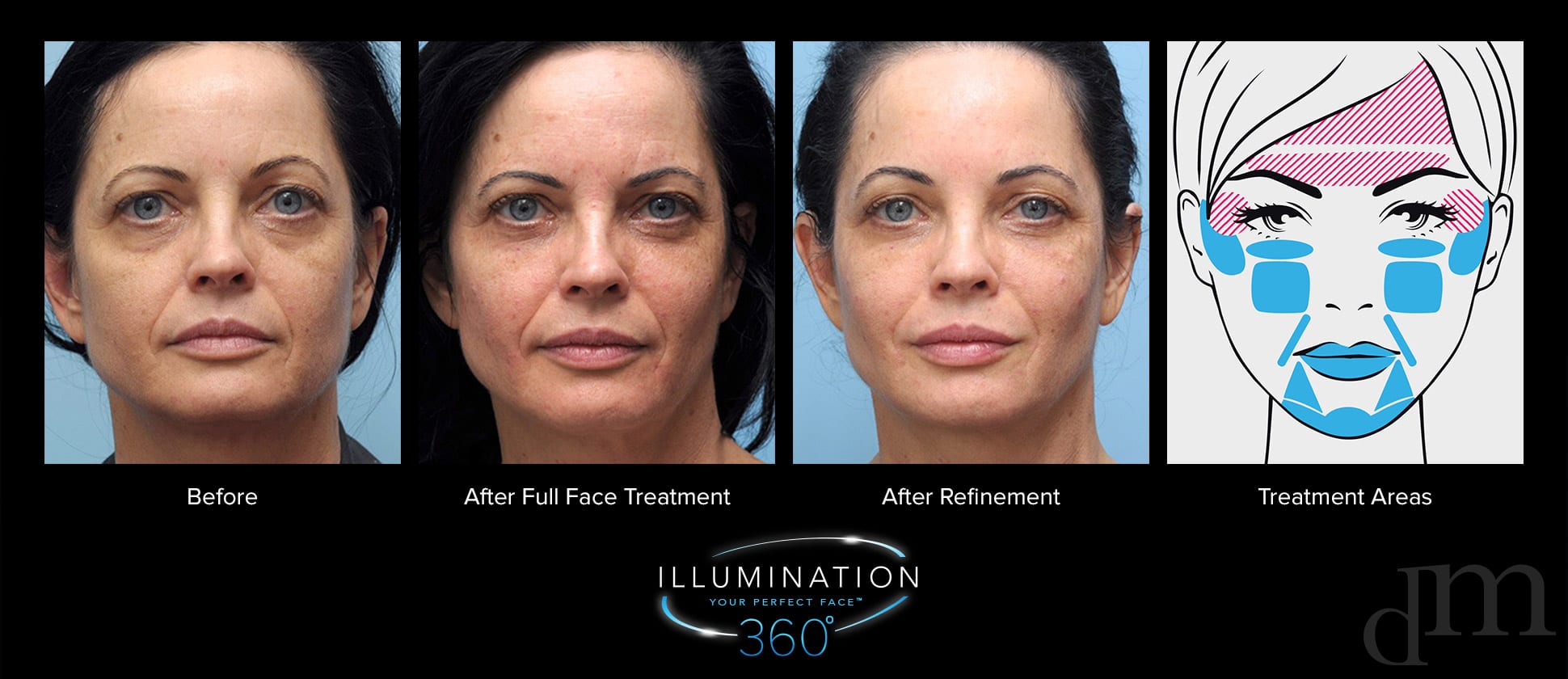 Your Initial Treatment focuses on correcting areas of volume deficits—like the under-eyes, midface, and nasolabial folds. Those are the areas that can make you appear tired and aged. It also encompasses defining and highlighting key features of your face, such as the cheekbones, the bridge or tip of the nose, the lips, the jaw line, and the chin.
One to 3 months later, at your Refinement Visit, I polish and finalize your beautiful results. This second appointment is key to achieving the absolute most from your Illumination 360° treatment. It's the icing on the cake for your enhanced look.
Illumination 360° is for both men and women, young and old. Every treatment plan uses the same principles, but it's also entirely unique and customized, meaning it can benefit anyone who is looking for a rejuvenated or enhanced appearance.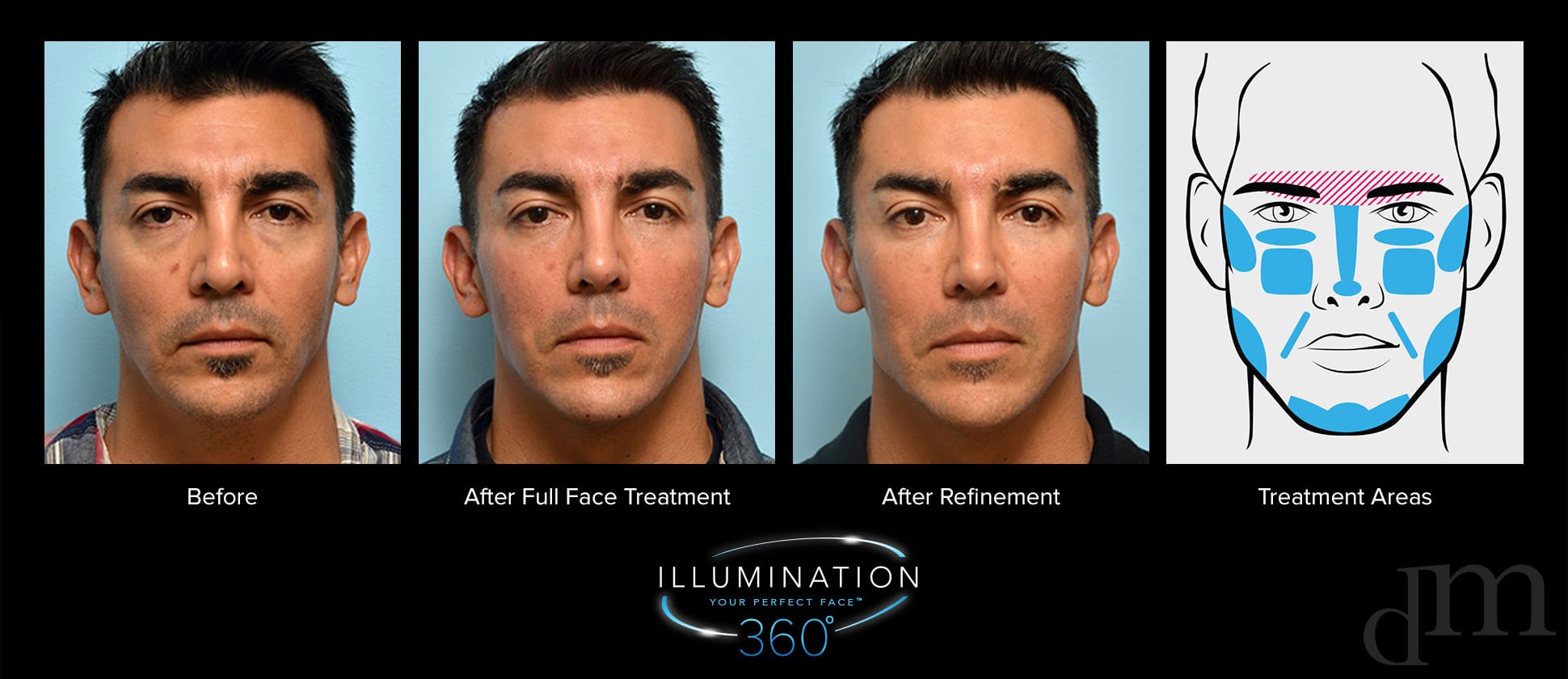 In this example, you see how strengthening the chin and jawline can chisel the male appearance.
Take a look at another Illumination 360° patient example. This vivacious woman in her 60s was looking for options to improve her under-eye bags. She was excited about a treatment plan that didn't involve surgery and could be done relatively quickly. We were both pretty excited about her results, and she was particularly excited to celebrate a milestone birthday with a revitalized appearance and a rejuvenated spirit.
The Illumination 360° treatment takes a similar approach to each patient while carefully considering individual concerns. In every patient, the treatment approach is really dictated by the way light is reflected and shadows are created by facial features. For example, bags under the eyes may be exaggerated by shadows cast on that area, or cheeks may appear more hollow when light does not reflect off of them. And areas that reflect or absorb light in unfavorable ways can be adjusted so light becomes a way to accentuate and enhance your facial features. My approach considers the appearance of a patient's face from all angles, so that patient can look their best in any light.
In upcoming blog posts, I'll share more Illumination 360° insights and real patient stories that demonstrate how dermal fillers and neuromodulators like BOTOX can rejuvenate and enhance your features.
To learn more about how Illumination 360° can help you achieve your best version of you, be sure to check out my new video series.