Facelift surgery (rhytidectomy) has traditionally been the go-to procedure to address aging in the lower part of the face. While facelift surgery has benefits, today there are non surgical options that can address a broader spectrum of age-related concerns. Non surgical options, like our Non Surgical Facelift (liquid facelift), can rejuvenate areas that traditional facelift surgery cannot.
At Mabrie Facial Institute, we have embraced injectables as our preferred means of facial rejuvenation due to their safety, versatility, and the amazing, full-face results we achieve with them. We do not offer facelift surgery at our San Francisco practice. We do offer the best non surgical or liquid facelift options in the Bay Area for jowls, under-eye bags, dark circles, nasolabial folds, and a receding chin.
Here we'll examine the differences between a surgical facelift and facial rejuvenation with BOTOX® and dermal fillers to help you navigate treatment options and decide which may be right for you. To get started, we'll look at the face in 4 areas: upper, mid, lower face, and cumulatively the full face. Each area has its own characteristics of facial aging. Addressing the specific needs of each area is important when comparing surgery to non surgical facial rejuvenation.
Anatomy of the Aging Face
As we age, tissue (skin, fat, muscle, and bone) changes occur. Over time, collagen, bone density, and fat layers diminish, causing an overall loss of volume. Changes in one tissue layer can affect other layers, resulting in greater visibility of lines and wrinkles, hollowness, flattening, and thinning in the upper and midface. Jowling, sagging, and loose skin can appear on the lower face. Restoring lost volume is key to rejuvenating the aging face.
Anatomy of the Aging Face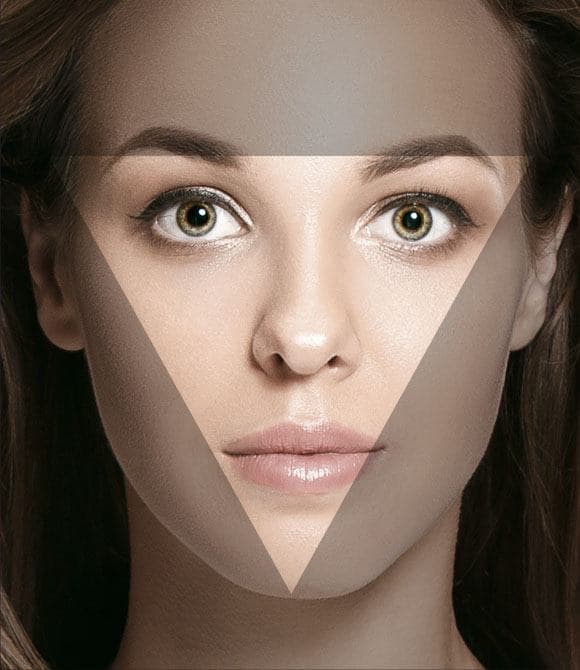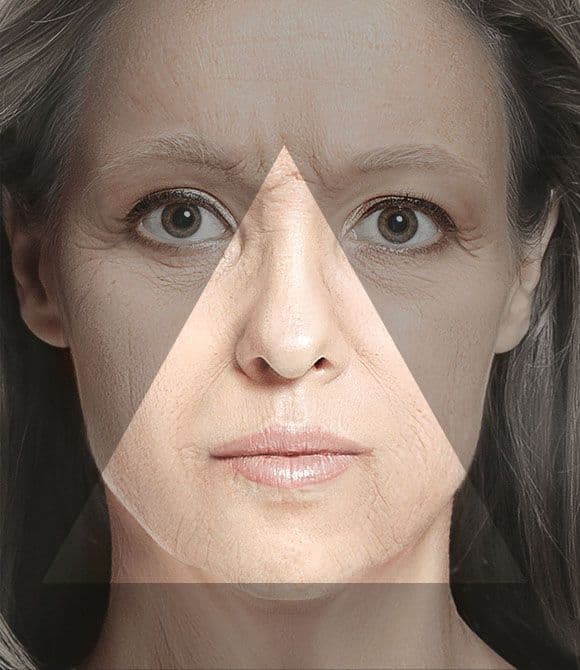 Volume Loss
Volume Loss
Under Eyes
Midface
Cheeks
Lips
Sagging Skin
Corners of the mouth
Chin/Jawline/Jowls
Neck
Lines & Wrinkles
Forehead & between the brows
Corner & under of eyes
Sides of the nose
Vertical lip lines
Corners of the mouth
Chin
Surgery or Syringe?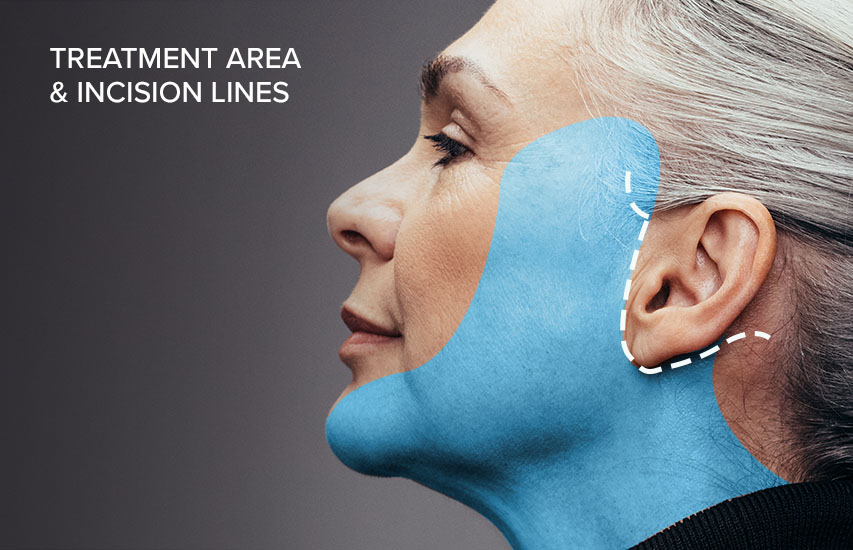 What Is a Surgical Facelift?
Facelift or rhytidectomy is a surgical procedure, performed under general anesthesia to reduce sagging skin and wrinkles caused by aging or weight loss. Facelift surgery removes excess skin, tightens the underlying muscles, and re-drapes skin in a higher position primarily in the lower face (chin, jawline, and neck). It does not address areas of the upper face (eyes, cheek volume, forehead, etc.).
Treatment Areas: Lower face (chin, jawline) and neck
Scarring: Possible (around the ears or side of face)
Not Helpful for: Upper face (eyes, brows, cheeks, lips), volume loss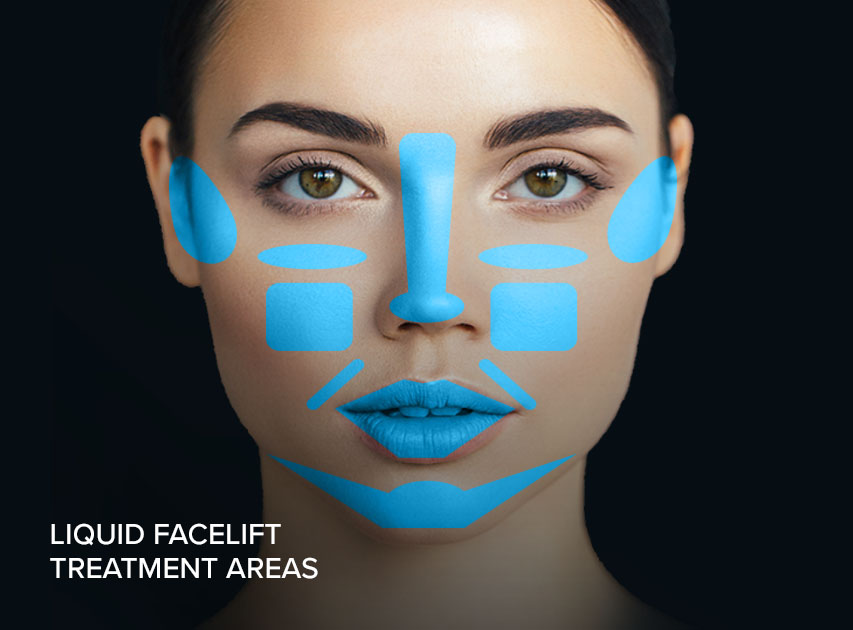 What Is a Non Surgical Facelift?
A liquid facelift or at MFI, the Non Surgical Facelift, uses dermal fillers and neurotoxins such as BOTOX to restore facial volume, reduce wrinkles, and enhance facial features to rejuvenate, shape, and sculpt the face. Our expert Injectors perform liquid facelifts in our office and the initial procedure takes approximately 60 minutes. Treatment is typically staged over 2 or more appointments for ideal results.
Treatment Areas: Full face (under eyes, cheeks, midface, lips, chin, jawline)
Method: In-office procedure
Procedure Time: 60 minutes
Anesthesia: Local to numb the area
Recovery: Return to normal activity immediately. Swelling may take 2-4 weeks to completely resolve
Not Helpful for: Neck; excessive sagging/loose skin in the jowls and under the chin
Filler Can Complement a Facelift
Choosing the right procedure does not necessarily mean ruling out another procedure. In fact, patients planning facelift surgery or previous facelift patients can benefit from volume replacement, contouring/definition, and enhancement. Fillers can "complete" the results and address the shortcomings of a surgical facelift.
"Anyone who would benefit from surgical facelift could also benefit from a Non Surgical Facelift. The procedures are complementary where each has unique benefits to rejuvenate the aging face."

Dr. David Mabrie
Non Surgical Facelift FAQs
Why Does Mabrie Facial Institute Prefer the Non Surgical Facelift?
Years ago, Dr. Mabrie decided to specialize in non surgical facial rejuvenation because he believes that a less invasive approach and more manageable cost means he and his team can help more people look like the best versions of themselves. Our Injectors also prefer interacting with patients during the procedure and maintaining an ongoing patient relationship. They can create a more tailored result with injectables and there are fewer safety risks involved.
See our liquid facelift before and after photos.
Who Is a Good Candidate for a Liquid Facelift?
A patient with skin that retains most of its elasticity, but who is concerned about lost volume in the upper and lower areas of the face, can get exciting results from a liquid facelift. Our expert Injectors can restore youthful contours and minimize shadows and wrinkles to create a refreshed, healthier, more luminous appearance.
Age: How Old Should I Be to Consider a Liquid Facelift?
Women and men are usually in their mid-30s or older when they begin noticing volume loss and other early signs of aging. Using fillers and neurotoxins to create youthful contours helps patients maintain a refreshed appearance.
How Much Does a Facelift Cost? How Much Does a Liquid Facelift Cost in Comparison?
The cost of plastic surgery and non surgical aesthetic treatments vary depending on the geographic area of the practice and the experience and training of the provider. Here in the Bay Area, a facelift performed by a board-certified plastic surgeon ranges from $20,000 to $36,000. The cost of a Non Surgical Facelift at MFI in San Francisco is about $7,000 – $9,000.
What Is Facelift Recovery Like? Comparatively, What Is Liquid Facelift Recovery Like?
A facelift is performed using a general anesthetic and the recovery can take up to 30 days. Most patients take about 10 to 14 days off from work after the surgery. If you're planning to attend a significant social event, such as a wedding, you should plan the surgery for at least 6 months prior to the event to ensure you're completely healed.
A Non Surgical Facelift is performed at our office using only local anesthetic to numb the treatment area. There is no downtime needed and you can go back to work after your treatment.
How Do I Get Started?
The specialists at Mabrie Facial Institute work with men and women from throughout the Bay Area including San Francisco, Oakland, and Walnut Creek. Request a consultation online or call us at (415) 445-9513 to schedule an appointment.