The Secret to the Best Dermal Filler & BOTOX Results IS…
…understanding that "a great filler procedure is more than just an injection".  At our practice we use our  Illumination 360˚ approach – our surgical approach to dermal fillers.  Illumination 360˚ treats every filler treatment  with the thoroughness of a surgical procedure which involves meticulous preparation, thoughtful implementation, and responsible post-procedure follow-up to evaluate progress.
At Mabrie Facial Institute, we have earned a stellar reputation for the remarkable results we create using BOTOX and dermal fillers like JUVÉDERM for our Bay Area patients. When it comes to facial contouring and rejuvenation, we do things differently, and it shows in our results and our loyal following of satisfied (and beautiful) patients.
We're happy to reveal the secrets of our success, and in this post, share some of the things we do at the Mabrie Facial Institute to create results that WOW our patients.
Injection vs. Procedure
A procedure-based approach requires additional time.  In fact, appointment times may take 1  to 3 hours for an initial facial contouring or rejuvenation appointment, and a second refinement appointment is part of the procedure. Naturally, you might be thinking that's a significant time commitment; here is what's involved.
To create the caliber of results we want for you, our procedure process takes time. When you visit us for a procedure, our priorities are:
Keeping you safe
Making you feel comfortable, relaxed, and heard
Creating results that exceed your expectations
There are 3 essential components to our procedure appointments: pre-procedure preparation; the procedure; and post-procedure.
Pre-Procedure – Up to an Hour
We don't like to keep any of our guests waiting, so we ask that you arrive a few minutes early. You check in, get comfortable, and complete the registration process. One of our clinical team members escorts you to a procedure room where we review your medical history to ensure you'll do well with injectables like BOTOX (or other neuromodulators) and dermal fillers.
Next up is makeup removal and facial cleansing. Yes, it's necessary, and we know…big sigh. All patients are required to cleanse their face and remove any makeup to prepare for the filler procedure. Seeing you in your natural state is the best way to assess your features. A clean face also minimizes your risk of infection.
Then we take a set of "before" photos to establish a baseline for measuring your transformation. Don't worry, no one expects these to be Insta-worthy! You spend time with a member of our team talking about your goals, getting answers to your questions, and designing a plan for your facial contouring or rejuvenation.
Procedure – Up to 90 minutes
Either my associate, Kimberly, or I will perform your filler procedure, and we take our time to do this carefully, artfully, and comfortably. We first want to make sure that you're completely relaxed, and if that means going slow or taking breaks, it's OK—we're here for you. Some patients also have more challenging anatomy and we also allow time for that. Once we've got your new contours just right, we answer any remaining questions and briefly discuss your refinement treatment.
Post-Procedure – Less Than 30 Minutes
You're almost there! After cleansing the treated areas, we apply a cool compress to reduce redness, bruising, and swelling (and we pack a few to take home). We take another set of photos to document the progress we made at this appointment. Makeup can be reapplied in about an hour. We want to be sure you don't introduce any bacteria before the tiny puncture wounds have closed. We go over this and other detailed aftercare instructions that will help you recover quickly, comfortably, and beautifully. Then we schedule your all-important second treatment—the refinement visit.
It Takes Two
One of the big differences in the way we do things at Mabrie Facial Institute is that we virtually always stage filler injections across two (or more) appointments. Here's why: Even a very qualified injector can only do so much in one appointment. Injecting too much filler causes it to spread, when in reality, we often want it to "stack" or build to create more natural-looking contours. Layering the filler over the course of two appointments allows us to do this. Layering is especially important for the tear troughs beneath the eyes, and we sometimes even require a third appointment for under-eye perfection.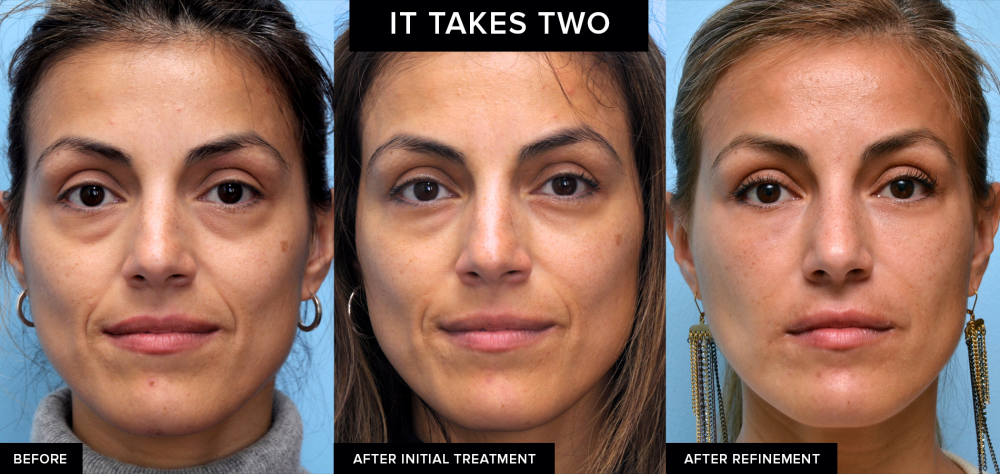 The second appointment also gives us the opportunity to scrutinize your results without swelling. This way, we can see exactly which adjustments will take your results to rockstar status. To be sure all swelling has subsided, the refinement appointment is scheduled 1 to 3 months after your initial procedure.
Learn more about our "It Takes Two" approach in this blog post.
A thoughtful, well-designed procedure is one of the keys to outstanding results. We have been refining this process at Mabrie Facial Institute for many years as part of our commitment to elevating the art and science of nonsurgical facial rejuvenation and contouring.
Contact us using the online form to learn more about getting amazing results from your injectables procedure. Or call us at (415) 322-3307 to schedule an appointment.