I recently had the pleasure of meeting Jessica Rich, Fashion Designer, Host, and TV Personality, in my San Francisco office. Jessica lives in Los Angeles, and I was especially flattered that she chose to fly to San Francisco to receive her Illumination 360 treatment.

Selfie Love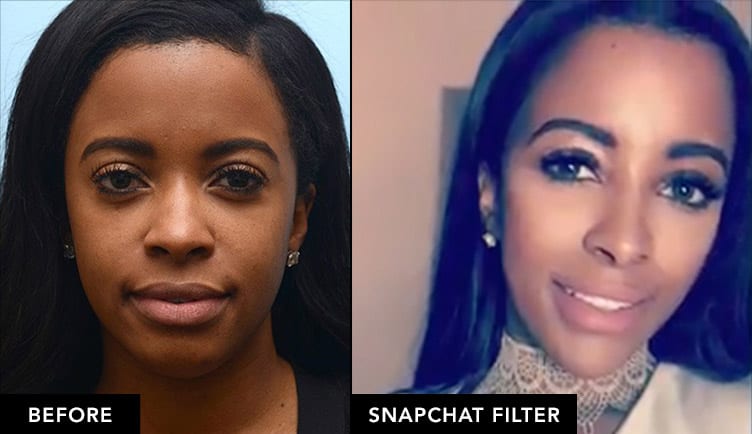 I love when the Snapchat filter motivates patients to visit the office. In our last blog post, we discussed the similarities of Snapchat and Illumination 360. Both present individuals with an improved, but familiar version of themselves. It was interesting that Jessica mentioned this Snapchat phenomenon as part of her motivation for treatment.

Video Calls Make the World Cozier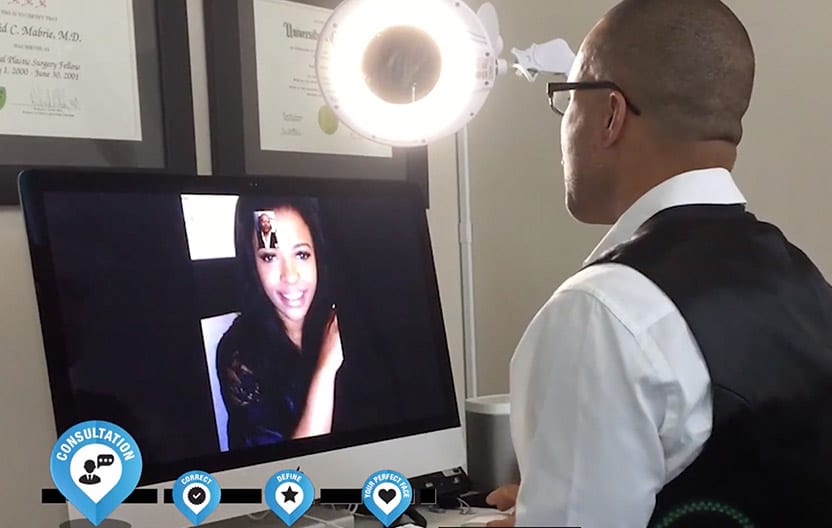 We frequently welcome out-of-town patients to our San Francisco office. It's actually quite easy to obtain Illumination 360 results, whether you're traveling from L.A. or London. Video consultations are a convenient way for us to discuss goals and treatment options before traveling to the Bay Area.
Why do patients who want treatment with BOTOX® Cosmetic and dermal fillers travel from all parts of the globe to the San Francisco Bay Area?  I often hear that they made the trip because they want the fresh, natural, and rested results seen on our website. They are excited to know how they can enhance their appearance without looking fake or unnatural. It's what I like to call "the SF aesthetic".
What Is the SF Aesthetic?
Here in the San Francisco Bay Area, my patients are savvy, hip, and cultured. They are open to the idea of dermal fillers. They want to look rested, fresh, and attractive. They also want the results to look tasteful, not obvious or exaggerated.
The Day of Treatment
Jessica flew into SFO the afternoon of her appointment. We love her jet-set style! After completing some new patient paperwork, she met with Dr. Mabrie for her initial examination. Photographs were taken at multiple angles to help in the discussion process and to document her baseline "before" treatment appearance. Together, Dr. Mabrie and Jessica discussed their goals, the SF Aesthetic, and created a Treatment Plan to achieve Jessica's Perfect Face.
What treatments did Jessica receive?
For Jessica's treatment plan, we used dermal fillers on multiple areas of her face. We started by addressing the volume loss under Jessica's eyes, using dermal filler to restore this area. Next, we treated her cheeks, chin, and nose to create more defined features that capture and reflect light for a gorgeous, feminine result.
What does the treatment feel like?
Most patients are surprised to find the treatment isn't as painful as they thought it would be. Dermal filler treatments will feel like a slight pinch that lasts only a few seconds. We'll provide you with numbing cream or local anesthetic before your treatment, and ice afterward, to ensure the process is quick and easy. As you may have seen in the video, Jessica felt that little pinch during the treatment, but it didn't last long at all!
How long does the treatment take?
The Illumination 360 treatments in our office can last anywhere between 30 and 45 minutes, depending on the areas being treated and where you are in the process. Typically, the first treatment will last a little longer as we go through the steps and expectations with you in detail.
What's the downtime?
The answer to this depends on the patient and the areas they had treated. Some patients experience only minor swelling or bruising, while others may be more noticeable. Either way, you'll probably see some swelling for the first day or two post-treatment. After that, the filler will settle and your final results will begin to reveal themselves up to 7 days after your treatment. Bruising can often be covered with makeup, and will also last up to 1 week after treatment. In Jessica's case, she was able to fly home the day of her treatment. A follow-up appointment was scheduled to check her progress after 1 month.
How long do results last?
Each patient's results will vary slightly, depending on the area they had treated and the amount and type of filler used. We used JUVÉDERM® VOLUMA and Restylane® on Jessica, and asked her to return every 9 to 12 months to touch up her nose, and every 6 to 9 months to touch up other areas of her face.
What's the follow-up?
During your treatment, we'll discuss how many treatments will be needed to go through our Illumination 360 process. Typically, 2 to 3 treatments are needed to achieve a patient's goals and desired results. After that, the "enjoy" phase will require maintenance treatments every 6 to 12 months.
We've broken it all down in this quick reference guide: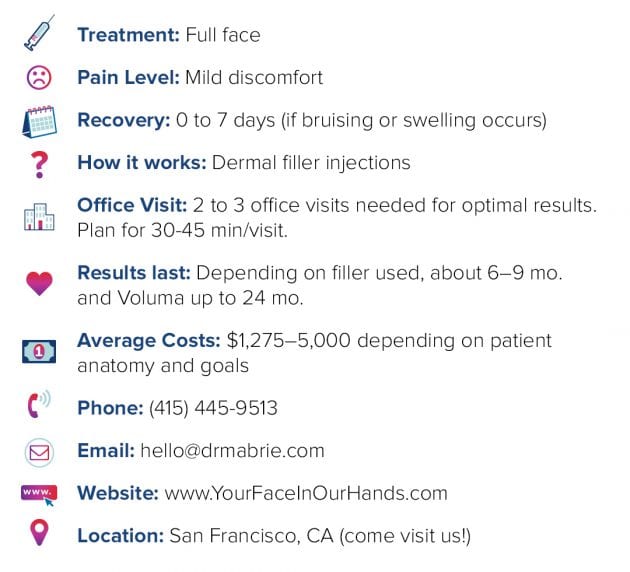 You can see more of Jessica's Journey to her Perfect Face by visiting our website or Instagram.
Be sure to follow us on social media for exclusive videos, promotions, and a little fun.
Are you ready for your own Selfie Love and to discover Your Perfect Face? Start by requesting your appointment, or give the office a call: (415) 445-9513.
Until next time, stay beautiful!