Illumination 360°—No Filter Required
I've recently noticed the popularity of Snapchat filters, especially here in San Francisco. I know guys, I'm over 45, so it's taken me a minute to see what the buzz is all about (and, by the way, I do think that my wife and son look adorable with bunny ears).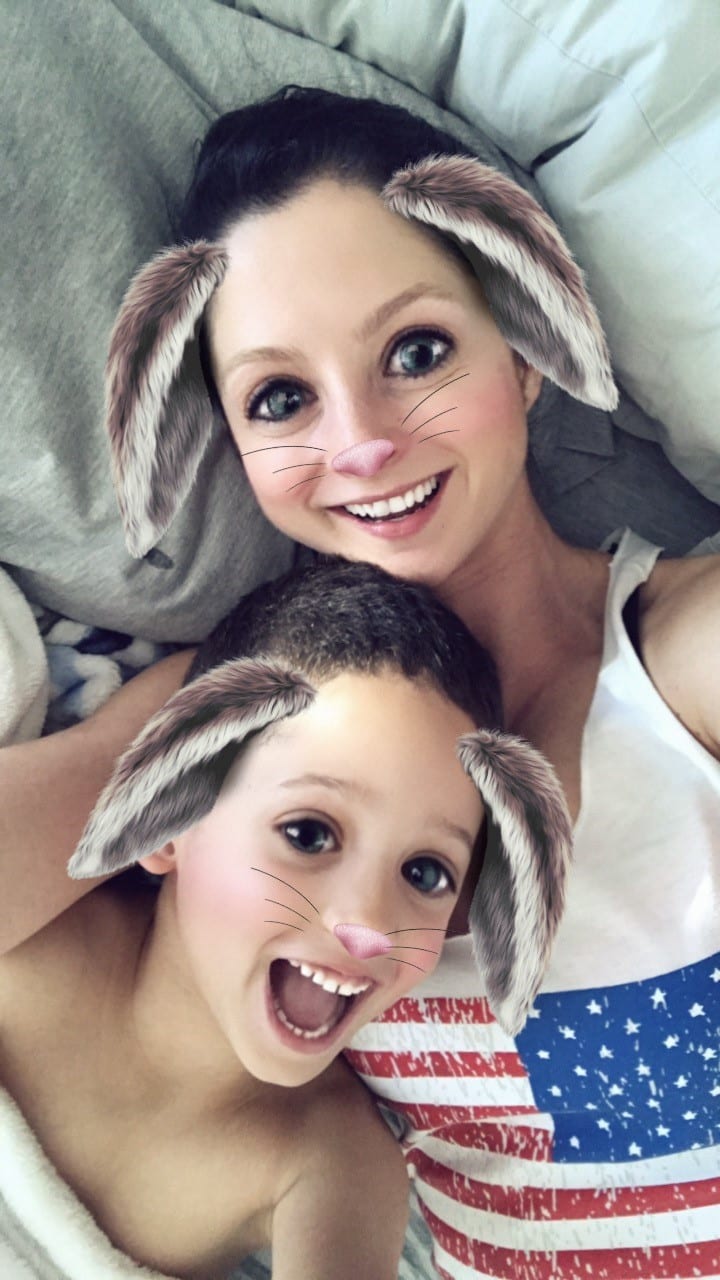 So, I totally get it. And, yes, I must admit I've spent a few minutes trying on the rockstar sunglasses and wearing puppy dog ears. The filters are pretty cool.

What got my attention, in particular, were the beauty filters that I've seen posted on social media. You know, the ones with the flower and butterfly crowns. I've even had a few patients considering dermal fillers or BOTOX® here in the San Francisco Bay Area send me their Snapchat filter photos and request, "Can you make me look like this?"


So, as a surgeon that studies faces, I had to dive in a little deeper to learn more about this phenomenon.
What is it about these beauty filters that makes everyone look a little fresher, a little better? The filters make slight modifications to your features without making you look too different. You look like the rockstar version of yourself. So, it got me thinking… Can we achieve similar results when applying my Illumination 360° approach using dermal fillers to correct and enhance the face? Now, for a volunteer…
Crystal's Snapchat Challenge

Meet Crystal, our newest medical assistant and our Snapchat Challenge volunteer! She was pretty excited to participate in our challenge: Can we take the elements of the Snapchat beauty filter and translate them into actual results using my Illumination 360° approach with dermal fillers? To do so, I first examined how the Snapchat beauty filter works to enhance her appearance.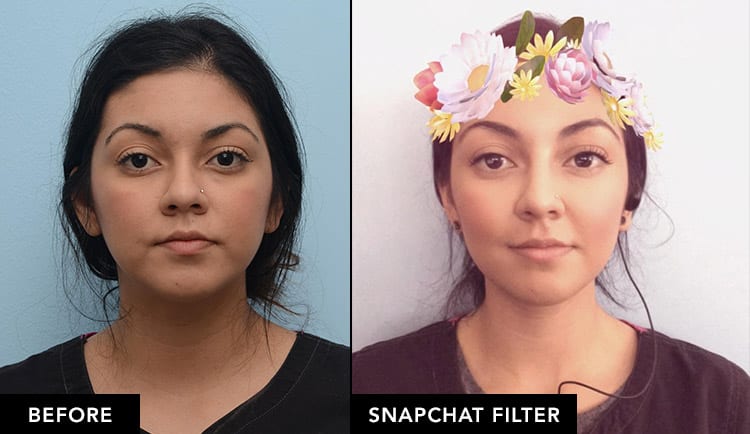 How do Snapchat filters make you look better?
Beyond the crown, there are a few things the filter does to make Crystal look her best:
Smooths the complexion
Thins facial shape, including the chin
Contours cheeks
Narrows the nasal bridge
Creates fuller lips
Lightens dark or shadowed areas, especially dark circles under the eyes
Highlights and contours key areas of the face (cheeks, chin, and tip of the nose)
How does Illumination 360° compare to a Snapchat filter?
The Illumination 360° approach with dermal fillers has much the same effect as a Snapchat beauty filter, with one major exception: Illumination 360° is not limited to the lens of your smartphone. Using dermal fillers, we can create the best version of your face. No filter required.

Here are Crystal's results after dermal filler and BOTOX® Cosmetic treatments. You'll notice that she has more definition to her cheeks and chin. The lines near the corners of her mouth are softened, her lips are fuller, her nose is more defined, and her under-eye bags are diminished. Crystal looks refreshed without looking "done."
What do Illumination 360° and the Snapchat beauty filter have in common?
Both change the way light is reflected on the face. By correcting areas of volume loss and highlighting key facial features, you can rejuvenate and enhance your appearance. You will look your best at every angle and in any lighting.
Challenge Complete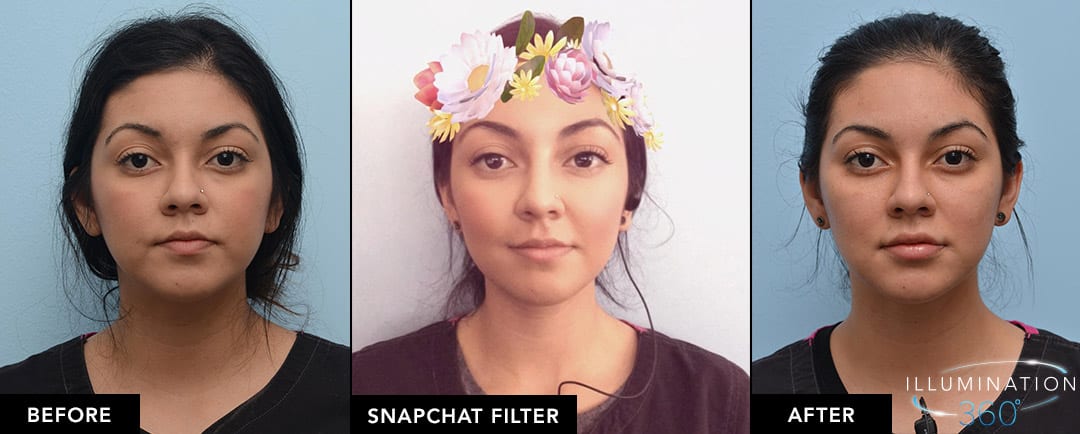 Here are Crystal's before-and-after photographs using the Illumination 360° approach with BOTOX and dermal fillers, compared to her Snapchat beauty filter in the middle. I think we got pretty close! I was happy with what we could accomplish using dermal fillers on Crystal's full face. What are your thoughts?
Are you ready for your own Snapchat challenge?
The great thing about the Illumination 360° approach using BOTOX and dermal fillers is that it works for everyone: men and women, young and seasoned.  You'll look refreshed, awake, and ready—like you've just returned from a long, relaxing, vacation. It's the best version of you. Check out our patients' full face contouring before and after pictures to see more results for yourself.
To get there, we'll start with a full face evaluation and develop a treatment plan to complement your unique anatomy. During your assessment, I examine your face from all angles under different lighting scenarios. This Revealing Lighting Assessment (RLA) enables me to identify sunken, shadowed areas that create an older appearance, where we'll replace volume. We'll also identify key areas to enhance your unique facial characteristics. Your customized treatment plan will help you achieve the refreshed, naturally beautiful look you're seeking — no matter where the light is coming from.
Some final thoughts: Snapchat filters can make you look great in pictures, however, those Snapchats disappear. If you want results that last, consider dermal fillers and the Illumination 360° approach. #nofilter
Want to learn more about how Illumination 360° treatments using BOTOX and dermal fillers like JUVÉDERM® here in the San Francisco Bay Area can help you reveal your rockstar self? Contact us online or call (415) 445-9513 to get started.
Coming Up Next
Meet Jessica, who contacted Dr. Mabrie after loving her Snapchat filter photo. Watch a preview of her journey below, and check out this blog post to learn more about her story.