In my Bay Area practice, I see quite a few brides coming in who want to look their best on their special day. I've found that one of two motivations usually brings them in.
The wedding serves as an impetus to finally address a trait or feature that has bothered them, and they want help correcting that. Oftentimes it's a bump on the nose, like we saw with Eileen in part 1 of our wedding series, or dark circles or puffiness under the eyes.
They are planning a once-in-a-lifetime event where all eyes will be on them, and they feel like this is the time to go ahead and "splurge" or invest in themselves.
Michelle is an example of both. She came in seeking a fix for the circles beneath her eyes but was open to doing a little more so that she could look absolutely stunning on her big day. Ultimately we determined—as is the case with most of our patients—she'd be much happier with a Full-Face Treatment.
When I say "Full-Face Treatment", I'm not talking about surgery—you're busy enough as it is. Instead, I'm referring to my Illumination 360° treatment process, in which I use dermal fillers such as JUVÉDERM® and neuromodulators such as BOTOX® Cosmetic here in my San Francisco Bay Area office to correct imbalances and imperfections and highlight your best features so you look amazing from every angle, in any light. Illumination 360° is appropriate for both male and female patients. Brides, grooms, parents, and the wedding party can all benefit from my Illumination 360° treatment process. We see a lot of patients who are interested in preparing for special events.
How did the Full-Face Treatment go for Michelle?
Under eyes: Michelle came to me primarily concerned by dark circles under her eyes, which she's had since she was a kid. Shadows tend to appear beneath the eyes as the result of natural bone structure and volume loss, especially in brightly lit situations. Although discoloration can be remedied with makeup, concealer won't do much for shadows. I used Restylane® to fill in her tear troughs, creating dimension and reducing dark shadows.

Nose: Your nose is key to your profile, and it's a feature you can't really adjust with makeup alone. In Michelle's case, I used fillers to decrease her bump, straighten her profile, and refine the nasal tip, helping her feel confident at every angle.
Lips: To give Michelle ultra-kissable lips, I used a little filler to enhance both her upper and lower lip, creating a result that is pretty, but natural.
Contouring: You can see in photos that Michelle's neck and jawline look nice and elegant with her newly contoured chin. I also used JUVÉDERM VOLUMA® to bring up her cheekbones and give her bone structure natural highlights.
I also used BOTOX and Dysport® to refresh her brow and forehead area.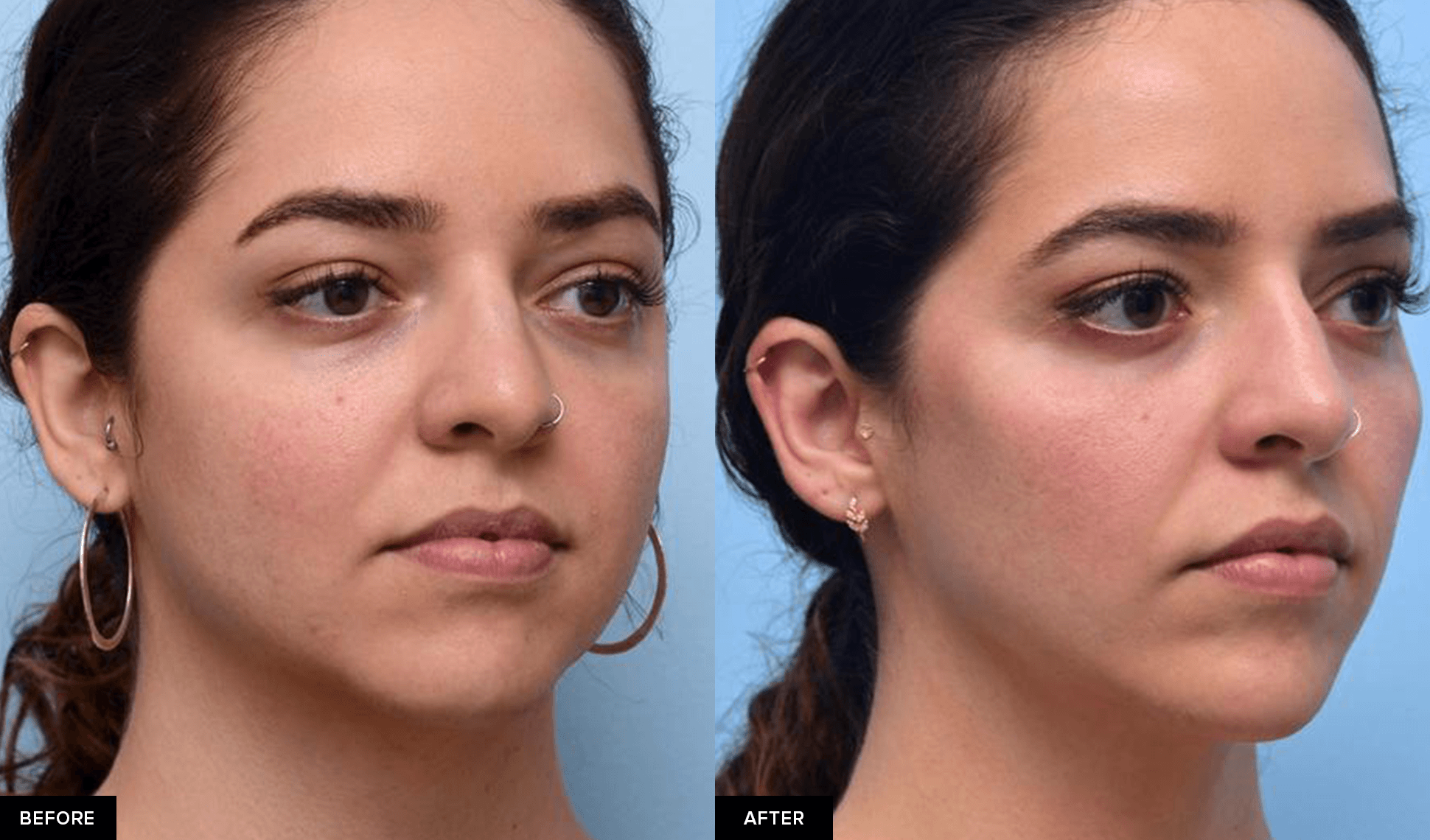 When is the best time to get dermal fillers before a wedding?
Timing her treatment perfectly played a major role in her beautiful results. Michelle had her first treatment 2 months before her wedding. A month later, she came in for her second treatment to refine her initial results. By planning ahead and giving herself plenty of time between appointments, she was able to look absolutely amazing on her big day—as you can see in this video.
The key to an amazing outcome was to keep her treatment subtle. I wanted to showcase her natural beauty. She looks vibrant, not "different" or obviously altered, but picture-perfect for her big day.
Illumination 360° is appropriate for anyone preparing for a special event, even if you're not the one at the altar. Contact my office online today or call (415) 445-9513 to discover exactly how good you can look.