SallyAnne and Dr. Mabrie say: No.
You no longer have to choose between a plump fanny or a sunken face. You can have the best of both worlds, thanks to BOTOX® Cosmetic and face fillers at my Bay Area practice.
Check out SallyAnne's picture here. Pretty impressive right? Wait for it … here's the real knock-your-socks-off moment: SallyAnne is a "woman of a certain age." Cue the applause!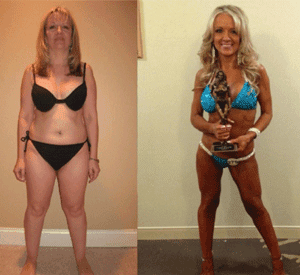 Not too long ago, SallyAnne was feeling like she had to choose between her body and her face. As the saying goes, when she had a few extra pounds on her body, her face had volume. But she wasn't happy with her body image. When she decided to work on her physique, her face also lost weight and experienced a hollow, gaunt appearance. The overall volume loss to her face aged her appearance. It did not match her new, incredible body.
In a not-too-distant past, Catherine Deneuve was correct. A little extra body weight could help maintain a youthful look to your face. However, if you wanted to maintain your youthful body curves, well, your face may suffer the consequences and could look a bit hollow. Tough choices, and I agree—not fair.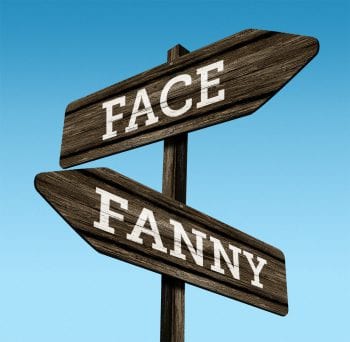 Thank goodness we live in the 21st Century, where neuromodulators like BOTOX® and non surgical dermal fillers can correct the unflattering effects of volume loss and dynamic wrinkles with a liquid facelift. I tell my patients, you don't have to choose your waistline or your frown lines. Your body and your face can both look amazing!
SallyAnne's transformation is a wonderful example. Here is a woman who was approaching a milestone birthday and challenged herself to transform her body. Training at this level takes plenty of grit, sacrifice, and determination. You can see from her photos, she's been successful! However, to have a showcase physique you must have a low body fat percentage, so there was a trade-off for SallyAnne. Here she was in top physical form but was growing unhappy about the volume loss on her face. Once again, she took that determination and started looking for a remedy. That's when I had the pleasure of meeting her and her husband, Brett.
Here she was in top physical form but was growing unhappy about her facial volume loss.
According to Brett, Sally Anne's confidence took 2 big leaps. The first time was right after her first bodybuilding competition (which she nailed, by the way). The second time was right after rejuvenating her face non surgically. I was so excited to be part of her journey.
We refreshed her face by placing fillers beneath her eyes to correct the volume loss and to the cheekbones to accentuate their prominence. We also added lift to her lips and around the mouth to remove any signs of jowling. To finish things off, we added BOTOX® Cosmetic to her forehead and also performed a blepharoplasty (upper eyelid surgery) to further realize her personal vision.
You'll notice that, on her before and after photos, there was significant volume loss in her midface. She also had prominent under-eye bags as a result of loosening skin in the tear trough region and due to the lack of midface support. Notice the restored curvature in the cheekbones from the same angle in the after photo. SallyAnne's results are soft and revitalized. She looks rested and ready to take on her next challenge.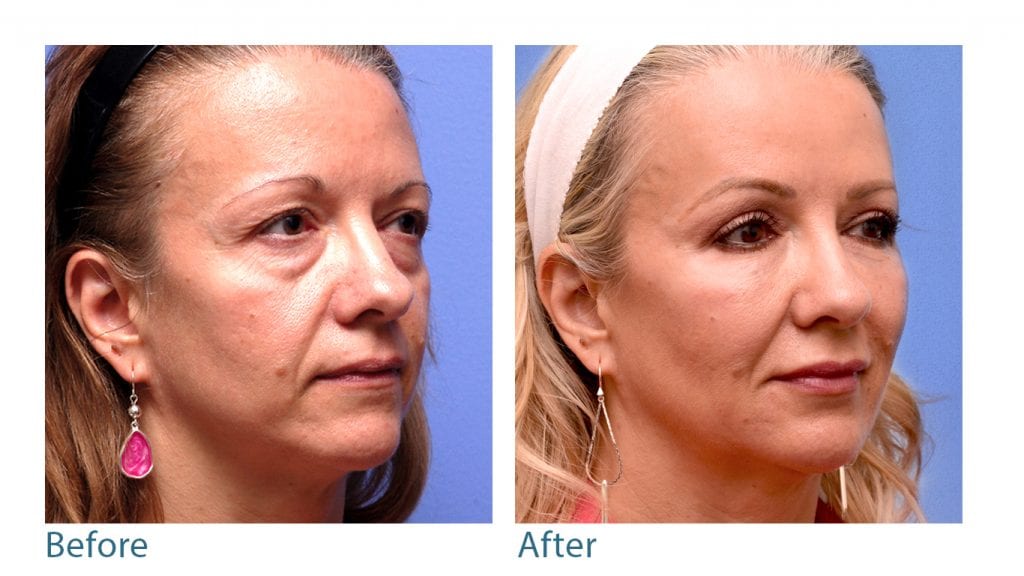 I'm humbled and blessed to work with women and men every day to help them look and feel their best. Dermal fillers are an amazing tool to correct under-eye bags, sagging cheeks, and loose jowls. Taking it a step further, we can enhance key facial areas (nose, chin, jawline) to perfect the shape of the face bringing-out the rock-star version of yourself. This full-face, non surgical face lift approach at my San Francisco office can really make a difference in your appearance without making you look "done." This means you can still sit pretty while you look beautiful. Finally!
If you're like Sally Anne and living with the effects of volume deficit, you don't have to. Maybe you're not entirely sure what you need, but you know that you're not looking as fresh as you feel. Don't fret and don't accept the status quo. There are solutions that can make a positive impact on your face and self-confidence.
If you're taking notes, volume is the correct answers to the question, "What makes faces beautiful?" Volume, along with kindness, compassion, and a genuine smile.
Learn more about Mabrie Facial institute's Illumination 360° approach to facial rejuvenation in a related blog post. And if you want to see more amazing facial transformations, take a look at our Full Face Rejuvenation before and after pictures.
We're happy to discuss your own facial rejuvenation concerns during a consultation. Connect with us online or call us at (415) 445-9513.